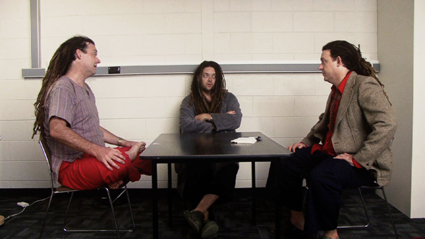 courtesy the artist
Dept. of Crippling Self-Doubt, short film still, Robert Harding, Graduate, RMIT College of Design and Social Context
WHEN MORE THAN 1200 PEOPLE PACKED INTO THE MELBOURNE TOWN HALL FOR A KEYNOTE LECTURE AT A WORLD CONGRESS ON ART HISTORY (CIHA) IN 2008, EVEN CONVENER JAYNIE ANDERSON OF THE UNIVERSITY OF MELBOURNE WAS SURPRISED AT "THE STRENGTH OF PUBLIC SUPPORT FOR ART HISTORY IN MELBOURNE." HER THEME, "CROSSING CULTURES: CONFLICT, MIGRATION, CONVERGENCE," STRUCK A CHORD AND THE DIVERSE PAPERS DELIVERED ON AUSTRALIAN ART UNDER THIS CROSS-CULTURAL RUBRIC ATTRACTED THE INTEREST OF THE CAMBRIDGE UNIVERSITY PRESS WHO APPROACHED ANDERSON TO COMPILE A BOOK IN THIS VEIN. THIS OCTOBER WILL SEE THE PUBLICATION OF WHAT PROMISES TO BE A GROUNDBREAKING NEW TEXT, THE CAMBRIDGE COMPANION TO AUSTRALIAN ART.
Such publications, says Anderson, reflect growing international interest in "radical new ways of looking at what's happening south of the equator." For students picking up the book from the library shelf its lateral essays exploring the intercultural connections of Australian art will present a distinct departure from reigning texts such as McCulloch's Encyclopedia of Australian Art (2006). At the same time, the way Australian art positions itself in relation to the rest of the world has always been a phenomenon of shifting sands as the tensions over tradition and contemporaneity, and local versus global, are frequently taken up for revision. For today's students of the visual arts navigating the pluralistic currents of the university curriculum, which vary from institution to institution, must at times prove a giddying experience. As horizons broaden, does this necessarily imply that Australian content becomes narrowed? How adequately are Australian artists represented in the university curriculum at present?
australianness an issue?
"In the last decade or so, 'Australian' as a category has become less important to students," observes Martyn Jolly, Head of Photography and Media Arts at the Australian National University's School of Art in Canberra and a practising photographer and writer. "When I was a student, Australian identity was a big issue. I think that contemporary students at art school are less concerned with Australianness as an issue. Photography has always been globalised but it is now moreso than it was 10 or 20 years ago."
While "concerns with what it means to be Australian as a particular topic" might be receding, Jolly argues that "for myself personally and staff generally, there is an emphasis on maintaining Australian photographic history and particularly the issues that Australian photography talks about." This continues to be achieved through studio lectures on Australian photographic history and a "heavy emphasis" on Australian and Asian Art in the Art Theory program as well as initiatives like regular gallery visits, exposing students to the growing body of books on Australian photography and a vibrant visiting artists program. As Jolly notes, "scholarship on Australian photography is going on still and shows dealing with Australian photography are still happening, like the recent Judy Annear-curated Photography & Place at the Art Gallery of New South Wales. So you've just got to include all of that in the curriculum."
learning from the local
The declining interest in national identity is less of a concern for arts writer and academic Jacqueline Millner, Lecturer in Theoretical Enquiry at Sydney College of the Arts and formerly at the University of Western Sydney, than the implication for students of the prevailing sense "that the local practice is not as compelling or significant as some of the international examples," which can translate into missed learning opportunities. To counter this, Millner suggests that from the foundational level and onwards students would benefit from greater exposure to local examples. "I'm a firm believer that you should work with what is at hand to begin with because I do think there is a strong pedagogical benefit to actually being able to see and experience the works you're talking about without relying on reproductions for instance, and for honours and postgraduate students in particular to have access to the artists themselves. I think in general there is not enough attention paid to local practice and that is, not exclusively but at least partly, a result of residual cultural cringe."
Millner's philosophy hinges upon "the need to be attentive to what's happening on the ground around you" and is further reflected in her book, Conceptual Beauty: Perspectives on Contemporary Australian Art (Artspace, 2010; reviewed RT98, p50) which draws upon a decade of arts writing practice. By placing analyses of artists who might be overlooked by mainstream art histories, predominantly but not solely women artists, alongside more well-known Australian practitioners like Fiona Hall and Patricia Piccinini, Millner reveals there is great scope for more expansive definitions of "Australian art." Asked to comment on the gender mix of Australian content generally presented at a tertiary level, Millner points out "the curriculum tends to be more skewed toward male practitioners. This is something that I address, perhaps not even consciously, through my subjects which tend to be dominated by examples from female practitioners."
indigenous art: beyond euro-centrism
In identifying shifts in student attitudes towards Australian art, the case of Indigenous art presents a clear exception with a number of academics citing steady growth in this area. According to Jaynie Anderson, "14 years ago we didn't get a huge amount of interest in Indigenous courses but we do now." Senior Lecturer in Art History and expert in Indigenous art at the University of Queensland, Sally Butler, agrees that the increased attention paid to Indigenous art is "helping people to look beyond Euro-centric ideas of art," however, it does remain "a little marginalised." Students of Indigenous art courses become "hooked for life," says Butler, but overall there's still some "resistance to the idea of stepping outside the comfort zone of a Euro-American tradition." In a 2006 Artlink article, Sylvia Kleinert observes course categories can also prove misleading. Artists such as Gordon Bennett, Tracey Moffatt and Lin Onus, for example, "have consistently refused to be marginalised by their ethnicity, demanding instead to be included within the broader, more inclusive category of Australian art."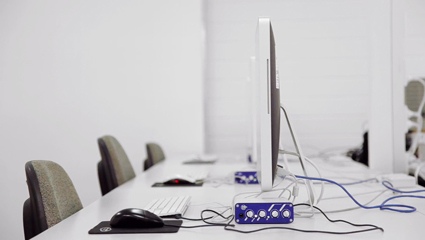 Structures to move to (conversations on work), Chloe Hughes (UNSW), 17 min HD video & sound work, winner of the Dr Harold Schenberg Art Prize presented at this year's HATCHED Graduate Show
not just in a name
At the University of Queensland, Butler also points out that "there's far more local content than is necessarily perceivable just from the names of the courses." She confirms that among students "there's certainly less interest in a kind of national canon of Australian art." Yet as the university has cultivated an expertise in Australian art, established at the expense of other areas like early European modern art, for example, "Australian case studies and examples are embedded widely across everything we teach," Butler explains. In addition to two specific Australian art courses, for instance, "Studies in Photography would actually include 50% Australian art content, Asia Pacific Art includes 50% Australian art, International Contemporary Art includes 50% contemporary Australian art." Add to this regular visits to local galleries and "students do go away with a very good understanding of practitioners and exhibition activity in Australia."
Likewise, Anderson argues the University of Melbourne offers many courses with an Australian component; however, "we wouldn't necessarily call it 'Australian' in the title. We're living in a global age so if you isolate and ghettoise Australian content that's not good. Rather, we will integrate it at all levels and at the postgraduate research level especially there is a vibrant research culture into Australian art topics."
This quiet repackaging of university visual arts courses that paradoxically strive to engage with local content while not overtly branding it "Australian" might not appear problematic to some but for Jolly, as a practising artist who does see himself as making work "in an Australian context first and foremost," the situation appears to resonate on a more personal level. "I gave a talk at the National Gallery of Victoria recently about the 1980s tableaux vivants and it did make me think about how in the 80s we would have called ourselves Australian photographers and we were making work about Australia."
connecting the local with the global
Directing students to points in art history where South Australian artists are recognised for their active role in global movements, such as the connections between Adelaide artists of the 1940s and 50s with Surrealism and Adelaide's role in the development of post-object art, is one strategy Jude Adams has adopted at the South Australian School of Art (part of UniSA) where the cultural cringe is compounded by the regional versus eastern seaboard opposition. A lecturer whose courses include Australian Art: Image, Issues and Identity, Adams observes that studio based courses may be "less reflective" of local practices and can unwittingly "reinforce the cultural cringe." That said, artists' talks are a compulsory part of the BVA program and usually feature Australian artists. Adams is proactive in wearing down "ingrained attitudes," emphasising to students that knowledge of Australian art benefits studio practice by "providing a context, a genealogy that helps us to know where we came from." Adams suggests a perceived student prejudice against Australian art might also be a reaction against history (similar to that identified with Australian history in the secondary school syllabus) while the contemporary can seem more relevant. Within the university, however, "there are so few courses and so few staff, there's really not much chance to introduce more Australian content."
the local, a world lived in
It's this pendulum effect which makes quantifying Australian art content in university curricula such a delicate task as increases in one area imply decreases in others. Certainly, the internationalisation of visual arts courses, and the more recent flourishing of cross-cultural approaches as exemplified by the upcoming Cambridge Companion, represent healthy counterpoints to geographical and cultural insularity. At the same time, most educators agree it would be a mistake to swing too far from local practices, although attitudes towards methods of implementation vary. Embedding local examples with international content appears a logical and pragmatic strategy, but in practice this can be effective only when students are actively challenged to engage deeply with a breadth of local examples and not simply overlook them. A goal all good teachers will aspire to, Jaynie Anderson argues, whether experts in Australian art or not. "Any real art historian will be able to relate their specialisations to the part of the world they live in, the culture they work in," she says, "otherwise they won't be successful."
RealTime issue #104 Aug-Sept 2011 pg. 52
© Ella Mudie; for permission to reproduce apply to realtime@realtimearts.net