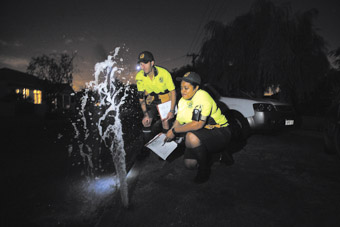 photo Bodan Warchomij
PVI, Inform
PERTH-BASED ARTS COLLECTIVE PVI HAVE JUST MOVED INTO A FORMER SCHOOL TO ESTABLISH THE CENTRE FOR INTERDISCIPLINARY ARTS (CIA). BETWEEN ORGANISING THE LAUNCH OF THIS NEW ARTIST-SUPPORT INSTITUTION, ARTISTIC DIRECTORS KELLI MCCLUSKEY AND STEVE BULL ARE PREPARING PVI'S LATEST PERFORMANCE PROJECT, INFORM. IT'S PLANNED TO BE AN UNSETTLING ROAD TRIP INTO THE SUBURBS OF PERTH TO CHART THE DISSIPATION OF A SENSE OF COMMUNITY AND THE ALIENATING SUSPICION WHICH HAS SPREAD OUTWARD FROM THE METROPOLITAN CENTRES OF GOVERNMENT.
Spectators for Inform will assemble at the Perth Institute for Contemporary Art before following the so-called Loyal Citizens Unit (LCU) as they drive into the suburban hinterland in search of minor criminals and social infractions to identify and halt. "I love this idea of a convoy of 15 cars driving into the suburbs", Bull enthuses, "and the pressure of not losing the car in front of you." Audiences travel in their own vehicles and tune in to the LCUs' radio broadcast to listen to a soundscape by Jason Sweeney. Meanwhile live dialogue is picked up by radio microphone while the LCUs doorknock members of the public and ask for their help in catching offenders.
PVI are committed to directly engaging the audience in the events they manage. As McClusky explains, they are currently working on strategies that deal with questions such as "what can you do in your car? How can you assist what we're doing—and how can we be inclusive?" Although Bull notes this will include some classic options such as "flashing the headlights, honking the horn—once for yes, twice for no!", they are nevertheless keen to move beyond such simple relations.
Inform is a sequel to PVI's 2006 show, Reform, which had the LCUs taking audiences on a walking tour of one of Perth's busier urban areas, between nightclubs and restaurants, engaging both real members of the public and performers masquerading as bystanders, to issue infraction notices for everything from jaywalking to standing still while being dressed provocatively and carrying a condom in one's purse (which can be legally inferred to be soliciting). Reform was an interesting work, but slightly naff in its execution, while Inform is likely to have a more sinister and ambiguous, eerie ambience, depending as it does on the audience's sense of both engagement (being part of the convoy and hearing the speech of the LCUs) and distancing (the car turned into a kind of cinema space or radio play venue where spectators observe and listen to actions from behind a glass window).
As McClusky explains, audience "visual awareness will be restricted. A lot of the doorknocking they will be able to hear, but they won't be able to see. It's a very different treatment. So we started work with sound artist Jason Sweeney earlier for this piece. We want to give a lot more breathing space to the sounds this time around. It felt like the sound acted as an accompaniment to the dialogue in Reform, whereas this time that may flip at times and the sound will dominate." Inform thus relies more strongly on the ambivalent pleasures of voyeurism and surveillance than the earlier spectatorial model, in which audiences generally maintained clear sightlines on the activities of the LCUs and had little beyond the streetscape itself to divide their attention.
Another interesting development in the progression from Reform to Inform is that whereas the LCUs in the former work predominantly came across with a sinister, invasive, paralegal or police-like association, in Inform one's sympathies are more likely to be conflicted over the merit of the LCUs' actions. In the suburbs, the LCUs will be on the lookout for such commonplace annoyances as "dog fouling, illegal parking, water cheats, and so on." Especially with respect to responsible water usage, these are issues which increasingly galvanise householders with both left and right-wing sensibilities, determining to what extent such actions should be tolerated within the community. It will be hard not to empathise with someone finally punishing that bastard from two doors down responsible for dog shit on your verge every morning. Unlike the urban policing of Reform—the very title of the show suggesting an exterior, repressive force acting upon a recalcitrant subject—in this new scenario, one enters a suburban world where individuals are increasingly happy to self-regulate and prosecute.
Bull extrapolates: "We're very interested in how communities are now policing themselves and with the mechanisms which are put in place to do that. There is a culture of dobbing now in Australia. The issues have overtaken mateship. Although it hasn't quite hit here in Perth, with things like water wasting over east in Sydney, Brisbane or Melbourne, if someone misuses water, they're going to be reported. Even if they're not guilty and they have a tank in the back garden!" McClusky adds, "You hear reports of people having to put up signs saying they're not wasting water so as to avoid prosecution."
It is precisely this constellation of issues which lies at the heart of Inform—and indeed the PVI project as a whole. McClusky notes that the company is "tapping into those little niggly things in human behaviour that would drive you to respond a certain way. In the research we did for Reform, we came across all of these dob-in phenomena. There's an organisation called Whistleblowers Australia. With the tests that we've done for Inform, the people in their homes are extremely welcoming. They invite you in and make you a cup of tea—and then proceed to slag off their neighbour!" The issue then is when does the vigilance of one's neighbour become a sign of social dysfunction, and when is it a badge of responsible community behaviour? In 21st century Australia, we need, more and more, to determine whether we have become paralysed and hateful at the prospect of threats to us and our homes, or have finally found a way to generate a caring, cohesive community. Where better to highlight this issue than in a city all but defined by the car and the suburb?
PVI, Inform, Perth suburbs (departing PICA), June 20-30, www.pvicollective.com, www.ciastudios.com.au
RealTime issue #79 June-July 2007 pg. 32
© Jonathan Marshall; for permission to reproduce apply to realtime@realtimearts.net