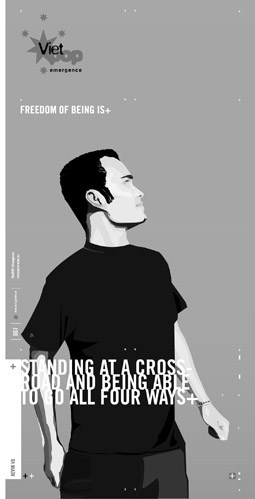 Kevin Vo, Banner
Aboriginal art is really my expertise. I don't normally write on subjects such as this but I happened to stumble on a small exhibition, VietPOP, in outer southwestern Sydney, that inspired and positively moved me. Aboriginal art is art made by Aborigines but what was this? Simple affirmations, autobiography of powerful human experiences and vitality, yet from one of the most denigrated youth communities in Australia. Think Vietnamese, think drugs and violent crime. The refugee story, the story of a group of people who have really struggled to become Australian is rarely talked about or given a voice. Maybe it's the overbearing, fascist, political climate or my own tired state of mind from working in a decaying, surreal academic environment, but I felt I had to write about VietPOP.
The show, involving a curatorium of 7 young artists of Vietnamese heritage, was hung in the Liverpool Regional Museum, a small community cultural space that is a beehive of activity. The exhibition is alive with wit, colour, honesty and pathos. Though there are other Vietnamese artists exhibiting in Sydney (such as Dacchi Dang) this show is, I am told, one of the first (if not the first) to concentrate on young, emerging Vietnamese artists. It is this generation that articulates the changes in the way Australia constructs its ethnic and cultural identity at this moment. A special kind of tension hangs over the exhibition—the effervescent optimism of youth and yet the shyness of an uncertain ability to achieve their ambition. This is a responsibility felt by any serious new rising generation. We want to do the right thing, we want to succeed, we want to honour our parents and our past, we want to make our own statement, we want to determine our own future, we want to be ourselves. The artists are Cuong Phu Le, who is also a community arts officer working with the Vietnamese community, Thao Nguyen, Garry Trinh, Christina Ngo, Thuy Vy, Cat Tien Chuong, and Kevin Vo who collaborated with and provided a counterpoint to Sydney 2002 Biennale artist Jun Nguyen Hatsushiba. In fact Jun's own students who now are exhibiting themselves are to collaborate in the future with this south-west Sydney group.
Futures and memories. The exhibition appears to be divided into 2 parts that ambiguously, like the lives of the artists, reinforce and yet diverge from each other. The refugee experience is of course central to their lives. It should be remembered that the culture of the West is littered with such stories. The cinema classic Casablanca is a refugee story. A Vietnamese-Australian version has yet to appear. Artists were asked to bring something from their journey, usually a common object belonging to their parents, that had attained an almost sacred, iconic status. Displayed under glass these mundane things resonate equally with sorrow, hope, gratitude and other memories. The parable of the sarong of Thao Nguyen is particularly poignant. It speaks of the escape of her parents and herself as a child from Vietnam. How a Cambodian man they encountered, after selflessly guiding and caring for them to see them to safety of sorts in Thailand, leaves them without asking for payment and is lost to them for ever.
The inclusion of the international Vietnamese-Japanese star artist Jun Nguyen Hatsushiba is interesting. Apparently an email had been posted widely from this group about the time of the Biennale asking, among other things, "What does it mean to be Vietnamese?" It reached a member of Sydney's Museum of Contemporary Art staff who invited the 2 parties to meet. Jun took to working with this group of 'same but different' kin (there's an Aboriginal expression that says: we are the same essentially but definitely, in minor ways, different). Jun, it appears, has his own sense of responsibility and adventure.
Jun's life and those of the young artists in fact have meeting points. He was born in Vietnam of a Vietnamese father and a Japanese mother. His work often deals with the experience of being a refugee and of statelessness, and of being Vietnamese in the world, whether you are in Ho Chi Minh City, in Paris, in California or in western Sydney. Yet, what Jun shows is that having 2 cultures and 2 languages enables people to gain insights that they wouldn't normally. It's what is added, not what is lost.
The Vietnamese population in Sydney is the largest of any city in Australia and supports flourishing community organisations, religious groups, restaurants, shops and other businesses. Its presence is very much felt. Today there are over 180,000 Vietnamese-born people living in Australia and over 50,000 living in south-west Sydney alone. In 1975 there were only around 900. Of these more than half were babies waiting for adoption. The first refugees arriving in Sydney in 1975 after the unification of Vietnam, were 283 orphaned children who were adopted by families throughout the country. This experience is revealed in newspaper clippings, photographs and other memorabilia in the artwork of Indigo Williams who as a baby was adopted into a very white Australian family. She had also made contact through the same internet survey that led Jun to the group.
The exhibition, despite its seeming lightness, deals with deep issues, the often terrible refugee flight experience, diasporic alienation, of personal identity and acceptance [even if only by your own parents]. Cuong talks of the 'one and a half generation'—those born in Vietnam before their journey to Australia who have an experience, a memory of the country of their birth, but feel that they have to forge a new experience and a new sense of identity. There are also those who were too young to remember, and those born in Australia. A broad range of homeland experiences, memories and reconciliations exist. Kevin Vo's almost nostalgic but seemingly detached account of his return visit is different from that of Thao Nguyen who appears to visit Vietnam often.
In a world of dichotomies nothing speaks louder than the senses. Science now tells us that taste is 90% derived from smell, so it is no accident that odours, pleasant and unpleasant, account for some of our strongest, longest lasting, most evocative bonds to people and places. Vietnamese refugees have frequently commented on the sanitised odourlessness of the Australian city environment compared with Vietnam's rich mix of humidity, spice smells, cooking aromas, decaying vegetation and human life in action. Garry Trinh's playful logo work I love pho reminds us of the sinister, predatory nature of the globalised fast food industry. In Vietnam the ubiquitous and delicious local and economical pho (a type of noodle soup), though really a breakfast food, can seemingly be found anywhere, 24 hours a day.
In Australia, Aboriginal people describe how animals are at their peak and look their best when they are full of fat. For Vietnamese people the concept of personal image is intriguing. Contrary to Western notions of slim well-being, in Vietnam it is positive to be fat. Some appear to struggle with this in Australia: "All this can be yours. Cars, houses, rich husbands…Life's not fair, so make it fair", reads a beauty shop billboard in Thao and Garry's work. Notions of acceptable or desirable physical attributes and the ability to get ahead in the dominant culture have always had a life in minority cultures.
The exhibition gives these young artists a voice that isn't necessarily their parents'. Though not denying their past or their roots they are different from the previous generation who often see them as "mat goc" (lost roots) or 'the forgotten.' Thao Nguyen's video piece records conversations between her father and brother where they don't appear to be listening to each other. Through their voices, these artists reclaim their history in a positive critical reinterpretation that prepares it for generations to come.
Red. Yellow. Colours are read differently on the margins. In the north of Australia, Aboriginal people of mixed descent are sometimes referred to by other Aboriginal people derogatorily as 'yella-fellah', or as 'half a colour.' In Arnhem Land, these people, who in another context might be described as sophisticated or cosmopolitan, are referred to in Djambarrpuyngu language as "narrani", bush apple, red on the outside but white on the inside. Like the Asian banana, yellow on the outside but white on the inside. Most probably the appearance of Chinese migrants in the Northern Territory at the time of the gold rush is the source of this term. If an Englishman had Italian and French roots he would be seen as extremely cosmopolitan, intelligent, and be highly regarded. For the 'other' a mixture is always recorded by Western writers as a dilution, a loss and a person between 2 worlds, as never belonging to either—something white Australians and Europeans apparently never experience—they are never the 'other'. They never have to explain or define themselves. This is Kevin Vo's banana lamp. As Thao Nguyen explained at the opening of the exhibition:
When watching the cowboy movies and John Wayne films, in so many scenes they ask, 'Are you yella?'. Do you guys know what this means? The Chinese—Asian yellow skinned— migrated to America and Australia during the period of the gold rush and have been here for a long time. They became known for their submissive nature. 'Are you yella? Are you yellow? Are you submissive and lack courage and tenacity to rise up against me?' This is what it means…I don't want to be the next generation of submissiveness.
Ironically in Aboriginal Australia it was these 'yella fellas' who, though submissive for a time, came to be the most politically active in leading social change. This exhibition's participants are also emblematic of change.
What would Australia be without the Vietnamese presence manifest in places like the thriving, amazing market place of Cabramatta? And yet few non-Asian Australians have much contact with the Asian community. Why has it taken nearly 200 years for a contemporary Asian-Australian Art Gallery to appear? Amazingly, in Sydney, the present Gallery 4A's policy is to deal with inclusiveness which has a broader context. Although there is an emphasis on Asian-Australian artists, they are presented within a mainstream contemporary arts context. And yet this most important cultural centre struggles from a lack of core funding from key funding bodies.
This exhibition in the marginalised south-west of Sydney allows the work to speak to its own community. Largely invisible to the art establishment, the works give young Vietnamese people ideas for expression and being. Attended by over 300 people largely from the Vietnamese community on opening night the show was emotionally and warmly received. The centrepiece of the exhibition was a long banner by Kevin Vo in which each of the artists is portrayed, in political banner fashion, with their own affirmation. Aptly, Kevin Vo's Superman (it's hard to be) pop song digital projection, broadcast at full volume, made us aware of how the public act of producing such an exhibition transformed the artists into true Supermen.
–
VietPOP, Liverpool Regional Museum, tel 02 9602 0315, June 15-October 5
RealTime issue #50 Aug-Sept 2002 pg. 16
© Djon Mundine; for permission to reproduce apply to realtime@realtimearts.net