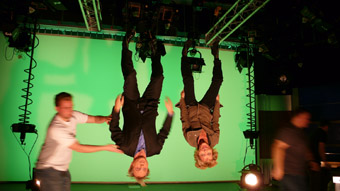 courtesy Klosterfelde, Berlin and Lisson Gallery, London
Aspekte (included in Tableau Vivant TV), Christian Jankowski, 17th Biennale of Sydney
DAVID ELLIOT'S TITLE FOR THE 2010 BIENNALE OF SYDNEY, THE BEAUTY OF DISTANCE: SONGS OF SURVIVAL IN A PRECARIOUS AGE, OFFERS MULTIPLE THEMATIC ENTRY AND EXIT POINTS AS DISCUSSED BY JACQUELINE MILLNER IN HER PREVIEW (RT96, P10). FORTUNATELY, THE EVENT RISES TO THE CHALLENGE OF THIS EPIC NOMENCLATURE WITH A MULTIFARIOUS ARRAY OF WORKS FROM 166 ARTISTS SPREAD ACROSS SEVERAL VENUES —THE FANTASTICALLY ATMOSPHERIC COCKATOO ISLAND, PIER 2/3, THE BOTANIC GARDENS, MCA AND EVEN A CLUB SPACE, SUPERDELUXE, INSTALLED IN ARTSPACE.
I sought out the video pieces (which alone are numerous) to explore Elliot's curatorial vision. Perhaps not surprisingly, many of the time-based pieces work with the idea of song. To some extent, this makes several seem quite similar since they employ the methodology of setting found text or incongruous content to music. Some are more successful than others in pushing beyond mere juxtaposition to resonate more deeply.
Gamu Mambu (Blood Song, 2010) by Christian Thompson (Australia) gives us a Dutch Baroque opera singer performing in Thompson's heritage language, Bidjara. The subtitling in English allows a glimpse of the culture's colloquialisms, while the sung Bidjara phrases—complex multi-syllabic words—let us sense the strangeness of these sounds in the mouth of the singer whose European technique prefers vowels to consonants. Thompson's superimposition of cultures succinctly raises the issues of language and cultural identity, an interesting foil to Susan Hiller's The Last Silent Movie (2007, USA) in which audio recordings of endangered languages highlight the precariousness of ancient cultures in the 21st century.
A three-screen work created specifically for the biennale by Mieskuoro Huutajat (Shouting Men's Choir, Finland) takes Kevin Rudd's 2008 apology to the Indigenous people of Australia as its source material. The screens show headshots of the somewhat unkempt men from the choir alternately speaking and shouting the text. Sometimes a speaker in full shout is stripped of sound. The gently accented phrases, shouted words and silenced cries unite and overlap to create a moving statement on both the power and yet inadequacy of words alone to effect reconciliation.
Perestroika Songspiel by Chto Delat (2008, Russia) offers a performance for video drawn from documentation revealing what local people thought in the early days of Perestroika. Perspectives on the complex issues involved are presented in speeches and dialogues elaborated further by a vocal quintet. The form is clearly performance, yet it occurred to me that such a blatantly agitprop text (lacking even a Brechtian twist) would never actually be performed theatrically—contemporary theatre and performance generally strive for greater complexity in form and content. I had similar thoughts about Lament of the Argentine Military by Tarryn Gill and Pilar Mata Dupont (2010, Australia). The piece is a visually beautiful and well-produced faux-Broadway musical (also accompanied by two large format prints), presenting the atrocities of the Argentinean dictatorship. But does the performative style offer anything more than parody?
In fact a number of the works make me wonder about the relationship of performance to video art. Presented as live performance would these works satisfy conceptually? Why, when a video camera is involved, does the performance language so often seem too simple? Or is the manipulation of a popular form via video into 'high art' enough in itself as it allows the works greater accessibility?
Fortunately the creations of Marcus Coates and Christian Jankowski demonstrate that there is scope for much more complexity even while utilising parody. At first glance Marcus Coates is taking the piss in his work A Ritual for Elephant and Castle (2010, UK). Coates calls himself a contemporary shaman. In a silver-grey suit and accompanied by a stuffed buzzard on the end of a stick, he wanders around the London suburb of Elephant and Castle discussing the proposed redevelopment of the area in order to create a performance ritual. What complicates this apparent parody is that Coates seems utterly sincere. He is the perfect 'change counselor' as he leads the local development committee through a creative visualisation to assist him in finding material for his coming performance project. Local residents open up to him, offering critical responses to his ideas. Most revealing of all is his meeting with the local property developer, whom Coates gets to help him "find the physical form" of his performance. The developer engages thoroughly in the activity, drawing on the 'energy principle of Tai Chi' to explain the "movement with intention" that he feels the area needs. Through his bizarre posturings, Coates actually gets the community to seriously engage in discussion about the issues of change and progress.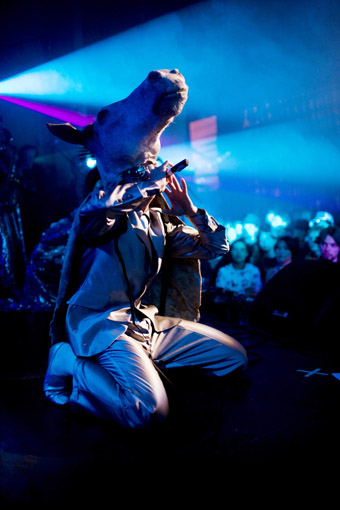 photo Nick David, produced by NOMAD, courtesy the artist, Kate MacGarry, London and Workplace Gallery Gateshead;
Vision Quest with Chrome Hoof, A Ritual for Elephant and Castle, 2010, Marcus Coates
These encounters are shown on three monitors while the final ritual is projected large—a kind of post-punk-glam rock extravaganza, in which Coates appears, still in silver suit but with a stuffed horse head atop his own, and accompanied by a silver lycra-ed band, Chrome Hoof. Perhaps here I doubt the sincerity—maybe he is in reality a postmodern parodic performer—and I wonder if any of the people he has consulted actually attended this event. Perhaps most interesting is the final meeting with the council where he talks them through the visions he saw during his performance, including swallows nesting in his armpits—he interprets this as a development approach involving small scale sustainable projects. It's a message which the council hears without the trace of a smirk, and might just heed. A Ritual for Elephant and Castle works as a community-cum-live art project, as documentary and video art.
Similarly, Christian Jankowski's work could be misunderstood as mere prank, or too self-reflective, yet as it develops the conceptual material complicates and deepens. Jankowski has been actively utilising broadcast television as his subject and medium for some time now (including convincing German TV hosts to present an entire show while hanging upside down). For this biennale he has made Tableau Vivant TV (2010, Germany) in collaboration with Andrew Frost from The Art Life and the College of Fine Art. Utilising the ABC TV's Art Nation program along with other local and international broadcasters (or so it seems), Jankowski frames his piece as a documentary on the making of his biennale commission. However Jankowski himself never speaks, rather he is a static figure in the background, often with other frozen 'characters' at moments in the taping: in the bathtub at the moment of inspiration; a party on a Sydney balcony where Frost and Jankowski first meet; a meal in a swanky restaurant in which Jankowski tries to sell his idea to Biennale director David Elliot; a moment of creative self-reflection and doubt on Bondi Beach. His thoughts are voiced by a variety of television journalists in Germany, England and Australia, including 'celebrity' journalists such as Anne Fulwood and Angela Bishop. As the ideas behind the making of the work unfold, Jankowski deftly unpacks a range of complex issues about the relationship of television to video art, art to television, celebrity, the nature of biennales, curatorship and the creative process. While occasionally labouring the point (Kylie Kwong's valiant effort to elaborate on the relationship between cooking and video editing begins to show the strain), Tableau Vivant TV is smart artmaking in which form and content are inextricably linked and which is both challenging and entertaining.
Beyond these explorations of performance, David Elliot has curated works from some of the blockbuster names of video art. Isaac Julien's Ten Thousand Waves (2010, UK) is a stunning installation across nine screens. Based on the tragedy of drowned cockle harvesters in Moorecomb Bay, UK in 2004, Julien has collaborated with renowned Chinese artists such as poet Wang Ping, calligrapher Gong Fagen and actress Maggie Cheung to create a multi-faceted reflection on homeland and migration—part documentary, part fantasy, part memorial. Forget 3D, Julien's stunning imagery, intelligently presented in split narratives across the multiscreens, is a far more immersive, and rewarding cinematic experience.
Interestingly, Julien also collaborated with artist Yang Fudong, who presents his own work in this biennale, East of Que Village (2007, China)—a bleak exploration of life in northern China. Fudong projects black and white images across six screens, his quiet, non-invasive style juxtaposing scenes of a pack of dogs who are literally dying of starvation in front of the camera (even feeding off other dogs) with quotidian human activities in an inhospitable landscape. As westerners it's easy for our sympathies to go to the dogs, yet the lives of the people here are perilously close to the same level of hardship. East of Que Village is a confronting and conflicting experience.
Similarly, Steve McQueen's Gravesend looks at the hardship of miners in the Congo, who scratch from the earth by hand an unspecified but valuable commodity. I find McQueen's work to be essentially visual-audio: the potency of each image drawn out by the heightening of diegetic sound, such as the amazing timbres of splintering rock or compressed air machines. Structured by poetic association—the glow of the molten substance in a crucible is paralleled by the orb of the sun setting behind the factory; the labour of the men is contrasted with the clinical atmosphere of the roboticised factory—McQueen's work is evocative without being definitive.
Of the many video works in the 17th Biennale of Sydney I found myself drawn to the ones discussed here not only because of a personal preoccupation with performance and video, on the one hand, and the interplay of audio and the visual on the other, but because all of these works exemplified David Elliot's thematic provocation. While this tight curatorial vision sometimes runs the risk of inflicting homogeneity, it also offers boldness—a willingness to say something, at a time when it is all too easy to stifle conscience and be satisfied with distractions.
17th Biennale of Sydney, The Beauty of Distance: Songs of Survival in a Precarious Age, curator David Elliot; Cockatoo Island, MCA, Wharf 2/3, AGNSW Forecourt, Sydney Opera House, The Botanic Gardens, Artspace; May 12-Aug 1
RealTime issue #97 June-July 2010 pg. 46
© Gail Priest; for permission to reproduce apply to realtime@realtimearts.net