ADAM BROINOWSKI'S NEXT WAVE JOURNEY TAKES HIM FROM MULTIMEDIA DANCE TO A TELEPHONE EXPERIENCE FOR AN AUDIENCE OF ONE TO A CLUSTER OF IMMERSIVE INTALLATIONS AND A 'MISGUIDED' TOUR OF AN ART GALLERY.
photo Gareth Hart
Pay no attention to the man behind the curtain, 2008 NextWave Festival
alisdair macindoe: pay no attention to the man behind the curtain
Framed by the Wizard of Oz, Pay no attention to the man behind the curtain is an interesting combination of sound/video tech savvy and lithe dance. Alisdair Macindoe, in olive green and khaki, stands in a demarcated square. He relaxes himself, and us, with some direct eye contact, then shakes his head at increasing speed. What is he renouncing? A blurred still of his face is projected on an adjacent screen as he wades through the red light which slices a stage swamped with smoke. The plucking sound of an unfamiliar instrument, a projection from his p.o.v. shows his arms reaching out towards us. Circuitry from outdated machines together with his whirling circles and mechanical movements suggest nostalgia. We are shown black and white video footage of a body being kicked and taunted by a circle of soldiers. The screen goes red. "There's no place like home", Macindoe says through distortion. Does he come home in a box?
Macindoe dances in the square a second time, more fluid, urgent, immediate. He faces the audience again, then falls back as if pulled by an ineluctable force, or shot by machinegun rounds, jumping time, crossing the river Lethe, through a rising roller door, into a cell of strobe. Arms outstretched, an open mouthed silence, along with dripping notes, sine tones and clanking repetition, he is a prisoner once more.
As strategic revisionism remixes the past via 'truth' technologies, the screen is lifted to reveal a musician tinkering with assorted instruments. This study of echoes determines a body besieged by the light of multi-barrelled cameras, above and below.
sam routledge & collaborators: please hold
I am trying to remember a word as I enter Please Hold at the Meat Market. Alone and comfortable, I'm in a motel after a long drive perhaps. A lamp warms the room, and a white dial phone is perched on an all-in-one 50s seat and table. I sit on the carpet, and reluctantly pick up the phone.
"Did you get the image?", she asks, familiar and very close. "No." "Anyway, it doesn't matter. I'll take a photo of the television."
And so the conversation goes; she misses me, wants to see me, recalls the breezy curtains under which we happily lay together in bed. She flirts and lulls and oils me, drawing me in, and I find myself dancing, asking if we could be real once more. But she holds the script. Memories are like glass and she quickly goes through them: pained—denying getting fat, blocking out the vomiting and shitting in front of me; empathetic—the shock of the light must have been great; romantic—driving together towards the horizon; longing—in her arms, fists going like a boxer, hands trying to grasp something; remorse—you can't hurt the thing that looks at you, all I had to do was to put my nipple in her mouth; acceptance—she'll never know who we are. "Anyway", she says, "It's you." She hangs up. The lights fade up.
Film footnotes from road movies are woven through this intimate installation by Sam Routledge, Halcyon Macleod, Declan Kelly and Alison McNicol. In a duplicitous game, the artist implicates the listener in heightened dramas which they are inclined to unpick. Bitter sweet, transcending road movie clichés, its precision strikes a deeper chord.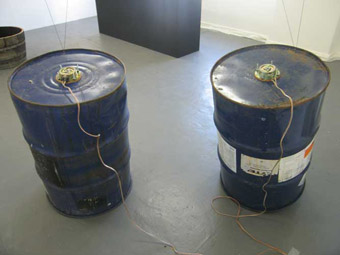 photo Paul Davis
Tracts, 2008 Next Wave Festival
curator ben byrne: tracts
To experience Tracts, I enter a room at the end of a long, tiled corridor up high in an old city building. Tremors, by the show's curator Ben Byrne, sets the tone by asking us to throw a rock from a bowl into a pool of water. Byrne combines Leonardo da Vinci's view of the ensuing circles as infinite images of themselves with Giorgio Agamben's notion of potentiality as knowledge of an ability. The potential of sound waves which travel and intersect with others while maintaining their discreet form is ominous.
Adam Costenoble's Obstruction is a cubic concrete box with a concrete lid, concealing a relationship of heavy impacts and deep rumbles which will not be seen but may be heard and felt. He quotes Boyd 'Red' Redding on incarceration dependency. Matt Chaumont, in An Example, tilts two oil drums like timpani with embedded speakers creating a deep, almost inaudible dissonant rumble. He reflects in the exhibition notes that what he has done is in fact done by something larger than himself, but is this irony, complicity or passivity?
Thembi Soddell's black box, into which you climb and sit comforted in the dark and where you are filled with ominous throbs, rushing roars and a washing away below audible thresholds, is an internalized escape. Or does it represent hidden memory? Quoting Sylvia Plath's "safety comes from being in a room without windows", it seems it is the former.
freakley & mcgechie: dear art, please touch me
Cleverly, the artists of Dear Art (Danielle Freakley and Elizabeth McGechie) have grafted themselves onto artists of another genre in what they call "reanimating iconic works." As in any art gallery commentary, as you look at the NGV permanent Australian collection you listen to designed audio commentaries—only in this case of popular democracy they are responses generated from anonymous, random members of the public.
You trip through the kaleidoscopic vision of two children in front of Presentation Cradle by George Armfield (1890). For those same two children, the black and white emu eggs of Casket (1869, artist unknown) represent the rules of the cosmos in which black gods must protect white gods. When white Adam and Eve treat black Adam and Eve badly, the black ones grow fierce and hunt the white ones instead. GF Folingsby's Bunyan in Prison (1864) is treated to a comic re-enactment—an obnoxiously drunk man ridiculed by the women seated around him. According to a young man, Exterior of Brickhouse (1860s), by the same artist, is occupied by an old Eastern European woman peeling potatoes.
A middle-aged woman regards WWI gassing survivor Penleigh Boyd's The Breath of Spring (1919) as a coveted, decorative asset untainted by current affairs. Seeing a woman helping a child on a beach in Rupert Bunny's Shrimp Fishers at St Georges (1910), a woman in her 20s speaks of her exclusion from the dominant heterosexual paradise because she cannot have babies.
Hugh Ramsay's portrait of himself (smoking in front of a piano, 1901-2) suggests to a Caribbean male musician that, like himself, Ramsay plays music to make people happy and therefore is a good artist. Clarice Beckett's Street Scene (1925) triggers a younger woman's memory of her desire to escape from a childhood of discipline. A young man argues that self-worth is not found in national patriotism upon seeing the house beneath the Sydney Harbour Bridge in Grace Cossington Smith's The bridge-in curve (1925). For a catarrhic man, the figures in Albert Tucker's Sunbathers (1945) in repose under dark skies are Baconesque flesh, waiting for overpaid GIs to land. For an older, rounder woman, Danila Vassilieff's Petit Bourgeois (1950) is a goddess symbol of the perfection of motherhood, while the Footballer of Sidney Nolan (1946) is lampooned by a "fat kid who grew up hating the thuggery of organised sport and read a lot at school." Of John Brack's Collins St 5pm (1955), the two children describe the sad, boring, restless faces of those marching off to work to pay the rent.
Pay no attention to the man behind the curtain, performer Alisdair Macindoe, media artist Cobie Orger, sound artist Simon Charles, instrument builder Rod Cooper, writer Kynan Hughes, Malthouse, May 22-24; Please Hold, original concept, direction Sam Routledge, writer-performer Halcyon Macleod, design Alison McNicol, sound design & systems Declan Kelly; Arts House Meat Market, May 22-31; Tracts, curator Ben Byrne, Blindside Gallery, Nicholas Buildings, May 22-June 7; Dear Art, Please touch me, Danielle Freakley, Elizabeth McGechie, Ian Potter Centre, National Gallery of Victoria Australia Gallery, May 24-June1; Next Wave Festival, Melbourne, May 15-31, www.nextwave.org.au
RealTime issue #86 Aug-Sept 2008 pg.
© Adam Broinowski; for permission to reproduce apply to realtime@realtimearts.net