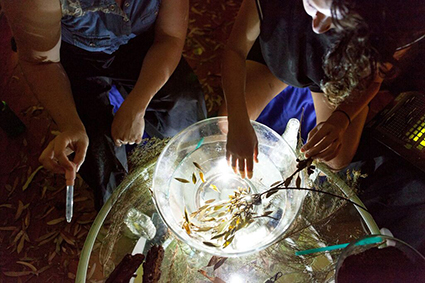 photo Matt Sav courtesy Proximity Festival
Meditations on Water, Mei Saraswati
Carefully curated programs A, B and C take the Proximity Festival's audiences along distinct pathways of experience, whether individually or as a marathon effort of 12 consecutive unique engagements. At the Art Gallery of Western Australia, works are performed in a selection of open spaces and behind-the-scenes locations, sometimes mingling with gallery patrons in the festival's new daytime schedule. Also new this year is a Day Spa facility, serenely superintended by Ian Sinclair, himself a veteran Proximity artist. The Day Spa offers an oasis of calm, complete with cucumber slices, green tea and goldfish, as well as guided meditation recordings: a space to decompress, unpack and process the Proximity experience.
The performers have undergone an extensive selection process, as well as a two-week lab experience, working with Guest Provocateur Helen Cole from In Between Time, UK (RT129, p8). This year's works each provoke in different ways, from subject matter to presentation to startling self-revelation. Some site-specific works engage closely with the gallery's surrounds, history and architecture. Some intensely personal works depend upon the audience's own internal resources. Some are contemplatively conceptual and some see the audience become part of a public art piece.
Program A: surreal
Program A embraces the surreal, each 15-minute experience leaving the audience bemused and wondering "did that really just happen?" Mish Grigor's Sex Talk brings intimate revelations into the public gaze, with artist and audience at a plinth reading out transcripts of interviews about Grigor's relatives' sexual experiences. Malcolm Whittaker ambushes an unsuspecting audience in his engaging persona of enthusiastic volunteer usher, artfully steering the conversation and audience back to a plinth to experience the oddly intimate sensation of having one's teeth brushed by a friendly stranger in his piece, Once of Twice Daily. Monopolly is set away from the daily life of the gallery in the sumptuous Foundation Club Room, where a calmly business-like Chloe Flockhart discusses with you the financial potential of investing in another human's parts.
Jackson Eaton's Current Mood uses the gallery space to explore art, modern relationships and connecting via social apps. The time between bells signalling the start of each session is crammed with a crash course in Snap Chat use on iPhone. The helpful usher is patient, but I am already distracted, wondering in what ways this experience will differ for those already familiar with this app and device.
Set loose in the Gallery, my first message arrives, a wittily annotated picture of an artwork. I look around, take a picture of a detail in a painting, put my own caption to it and send. The next missive arrives nearly instantly. Is there a theme here? Are we being randomly flippant? Is this interaction or swapping posts? Getting the hang of this, reducing mighty canvases to transient smartphone fodder, I am on a roll when the tone of incoming messages changes. "I thought we could make a connection." "I don't know if this is working." The sudden change from jaunty confidence to plaintive self-doubt is disarming.
"Can I touch you?" appears on my screen, as Eaton appears in front of me, makes sustained eye contact as he raises his hand slowly towards my face, before abruptly snatching the phone out of my hand, turning on his heel and walking rapidly away as the next bell rings.
The experience raises a flurry of questions in its wake, encompassing the nature of engagement, communication, technology, distraction and the etiquette of art appreciation. Eaton's deft manipulation of Snap Chat raises doubt over the validity of my responses.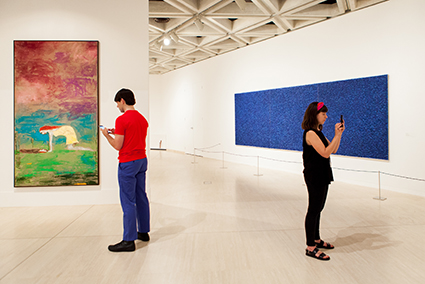 photo courtesy Proximity Festival
Current Mood, Jackson Eaton
Program B: existential
Program B is existential in outlook, challenging audience perspective. In Micronational, the audience is gently guided by Tom Blake to discover their own state of being, then create their own State. Caroline Garcia's Beings-Unlike-Us is a capsule of Filipino culture across time and taste, enfolding the audience member into a whirl of flavours, habits, melodrama, costume, dance, karaoke and Pacquiao posters before an abrupt return to the gallery concourse. Phillip Adams' beautifully conceived and presented After is inspired by alien abduction—featuring mirrors, movement, flesh and auditory isolation. The question as to which party is the abductor and which the abductee, is cleverly ambiguous.
Mei Saraswati's Meditations on Water is grounded in the vanished geography of inner Perth, a chance to experience the history of the gallery site. A degree of trust is required as the artist takes me on a blind tour through bygone wetlands. Senses are heightened in the dark, leaves crunch underfoot, releasing eucalypt scent. Fingertips are taken on their own journey through bowls of fine sand and leaves. The feel of water droplets connects with Saraswati's vivid descriptions and a soft soundtrack of nature's movements. The sudden sensation of sunshine on eyelids as an external door is opened brings the large water feature by the side of the gallery to new life and cacophonous birds seem to perform myriad antics in the trees around the edge. Saraswati's description continues, relentless, explaining how and why rich wetland life disappeared.
Then we go to another place, the former lakeside site by night, and on opening my eyes find vessels of water, gentle night sounds and cool native vegetation. Sitting on a stool, I work with Saraswati to create sound loops with the water. Splashing, dribbling and stirring to learn the song of the ripples creates a meditative recreation of a vanished place. Returning to the bright, dry gallery, a subtle palimpsest lingers of a mighty lake that once dominated this landscape.
Program C: introspection
Program C is an exercise in introspection, with an emphasis on audience contribution. Guided by Jo Bannon's voice from the other end of a rotary dial telephone in a hidden nook of the gallery, Dead Line raises practical and metaphysical questions about our mortality. Raised by Brutalism fills a stairwell with stark lines of raw concrete, snarling bass stylings and a personal response to being immersed in isolation, courtesy of Leon Ewing [Black en Masse]. More interactive, but still contemplative, is Emily Parsons-Lord's daytime stargaze on the rooftop, exploring the power of naming objects and the fundamental chemistry of the universe in You Will Always be Wanted by Me.
Brett Smith musically occupies another stairwell in When You're Here, I'm Nowhere. The audience is taken to the roof of the gallery and left at a door. Walking down the stairs inside, the warm yellow glow of the hanging light bulbs with their tangled filaments leads the way, fading again above and behind. Piano chords, full of notes, sound from below. As I arrive at the grand piano, Smith looks up and smiles at me and keeps on playing. I perch on a stool provided across the strings and watch him play.
Smith develops his chords, improvises. The intensity builds. He is lost in his keys. He starts to sing, a voice easy on the ear, but conveying intense emotion: "When you're here, I'm nowhere," a simple lyric, repeated. The chords change, the style changes and the same lyrics take on other shades of meaning.
Each audience member will experience this piece differently, a salute to the intense subjectivity of the world of music. Smith presents it and his audience must take on the raw experience and a slightly voyeuristic sensation with an intimacy and ambiguity that may be encompassing, trigger a fly-on-the-wall response or even exclude them from the performance. The strength of this piece lies in its openness to subjective engagement.
Proximity Festival breaks new ground in 2015, both with the profile of its hosting venue and in the careful selection of provocative pieces. No work seems included for novelty value alone, performers having developed tight conceptual expression and working to a consistently high standard. The efficient organisation that has marked previous festivals remains in place, individual maps, timetables and co-ordinated bell-ringing combining with friendly and helpful volunteer ushers to make even the most convoluted route through loading bays safe and quick. Curators Sarah Rowbottam and Kelli McCluskey continue to develop the skills and sensibilities of performers and audiences in the peculiar challenges of one-on-one performance, driving not only Proximity Festival's future scope but possibilities across the entire form.
–
Proximity Festival 2015, co-curator, director Sarah Rowbottam, co-curator Kelli McCluskey; Art Gallery of Western Australia, Perth, 28 Oct-8 Nov
RealTime issue #130 Dec-Jan 2015 pg. 12
© Nerida Dickinson; for permission to reproduce apply to realtime@realtimearts.net