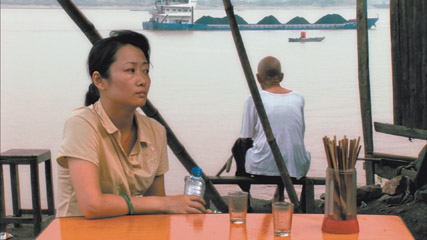 Still Life
THE SPRAWLING MARQUEE THAT IS THE VANCOUVER INTERNATIONAL FILM FESTIVAL (MORE THAN 300 TITLES ARE SPREAD OVER A GENEROUS 15 DAYS) IS SUPPORTED BY THREE MAIN PILLARS: CANADIAN FILMS, DOCUMENTARIES AND EAST ASIAN CINEMA.
These provided two program highlights in this year's event, one the latest instalment from one of the young masters of contemporary global cinema, and the other a retrospective of one of the medium's last pure innovators. While China's Jia Zhangke and Canada's Norman McLaren could hardly be further apart in aesthetic style, production techniques or thematic preoccupations, both maintain singularly bold visions that successfully resonate widely with discerning international audiences.
east asian cinema
Operating under the banner of Dragons and Tigers, Vancouver's Asian focus has generated considerable interest for North American critics and local cinephiles. Programmer since its inception in 1992, Tony Rayns' last ever selection for the festival consisted of the usual heady mix of commercial cinema, underground arthouse projects and cutting edge animation. This eclecticism reflects a healthy film culture that values a diversity of styles across all levels of production. Any program that includes Yiang Liang's grungy guerilla piece Taking Father Home, Ann Hui's crowd pleasing, star-studded Post Modern Life of My Aunt, and a stunning anthology of short independent anime from Japan and Korea will be regarded for its breadth rather than for identifying clearly discernable trends. More than just spotlighting the region to Western audiences however, the Dragons and Tigers program can make some claims to launching several notable filmmakers' careers through its Jury Prize for Young Cinema, which has recognised incipient excellence often well before other festivals and critics. Previous winners include Jia Zhangke (in 1997 for Pickpocket), Wisit Sasanatieng (with the anarchic Tears of the Black Tiger, 2000), Takahashi Izumi (The Soup, One Morning 2004) and Liu Jiayin (Oxhide, 2005, RT67, p22). Jia Zhangke's latest film, Still Life, appeared in this year's program (though ineligible for the jury prize), fresh from its much debated winning of the Golden Lion at Venice as the surprise competition entry.
jia zhangke's still life
Still Life (the actual title in translation is The Good People of the Three Gorges) centres on two parallel stories set in the literally crumbling Fengjie province, primarily in several townships being slowly demolished before flooding by the Three Gorges Dam. A morose, ineffectual middle-aged man is searching for his estranged daughter and ex-wife, while a woman from Shanghai has come looking for her husband, seeking a divorce. The protagonists wander amongst the detritus of the region with an air of quiet desperation, discovering the remnants of a discarded society while they hunt for family members. Villagers cling to their existence, living in houses clearly marked for razing; prostitutes ply their trade in roofless dwellings; and work parties of demolitionists perform life endangering tasks for paltry remuneration. Jia finely balances the mood between mournful and surreal as routine daily exchanges are rendered heroic against the backdrop of the doomed landscape of abandoned towns, meandering rivers and jagged cliff faces.
The opening seconds of Still Life reveal a much grainier High Definition look than Jia's previous work, there is a more immediate rawness akin to documentary than the cleaner (albeit still digital), sweeping compositions that were the backbone of The World (2004). This is not to say the staging of Still Life is not meticulously crafted; it consists primarily of long takes either tracking over groups of workers or a static frame soaking in the collapsing townships. The length of the shots gives the film a lugubrious pacing that adds, rather than detracts, from its impact as the viewer is invited to explore every facet of the collapsing physical environment and the characters' internal journeys within it. In an extremely bold manoeuvre, the narratives are framed by two ostentatious magic realist devices (which won't be revealed here) that further underscore the surprisingly epic nature of the film, rather than jar disconcertingly. As sombre as Still Life can be, it concludes on a cautiously upbeat note, a bravura final shot that becomes a celebration of human capacity for survival, and the film avoids becoming merely an indictment on the bleak social conditions and the emotional malaise of its inhabitants.
Critics of Jia's work complain that the landscape tends to overshadow his characters, dwarfing them both physically and emotionally, and as a result they seem distant and insignificant in scale; it's difficult to get too involved in their desires and problems. It is true that again in this film the introspection and underplayed emotions of the characters are in contrast to the louder emotional drum beats on display in more popular cinema, and that their occasional passivity can slow the narrative momentum. However, the time and space given to the performances are refreshing and encourage further reflection and interpretation of action and motivation.
norman mclaren
On watching a wide ranging retrospective of Norman McLaren's work, it is easy to be impressed with the Scots-Canadian experimental filmmaker's body of work that combines accessibility with the truly avant-garde. It is a testament to his abilities that McLaren gained a slew of mainstream prizes, in arenas including the Academy Awards and the Cannes, Berlin and Venice Film Festivals when his films rarely contain anything approaching a narrative, and some consist entirely of a swirling, transforming colour palette shifting to a pulsating jazz soundtrack. His films, now well and truly canonised by the Canadians, hold up to scrutiny decades after their production.
McLaren worked primarily through a self-taught form of animation by painting directly on to film stock or manipulating it through scratches and other indentations. But over a lengthy career spanning through the 1940s to the 1970s, his technique became more varied and deviated from his trademark paint and ink (as in Begone Dull Care, 1949), to playful stop motion with ethical underpinnings (Neighbours, 1952 and A Chairy Tale, 1956) to experimental dance pieces (Pas de Deux, 1968). It is his paint and ink work that is perhaps his most striking, and innovative. His mission to "visualise jazz" is remarkably successful, capturing the free form sound through an ever-changing swirl of colour, bubbling textures and anthropomorphic lines: his sketches dance hypnotically. As digital tools are now the stock and trade of the animator, it is with some nostalgia we view McLaren's engagement with negatives as a literal canvas, but also with amazement at the end result that possesses at least as much visual dynamism as a contemporary music video. McLaren was not afraid to experiment even further with the stock, scratching the soundtrack of the film to provide startling aural effects. He revels in slight imperfections as much as the clear cut successes, the occasional tangible rough edges often adding to a film's charm.
McLaren's visual style is infectious, assisted by a playful sensibility that can't resist turning to humour. His stop motion pieces are marked by a Keatonesque physical comedy, and his jazz pieces are as naturally upbeat as their accompanying scores, the object being to delight rather than to preach through esoteric posturing, a welcome stance from an experimental filmmaker.
Entering the 1970s, McLaren's musical interests turned to his own electronic compositions, with some synthetic beats that proved his pioneering skills were not limited to the visual. His animations changed proportionately; the rawer, colourful explosion of the jazz period animations were replaced by cleaner, symmetrical, uniform shapes that march rhythmically to the electronic soundscape, encapsulated in Synchromy (1971).
The National Film Board of Canada (NFB) was McLaren's employer for 40 years, evidently giving him time and space to work on his own projects which he did a prolific rate. The NFB have released a seven-disc box set that comprehensively captures the range of McLaren's work. His opus is invigorating, an inspiration to continue searching for and celebrating new methods of visual expression.
Whilst lacking the glamour and marketplace components of its eastern cousin in Toronto, the Vancouver Film Festival is focused on bringing quality art cinema to Canadian audiences, and to this end is highly successful. With the continuity of its programming staff and director (Alan Franey has led the festival for almost 20 years) a key factor in its achievements, VIFF acts as a good model for festivals large in scope but wish to keep their focus specialised.
Vancouver International Film Festival, Vancouver, Canada, Sept 28-Oct 13
RealTime issue #76 Dec-Jan 2006 pg. 22
© Sandy Cameron; for permission to reproduce apply to realtime@realtimearts.net