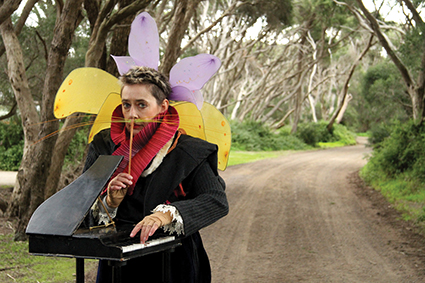 photo Daisy Noyes
Margaret Cameron, Opera for a Small Mammal, Chamber Made Opera
UNFORGETTABLE, WHETHER WHEN WE FIRST SAW HER IN 1986 AT PERFORMANCE SPACE IN ULRIKE MEINHOF SINGS, DIRECTED BY NICO LATHOURIS, OR ON THE MAINSTAGE IN JENNY KEMP'S PRODUCTIONS OF CALL OF THE WILD (1989) AND JOANNA MURRAY-SMITH'S NIGHTFALL AT THE SYDNEY THEATRE COMPANY IN 2000 OR, ABOVE ALL, IN HER OWN THINGS CALYPSO WANTED TO SAY (1990) AND KNOWLEDGE AND MELANCHOLY: AN AUTOBIOGRAPHICAL FICTION IN 2004, AGAIN AT PERFORMANCE SPACE.
We wish we'd seen her later performances and more of her acclaimed directing, which we first glimpsed in Aphid's 2003 puppet-play trilogy A Quarreling Pair and last witnessed in Chamber Made Opera's Minotaur The Island, for which she also provided the text for David Young's composition, in the Aurora Music Festival in 2012 in Sydney's west.
Acting, directing, writing or just being, Margaret was a dynamic presence, at once authoritative and intimate. Her idiosyncratic weighting of words, the lateral lilt of her sentences and that distinctive tone, all at one with her art, will long be recalled and treasured.
Keith & Virginia
In the archive
The RealTime archive includes responses to Margaret's work and an article by her, "Art & care: where life and death connect", which she wrote for us in 2013 in RT117.
Margaret on acting
Virginia Baxter's hithero un-archived 2000 interview, "The other side of Nightfall" (RT 37, p29), with Margaret and fellow actor Ian Scott, also appears in the November edition of Profiler. It's a wonderfully incisive account of the nature and complexity of acting in general and in response to Joanna Murray-Smith's play Nightfall, Jenny Kemp's direction and Elizabeth Drake's score.
In Nightfall, Margaret and Ian play a middle-class couple, Emily and Edward whose daughter Cora (Victoria Longley) disappeared when she was 16, assumed abducted. But seven years later a go-between, Kate, arrives to negotiate the return of Cora—who is revealed to have left home of her own accord. In most respects Nightfall is a conventional play, well crafted, suspenseful and morally complex, but Cameron, Scott and Kemp made it something more in the perturbing rhythms of the playing. Cameron's approach brought the same kind of subtle attentiveness to a naturalistic play that she would to an experimental work with powerful results.
Here are two excerpts that tell you something about Margaret and her art.
"The approach to the play for me was a matter of the whole body physically listening. The listening body is like an animal: you can get caught, suspended; you're hunting the sense and the emotional sense. Jenny Kemp is a very good director for me in that she loves to see that. If you get stranded halfway, held in space, Jenny's in a state of delight because it's dangerous. She credits the invisible world. She understands it as present."
"[Emily's] emotional/physical world is adrenalin, huge expectation and capping and locking a terrible fear that things might not be all right. It's a paradox she starts with, an expectation equaled by massive fear. And they're balancing each other. That's her place. And she keeps working towards the belief that Cora will come in that door at any moment. She's sincerely trying to help Kate. And the pressure will shift me around emotionally so that if on a particular evening there might be a point reached in the graph, which is a little bit unexpected or the intensity is less than last night, what happens is that it goes somewhere underneath. It'll curve around and sort of push you in another sequence. So you're playing the essentials every night but where they occur is moveable and very volatile. It's quite frightening to perform."
RealTime issue #124 Dec-Jan 2014 pg. 38
© Keith Gallasch & Virginia Baxter; for permission to reproduce apply to realtime@realtimearts.net