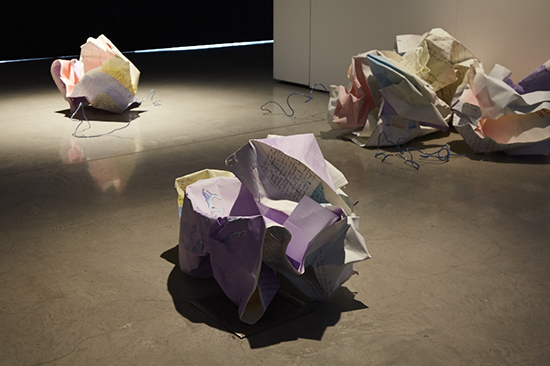 Ella Barclay, I Had To Do It, Greeting Programs (best left unsaid), installation view, UTS Gallery
In my path as I turn at the end of a dark corridor are four squat, crumpled, art paper (white, blue and pink pastels) sculptures in my path. They look a little like flowers, loosely hand-inscribed (not easy to decipher) and threaded here and there with twisted aluminium wire. Greetings Program (best left unsaid) offers an enigmatic welcome to Ella Barclay's solo exhibition at UTS Gallery, titled I Had To Do It. These objects conjure an image of the artist hard at work and compulsively scrunching up and, as suggested by the curious presence of the wire, discarding unacceptable prototypes.
Turning into a darker space, reveals a low, human-length container of furiously bubbling liquid, colour-shifting through intense pink, blue and green and issuing swathes of mist. Dark wires twist over the surface which seemingly breaks as a hand appears, legs, a face, a smile, someone climbing out and another body rising up (video projected from above onto the water) in this spa-like device. It's the wires that disturb and the rather hallucinatory bathing humans in what appears to be an emerging sci-fi-ish scenario about being taken by data capture. But the work's title, Summoning the Nereid Nerdz, is playful (the Nereids are sea nymphs in Classical Greek mythology)—as are the titles of the show's other works, contrary to its overall mood.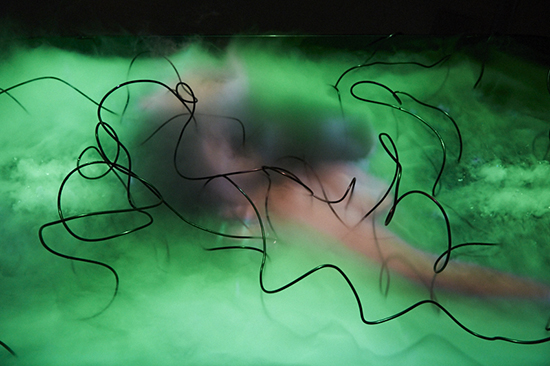 photo Joy Lai
Ella Barclay, I Had To Do It, Summoning the Nereid Nerdz, UTS Gallery
About the pool are sleek, black plastic shapes—each metre-length or more; two on the floor, one on a wall, two suspended. Hard-edged and sharp-ended, they are roughly triangular. Where open to be peered into, they reveal the kind of wiring already seen, sometimes running to an outer edge and aglow in sections with a soft blue luminescence evoking data transmission. From several of these 'devices' comes the sound of women's voices, layered, distant and accompanied by a soft, haunting wordless melody, again female. The impression is of a cluster of advanced computers, having long ago left boxy designs behind and functioning in quiet harmony.
Barclay says the "singing tones" in Mystic Heuristics IV, V, VI, VII + VIII (Periodic Boundary Conditions) "are potentially homage to the 300 years of women who contributed to computational history, whose stories are not well known" (interview in Artist Profile, by Lucy Stranger).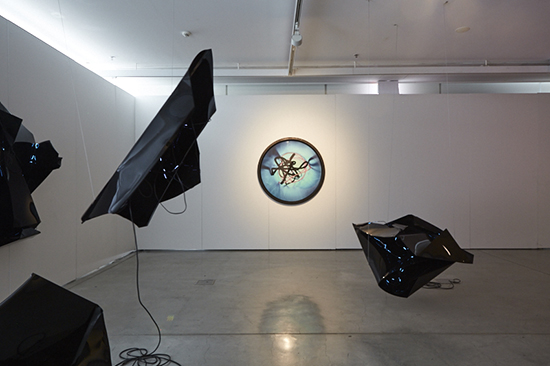 photo Joy Lai
Ella Barclay, I Had To Do It, Mystic Heuristics (foreground), installation view, UTS Gallery
On the wall, three large, circular photographic 'portraits' frame the black devices and the burbling pool, inexorably foregrounding the centrality of the wiring in I Had To Do It. In each a coloured wire is overlayed or entangled with thicker, more vigorous, almost brush-stroked black ones. For all their stillness, these images suggest some kind of drama, of colour or technology contested. But there are no clues to be found immediately in the works' enigmatic titles: The nerds have got to stop working for the thugs; Plastic environments imaginatively inhabited (Dopamine long morning bed head); and Love is a metaphysical gravity.
The compulsiveness declared in Barclay's title for her show, I Had To Do It, is evident in the intensifying focus on wiring, from the detritus of creative frustration to the black lines twisting ominously over the Nereid Nerdz, from the workings of fictional machines to a set of ambiguous portraits that altogether supplant the human. Yet Barclay's titles are jokey, the 'spa' work is kitschy, the song in Mystic Heuristics celebrates women's role in the making of the computer and there's historical to and fro-ing: nerds as nereids, retro framing of the wiring 'portraits' and the play between art paper, hand writing and a wordless song emitted by futuristic computers. I Had To Do It conjures a dark vision, but assuredly captures the ambivalences of our relationship with contemporary technology. (Kailana Sommers' catalogue essay, "Minimum requirements for a feeling of schizophrenia," which accompanies rather than directly contextualises the show, prompts grimmer thoughts.)
As Barclay says of her work, in the interview with Lucy Strange, "It's a kind of techno-romanticism or dealing with the idea of techno-sublime. I'm not particularly interested in ideas of new technology or innovation; it's more about our experience as we navigate this kind of landscape." With its spooky ambience, curious creations and restless ambiguities, I Had To Do It is an engagingly disorienting experience.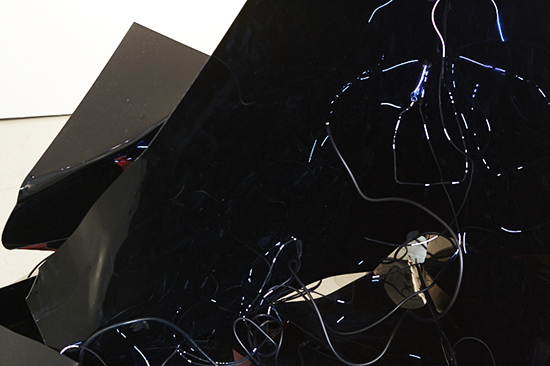 photo Joy Lai
Ella Barclay, I Had To Do It, Mystic Heuristics, UTS Gallery
I Had To Do It, artist Ella Barclay, UTS Gallery, Sydney, 4 Oct-25 Nov
Ella Barclay has exhibited extensively in Sydney, as well as in project and group exhibitions in Tokyo, Taipei, Edinburgh, Brisbane, Kassel, Bathurst and New York. She has been a finalist in the Helen Lempriere Travelling Arts Scholarship, the New South Wales Visual Arts Fellowship (Emerging) and the John Fries Award. She is a current PhD candidate at the University of Technology, Sydney. This year she is a resident artist at both the Australia Council Studio, London and Casula Powerhouse, Western Sydney.
RealTime issue #135 Oct-Nov 2016
© Keith Gallasch; for permission to reproduce apply to realtime@realtimearts.net