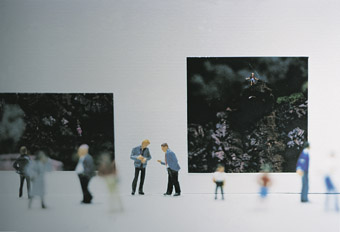 Rebecca Ewer, The Gallery #2, 2001, c-type photograph
The setting is familiar and so are the people. Someone fills your wineglass and asks if you're having a good time. Faces you recognise stop and say hello, while new acquaintances smile as they pass by. You even look at the art every now and then (just to remind yourself why you're there). We expect it all to mean something but it rarely ever does.
Memories create the basis for illusion and constructed landscapes offer limitless possibilities. Nothing is ever as it seems in the photographs of Rebecca Ewer. Closer inspection will reveal the truth. Simple scenes are sometimes just that, but reality is always open to interpretation. Watch this space.
Works from Ewer's The Gallery series have recently been shown in the 5UV window and Adelaide Central Gallery.
RealTime issue #51 Oct-Nov 2002 pg.
© Leanne Amodeo; for permission to reproduce apply to realtime@realtimearts.net