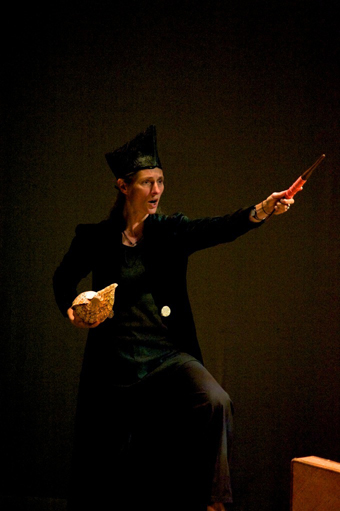 photo Phil Sharp
Deborah Kayser, Minotaur The Island
CHOKE, FELL, FLOAT, PAWL, SHED, SHAFT, SHOT, SHUTTLE, SLEY, THRUM, WARP, WEFT. ANY WEAVING GLOSSARY WILL PROVIDE YOU WITH SOME OF THE MOST BEAUTIFUL WORDS KNOWN TO MANKIND. WHILE ORIGINATING FAR FROM THE GREECE OF DAVID YOUNG AND MARGARET CAMERON'S OPERA MINOTAUR: THE ISLAND, THEY NEVERTHELESS FIND THEMSELVES EXPRESSED IN THE WORK'S DRY, WHISPERED TIMBRES AND BRISK ARTICULATION.
Watching the ensemble quietly going about their performance, handbags on heads, one feels in the "worshipful company of weavers" unravelling and re-weaving a myth before your very eyes.
The ceremonial intensity of Minotaur The Island is heightened by the intimacy of the opera's sound sources. Deborah Kayser's versatile voice spins Cameron's text into silken and woollen strands before letting them disintegrate in her mouth; glass balls are held close to the ears while they are rubbed, hit and twittered to; a man in drag struggles to make a sound on a double bass before falling asleep and victims of the Minotaur hum a chorus from inside a basket. In a momentary gesture towards traditional concert practice Anastasia Russell-Head, dressed as a seagull, plays a virginal before 'sad walking' off stage. The virginal (a nod to the lost Minotaur opera of Monteverdi), so called for its association with young women, is inscribed "noli me tangere indocta manu," or "let no untutored hand touch me." Alongside The Island's undeniable sensuality is a tutored symbolism that is difficult to decrypt.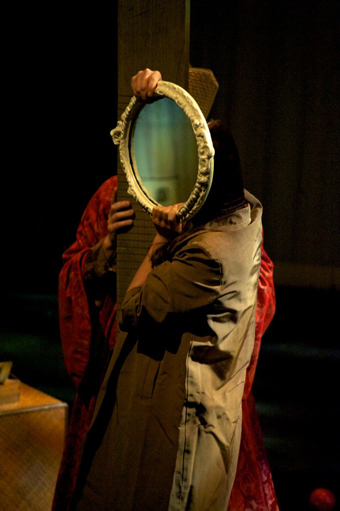 photo Phil Sharp
Anastasia Russell-Head, Minotaur The Island
In reweaving the myth of the Minotaur some threads are brought to the surface while others are dropped. The story of the Minotaur—to whom seven virgins are sacrificed every year or so—has always been one of diminishing returns. Fittingly, only one aria from Monteverdi's L'Arianna survives: Ariadne's bitter lament as she is abandoned on the island of Naxos by Theseus after giving him the thread that led him out of the Minotaur's labyrinth. This air of confusion, death and abandonment haunts The Island, in which Ariadne appears on the island of the Minotaur to rewitness the slaughter of Athens' youth in dream-like ecstasy. In another artfully placed anachronism one hears the story—parallel to that of Ariadne's thread—of the labyrinth's architect Daedalus threading a conch shell by tying a thread to the leg of an ant.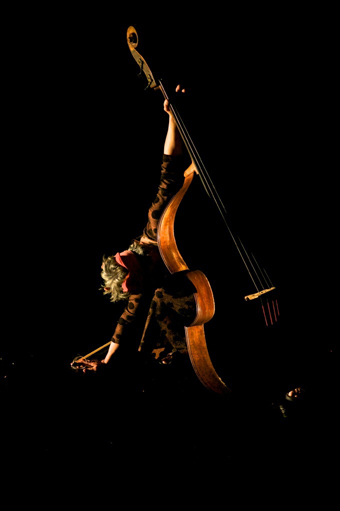 photo Phil Sharp
Mark Cauvin, Minotaur The Island
Is there a thread out of Young and Cameron's meandering architecture of exquisite visions? I left Parramatta's Riverside Theatres resonating with Young's intensely quiet timbral formulations. With the minimum of sources Young crafts a perpetuum of ever-changing interest and subtlety absolutely wedded to the opera's woven and wooden stage design. As the first part of a trilogy, The Island sets a stunning precedent for the future works, and as Ariadne puts it at the beginning of The Island: "even if I were to die, I would return."
Aurora Festival of Living Music: Chamber Made Opera, Minotaur The Island, composer David Young, writer, director Margaret Cameron, performers Deborah Kayser, Caroline Lee, Hellen Sky, Ida Duelund Hansen, double bass Mark Cauvin, percussion Matthias Schack-Arnott, harpsichord Anastasia Russell-Head, Riverside Theatres, Parramatta, May 11-13; www.auroranewmusic.com.au
RealTime issue #109 June-July 2012 pg. web
© Matthew Lorenzon; for permission to reproduce apply to realtime@realtimearts.net