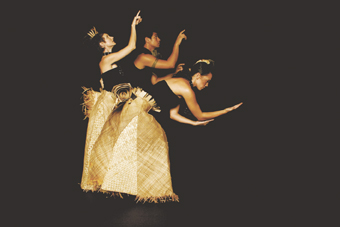 photo Dallas Blackmore
Polytoxic, Teuila Postcards
The South Pacific has long been a site for European travel fantasy with its geography strategic for colonialist expansion and its languid and intoxicating mix of palm trees and exoticised otherness. Teuila Postcards, the first full length production for Brisbane dance ensemble Polytoxic, is a well-crafted critique of the fantasy, fusing traditional Polynesian and contemporary dance theatre in a very funny and totally engaging take on all things culturally kitsch and colonial.
Following a prologue which sets up the non-linear travelogue narrative with a delightful departure lazzi, we experience Samoa simulacra. Familiar postcard representations of blue sea, blue sky and grass-skirted dancers manufacture desire for escape and excess. And while a long list of cultural protocols and etiquette projected on screen hints at the complexity and nuance of the host island cultures, these are cheerfully undermined with a final Virgin Blue proclamation, "if all else fails, just smile."
Accompanied by a cheesy pop soundtrack, ensemble members Lisa Fa'alafi, Efeso Fa'anana and Leah Shelton playfully warp the tourist postcards and juxtapose the dream with the reality. A young woman (Fa'alafi) fantasizes her way through her decidedly unglamorous domestic duties with Prince and Whitney on walkman and her short brush broom as karaoke mike and dance companion. Performing a lipsynched show for tourists, a transgender fa'afafine's (Fa'anana) elephantine eyelashes flutter with mock humility at her admiring audience as momentarily a thought bubble appears, "Oh, I forgot to feed the pigs." A 19th century missionary's wife (Shelton) confined in black lace and plastic represents the early Palagi (Europeans) and their erotic obsession with the 'native night dancers.' Breathlessly, she takes tea and enquires, "Is immoral behaviour still the fashion?"
In shorter pieces, Polytoxic never fails to entertain through the cheeky playfulness of multicultural choreography and a clear passion for connecting with audiences. And now, a full length production has allowed the ensemble's natural flair for comedy to develop. This was most evident in the pure vaudeville of the trio of lipsynching divas who banter their way through a pre-show make-up ritual. In this sequence, the company's finely tuned choreographic timing was effortlessly transferred to spoken word as their glorious gossip and idiosyncratic turns of phrase brought gales of laughter particularly from members of the Samoan community in the audience.
But behind all the laughs is a commitment to communicate the paradox and complexity of contemporary Polynesia not only through the clever narrative through-lines but also the performance's choreographic range. The energizing high pace vitality of Polytoxic's signature style is all the more alive silhouetted against the banal Hollywood rock-a-hula and MTV shimmying. While grounded in a contemporary bass beat and a lot of street style, Polytoxic's choreographic attention to detail is evident in hand movements and here they often take centre stage: from traditionally inspired finger flourishes evolving from the ordinariness of pegging out clothes to erotically charged hand tableaux (those immoral night dancers again) framed by the porthole sized windows of the simple but inspired set.
Polytoxic happily take the piss out of the touristic and exoticising impulse but crucially give something in return—providing insight into the realities beyond the postcard grin. Fa'alafi, Fa'anana and Shelton are, as always, simply great to watch. And while the performance may be a shade too long, their invigorating style makes their "Polytoxic loves you" by-line so apt. It was clear the audience wanted to say, "Right back at you."
Polytoxic, Teuila Postcards, creator-performers Efeso Fa'anana, Leah Shelton, Lisa Fa'alafi, Polytoxic in association with Strut and Fret Production House for the Afrika Pasifika Festival; Brisbane Powerhouse, March 18-19
RealTime issue #72 April-May 2006 pg. 35
© Mary Ann Hunter; for permission to reproduce apply to realtime@realtimearts.net