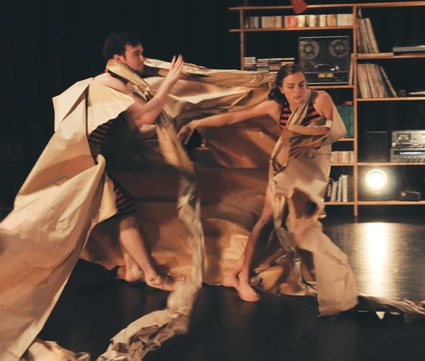 photo Heidrun Löhr
Rennie McDougall, Jorijn Vriesendorp, Mix Tape
AFTER BYRON PERRY, ANTONY HAMILTON AND MICHELLE HEAVEN, STEPHANIE LAKE IS THE FOURTH YOUNG DANCER TO PRESENT A FULL-LENGTH CHOREOGRAPHY UNDER THE AUSPICES OF CHUNKY MOVE IN THEIR NEXT MOVE SERIES. A SPECTACULAR DANCER, LAKE TOO IS AN ARTIST WHO HAS CLOSELY COLLABORATED WITH GIDEON OBARZANEK AND LUCY GUERIN, HAVING OVER THE YEARS CONTRIBUTED TO MANY OF THEIR MOST ACCLAIMED WORKS.
Lake's previous short works have been charming and soulful miniatures exploring banality: displays of physical affection, emotional reverberations of pop music, everyday language—all important ingredients of Mix Tape, which purports to be a study of love. This is unheroic, unremarkable love, built out of banal language and humdrum gestures (such as, indeed, making a mix tape). Lake builds the work out of three distinct elements: audio recordings of interviews about love, pop songs (spanning Bob Dylan and Joanna Newsom, Caribou and Fleetwood Mac), and the bodies of four dancers (invariably young, slim and petite). The stage is domestic, but minimal: a bookshelf filled with tapes and music players, including an old reel-to-reel, and suitcases full of clothes. The effect is resolutely homey, verging on agoraphobic. It is not merely the setting that is domestic: the performers linger on stage, lying down and changing costume, inhabiting it as their private space.
The movement energetically illustrates some of the conflicting emotions brought up in the accompanying recorded interviews and songs: two couples interlock in intimate embraces, planting small kisses in hidden spots, while at other times bodies are helplessly flung about or confront each other in violent fights. Lake shows great ability to create beauty out of everyday motifs (in particular, she uses the vocabulary of domestic affection to great effect), but the choreography is greatly indebted to Guerin: from tiny but swift hand and facial gestures, through loose and less articulate movements of the torso, down to strong reliance on domestic gadgets as catalysts of choreography, mirroring duets and the predominance of 45-degree spatial relationships. The semi-documentary nature of the work displays the influence of Obarzanek's methodology, but without his editing discipline.
Most troubling, however, I found the choice of performers. Is it possible to illustrate the possibilities of physical affection on such a narrow range of bodies? The voices in songs and interviews were greatly more varied. I longed to see the complex emotions they expressed developed by wiser, older bodies whose lived experience would allow them to express some of the subtle complexity of long-haul love. The second problem is numerical. Two couples can represent neither the universal exceptionality of a single couple, nor the diversity of a multitude—at best, they seem to represent a parochial range of, say, 'me and my friends'.
The merely illustrative nature of the choreography rarely pulls the interviews and the songs into focus: as a result, spoken word seems to hold more meaning than it necessarily ought. The individual introspective revelations are skimmed through, and yet the work never builds into a sociological study either. It rambles, rather, remaining charming but fragmentary, its shape never rising above a sort of list of different things we might say about love. It is difficult subject matter, on which everything has been said many times over—including within dance. The dangers of falling into glibness and pure cliché are enormous, and Mix Tape only occasionally avoids these. While Lake's approach, equally open to sentimentality and to sociology, is intriguing, it requires greater structure and critical distance to succeed.
Chunky Move, Next Move: Mix Tape, direction, choreography Stephanie Lake, performers Sara Black, Rennie McDougall, Timothy Ohl, Jorijn Vriesendorp, lighting design Benjamin Cisterne, Blubottle, sound design Luke Smiles–motion laboratories, costume design Harriet Oxley; Chunky Move Studios, Sept 2-11
RealTime issue #99 Oct-Nov 2010 pg. 31
© Jana Perkovic; for permission to reproduce apply to realtime@realtimearts.net