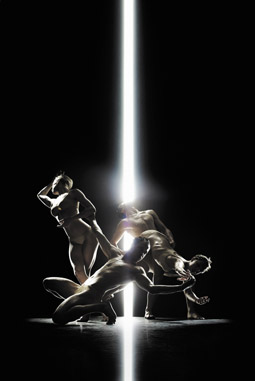 photo Tim Richardson
We Unfold, Sydney Dance Company
RAFAEL BONACHELA, ARTISTIC DIRECTOR OF THE SYDNEY DANCE COMPANY, EXUDES THE KIND OF ENTHUSIASM AND ENERGY THAT IS INFECTIOUS. HE IS FULL OF NEW IDEAS AND PLANS, WHICH WILL NOT ONLY IMPACT ON THE COMPANY ITSELF BUT ALSO, TO SOME EXTENT, ON THE DANCE COMMUNITY AT LARGE. SO, HOW DO THE CHANGES HE IS GOING TO IMPLEMENT SIT IN RELATION TO WHAT HAS GONE BEFORE HIM? BONACHELA DOESN'T MISS A BEAT. HE EXPRESSES RESPECT FOR THE ACHIEVEMENTS OF WHAT HE CALLS THE OLD SYDNEY DANCE COMPANY, UNDER THE DIRECTION OF GRAEME MURPHY AND JANET VERNON, BUT INSISTS THEY ARE NOT HIS REFERENCE POINTS. HE DOES NOT FEEL TIED TO A LEGACY BUT KEEPS HIS EYES FIRMLY ON THE VISION HE HAS FOR THE COMPANY UNDER HIS OWN DIRECTORSHIP—THE NEW SYDNEY DANCE COMPANY.
Born in Barcelona, Bonachela trained at the London Studio Centre and danced with Spanish company Lanonima Imperial before joining the Rambert Dance Company in 1992. A company member for the next 12 years, he started creating choreographic works for Rambert in 1998 and continued to do so until 2003 when he was appointed Associate Choreographer, holding that position for two years. Now best known for works with an artistically innovative approach, often fusing multiple artforms while retaining an appeal for larger audiences, Bonachela early on straddled the artistic and commercial dance sectors.
working with kylie
In 2002, he was commissioned to choreograph a routine for Kylie Minogue at the Brit Awards. It was a resounding success and he went on to choreograph Minogue's Fever tour. While some artists might worry about losing their artistic integrity when working commercially, Bonachela has no such qualms. On the contrary, he says he welcomed the opportunity to collaborate with Minogue and the challenge it brought to work outside of his comfort zone. For the tour, he had to get used to directing large teams, juggling the interests of numerous stakeholders and working incredibly fast. When he returned to choreograph for Rambert, he felt he had grown as an artist and was much more confident in his choreographic vision and in his ability to communicate with his dancers.
a not so double life
In addition to his role as artistic director of Sydney Dance Company, Bonachela maintains his own small company, the Bonachela Dance Company, based at the South Bank Centre in London. How is he going to negotiate simultaneously directing two companies on opposite sides of the world? Bonachela is not worried. His own company is project-based, he explains, not constantly requiring his attention. Employed on a three-year contract, he makes it clear that being director of Sydney Dance Company is his full-time job and will increasingly become his priority. For the time being, though, he has an agreement with Sydney Dance's Board of Directors allowing him to work outside as long as there are no clashes with the company schedule.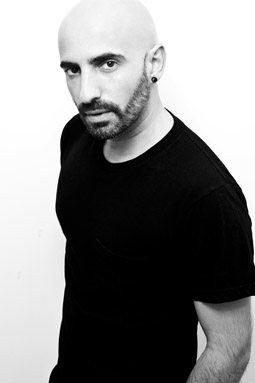 photo Ione Saizar
Rafael Bonachela
commissioning choreographers
It is no surprise then to hear that being able to make his own work was not the factor that attracted Bonachela to the job at the helm of Sydney Dance. As the director of his own company and sought after by both leading contemporary dance companies and commercial clients, he had no shortage of choreographic work. What interested him most about the coveted job as Sydney Dance's artistic director was the opportunity to be in a position to commission other choreographers, both international and local, and to introduce their work to Australian audiences. He is convinced that this incentive will also benefit the dancers of the company, ensuring their artistic development by continuously being challenged and provoked by the different approaches of various choreographers. With the program for his first season at Sydney Dance Company, Bonachela puts his money where his mouth is. It not only features a new full-length work by well-respected Finnish choreographer Kenneth Kvarnstrom, but also continues the Overture Series, conceived last year as a platform for independent and emerging Australian choreographers to create and refine their work before Sydney Dance Company's established audiences.
a new bonachela work
The season opener, due to premiere at the end of March, however, is a new work by Bonachela himself. We Unfold is its title and, after last year's 360°, it's his second work for the company, the first as its artistic director. Set to a symphony by Italian composer Ezio Bosso, We Unfold features a video installation by filmmaker Daniel Askill and costumes by his designer brother Jordan.
The conceptual starting point for the new work was to look at the need to slowly reveal oneself to others and the discoveries, both individual and collective, made along the way. The premise mirrors the situation Bonachela and his dancers find themselves in. With several new dancers joining the company this season, they are all part of a process of getting to know each other and developing a way of working together. Evidence that the process is already taking shape was revealed in the 25-minute section of We Unfold that I saw in rehearsal in early March, four weeks out from the opening. Against the aural sweep of Bosso's emotional score, the dancers perform Bonachela's intricate choreography with concentration and commitment. Sections have the entire company weave around each other, swirling across the stage, in contrast with more intimate quartets, trios, duets and solos, exploring various ways of relating—tender, determined, forceful. The movement clearly draws on the dancers' idiosyncracies, distilled through processes of improvisation during the early stages of rehearsal.
making the future
It's almost an understatement to say that Sydney Dance Company has had a turbulent last few years. These were financial problems, controversy over funding, the resignation of founder and long-time director Graeme Murphy and the sudden death of new artistic director-designate Tanja Liedtke in a road accident. Last year's season, put together by executive director Noel Staunton and featuring works by Meryl Tankard, Bonachela and Aszure Barton, brought some success but couldn't conceal the fact that it had been almost four years since the presentation of a new full-length work by the company's artistic director. Bonachela is expected to rebuild audiences and develop a new identity for the company. Audience development, in that respect, is an important issue and measures to boost the visibility of the company have been stepped up. A presentation of excerpts from 360° at the Sydney Festival First Night in front of an estimated crowd of 250,000 in Martin Place was followed by an appearance on the ever-popular So You Think You Can Dance. There will also be extensive touring this year, both of Bonachela's 360° and Aszure Barton's Sid's Waltzing Masquerade.
And how does Bonachela cope with the expectations placed on him? If he feels any pressure, he certainly doesn't show it. He appears to have boundless energy, thriving on what's going on around him. On the day we spoke I witnessed him switching seamlessly between instructing dancers, consulting with the designers and his assistant, signing a document for someone in administration and chatting to a team from Foxtel making a documentary about him. He remains focused and friendly, almost joyous, at all times. There is a sense of fearlessness about Rafael Bonachela that gives you the impression he might just pull this off. It's a fearlessness anchored in the confidence derived from past successes and a commitment to moving forwards with curiosity and determination, embracing challenge and opportunity. It's a potent combination that just might prove to be a winning one.
Sydney Dance Company, we unfold, choreography & concept Rafael Bonachela, Sydney Theatre, March 27-April 11; www.sydneydancecompany.com
RealTime issue #90 April-May 2009 pg. 37
© Martin del Amo; for permission to reproduce apply to realtime@realtimearts.net