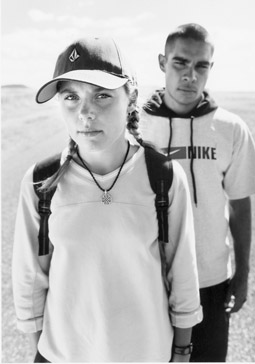 Dannielle Hall & Damian Pitt, Beneath Clouds
The AFI Awards roll around every so often like a funeral for a distant uncle. Time to take stock and try to find something nice to say about the old bastard. It's not been a notable year for Aussie movies with domestic box office share sliding back into the 4% range. It is increasingly clear that Australian cinema rests on a star system that has overshot a local production base. The best analogy might be soccer, where fans are more interested in Leeds United than the local league. Forget the 'telling our stories' rhetoric—the nationalism Australians draw from the cinema is the nationalism of being acknowledged internationally.
It's ironic, then, that a lacklustre year has produced one of the best Australian films for a long time. In a just world, Ivan Sen's Beneath Clouds would walk away with this year's award. Where most Australian films are formally conservative exercises full of Actors reciting Dialogue, Sen can use silence to build to a powerful emotional experience. It's a film of enormous courage which doesn't try to aestheticise pain or set it into a comfortably discredited past. It stands out as a film which successfully asks you to feel something.
If Beneath Clouds has been the major achievement in our cinema's recovery of the courage to deal with Indigenous stories, Rabbit-proof Fence has been the popular success and will probably start favourite for Best Film. It's a film with some fine moments whose importance is in telling us what we should already know about the Stolen Generations. While the emphasis on the strength of young Aboriginal women is a timely intervention, the film falls back on the comforting convention of racism as outmoded bureaucratic insensitivity. Rolf de Heer's The Tracker situates racism as melodramatic villainy, though it does this to grapple with the problems of making our ugly history into aesthetically pleasing art.
Paul Goldman's Australian Rules is another matter. It appears to have survived the bad odour caused by lack of consultation with the Indigenous community and is now draping itself in the mantle of liberal politics. All this for a collection of clichés: the regressive male hero of Black Rock (and a hundred other Aussie films); and the country town as hell. Although it's about standing up to your father, its drama is built around the paternalistic assumption that the courage of white liberals is what's important.
It's all very well having aesthetic victories around the margins, but a healthy film industry needs a sniff of the multiplexes. Three films have had wide commercial release this year: The Man Who Sued God opened on 233 screens, Dirty Deeds on 183, and The Hard Word on 162. Rabbit -proof Fence was the closest thing to a crossover hit opening on 95 screens and then holding around 50 screens through a 5 month roll-out.
David Caesar's got Kerry Packer's money and Broynbrown in Dirty Deeds and yuz can all get stuffed if you don't like it. You've got to admit that the money's on the screen. Every shot is brutally art directed, every line of dialogue polished to a state of rough perfection. Each image strives to be a fragment of cultural DNA from which you could reconstruct the entire zeitgeist of late-60s Australia.
Alex Proyas has got Rupert Murdoch's money in Garage Days. I suppose it's this year's Moulin Rouge, given that it proposes the triumph of visual bombast over quaint pre-postmodern conceits like characterisation. The musical has become the quintessential genre for these self-consciously flashy films. The puzzling innovation here is that although the film appears to champion the cause of live music, all the music is non-diegetic. Being a musician is a hip fantasy, not a matter of performance.
As its title indicates, The Hard Word grows out of the sharpness of its dialogue. There's Guy, Rachel, and a caper which provides the pretext for hardboiled bon mots, though the wheels fall off during the third act. After seeing Claudia Karvan struggle to be a femme fatale last year in Risk, and Rachel Griffiths defeated by the same task here, I'm wondering whether we've got the dark relish of treachery within us. Our politics suggests that the evil in this country is much more banal.
The Man Who Sued God (Mark Joffe) is the kind of compromised, dishonest crap that gives commercial filmmaking a bad name. The impulse to populism manifests itself in over-produced music, helicopter shots, the kind of blue heelers you see in TV commercials, and the kind of Billy Connolly you also see in TV commercials. The film tries to kid you that it's got something to say until the whole pile of shit finally caves in on itself and the only way out is to sell us the old one that love conquers all, even insurance companies. Tell it to your agent, Billy.
Back over in the art cinema margins, theatrical influences still hold sway. Tony Ayres' Walking On Water is this year's Soft Fruit, a film conceived in terms of individual scenes, each leading to its chunky moment of confrontation. The problem is that you get confrontation after confrontation right up to the moment when there has be to Resolution, which has to come out of nowhere. (Russell Mulcahy's Swimming Upstream hasn't been available for preview, but I fear we are in for a similar bout of Performance.)
Where Garage Days is hip that the surface is all, Till Human Voices Wake Us (Michael Petroni) is the complete opposite. Characters are intensely introspective and quote TS Eliot. Piano and cello are played sensitively. This is one of a number of films brought out of limbo to round out the field—but that's part of the value of the exercise. The history of Australian cinema is littered with lost causes, tragically flawed films whose primary interest is in the ways they go wrong, the contradictions they can't reconcile.
Let's consider Paul Cox's 1999 Molokai, a film about lepers with a famously troubled production history. It is tempting to reach for the obvious metaphor and see the film as something of a leper. Given its episodic nature, it is obvious that bits have already dropped off. David Wenham is hunkered down into his accent and declines into the clutches of the make-up artist, Kate Ceberano drops by to give us a tune and Chris Haywood goes blind from drinking whatever Kris Kristoffersen and Peter O'Toole were having in their dressing rooms.
I can see why Cox wanted to make a film about Father Damien, another European wandering in a beautiful but blighted wilderness at the other end of the earth. But it's a hagiography whose time has past, in that it shares with Australian Rules the assumption that it is the white man's burden to save the poor indigenous victim.
Like Molokai, Julie Money's Envy was made in 1999. It's another of these games of get-the-yuppy in which Sydney filmmakers seem to delight. I guess having a 3 generation mortgage will do that to you. Who is the audience for these films? It certainly isn't the yuppies who are caricatured, and the rest of us can hardly be too traumatised by seeing Tuscan kitchens invaded or the paintwork scratched on the Beemer.
After a few festival screenings last year Willfull has had to wait for its brief swandive to the floor in commercial release. Rebel Penfold-Russell concentrates on the design of the film, but seems to have learned about directing actors from watching sitcom mannerisms. But then, the tragedy of the ghostly mother is that life is more complicated than simply being stylish.
Finally, the real suspense this year doesn't concern the films so much as the AFI itself. Given that the organisation has been pared back to something that no longer does much more than this, the Awards are under pressure to produce and I fear that the sparseness of the field won't help.
–
Emirates AFI Awards 2002. Dates to be announced. www.afi.org.au
RealTime issue #51 Oct-Nov 2002 pg. 31
© Mike Walsh; for permission to reproduce apply to realtime@realtimearts.net