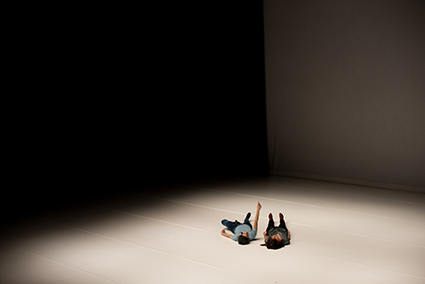 photo courtesy the artist
Into the World, David Weber-Krebs
There is something bittersweet about seeing excellent performance works in Brussels, only to realise that they are made by Australians. There are not too many Australian performance-makers in Brussels, but, due to the dense network of performance venues in this corner of Europe, and the prominence of Amsterdam, Berlin, Paris and London as meccas for theatre lovers and theatre makers, one sees many pass through.
Encounters with the Australian makers are often accidental and serendipitous, and say a lot about the artistic networks criss-crossing Europe. Both shows covered here had only two-day seasons. After we enthusiastically cross-examined the artistic team during the post-show Q&A, one of the performers in Into the Big World, Noha Ramadan, approached us inquiring: "Are you also Aussies?" Ramadan is based in Amsterdam, while David Weber-Krebs (Belgium/Germany), the author of Into the Big World, is based in Brussels but works all over Europe. The author of the second piece, For Your Ears Only, Dianne Weller is a performer, actor and singer who originates from Sydney and arrived in Brussels many years ago via London. I met her through a British friend, who collaborated on this work.
Australian artists in Belgium tend to be light, rested, unburdened by the questions that trouble their peers at home. If they are eligible for domestic funding schemes, like Weller, then they have long-term work security unimaginable to an independent artist in Australia. Local politicians do not attack their profession as a matter of course. And when they make challenging, ambitious works, such as the ones I've seen, the audience really pays attention. It should all be so easy.
Dianne Weller, For Your Ears Only
For Your Ears Only is 'radiophonic theatre': the stage remains in the dark throughout the performance, with only very discreet changes in lighting, while we listen to three critics (Andrew Haydon, Pieter T'Jonck, Elke Van Campenhout) debate the merits and demerits of the performance we are not seeing. The performance engages in two lines of inquiry: the evocative power of sound, and the possibility of recreating the theatrical experience from documentation. For Your Ears Only builds a vast edifice of interpretation around a show that never existed: the audience sees it through the prism of criticism, the critics have only seen documentation material, and the artists have 'documented' a show they never made.
Of course, as Forced Entertainment and similar groups from the 1990s, as well as much contemporary immersive theatre, have proven conclusively, sound is often all it takes to evoke a full experience. Having practically 'seen' the show in question, I feel fully authorised to tell you that it features a three-storey house with rooms outfitted to evoke popular films: Eyes Wide Shut, American Psycho and similar, through which actors move, performing short scenes. Through a pair of multimedia goggles and headphones, we can zoom in on separate rooms and hear the dialogue. In Haydon's words, it feels like "the Internet version of watching theatre." The rooms do not amount to a logical house: among the more ordinary bathroom, kitchen, corridor are motel rooms and a large ground-floor gallery. The spaces are deeply imbued with cultural significance, moreso than with architectural logic; for Campenhout, the entire house feels like "some kind of sanatorium for the sentimentally displaced."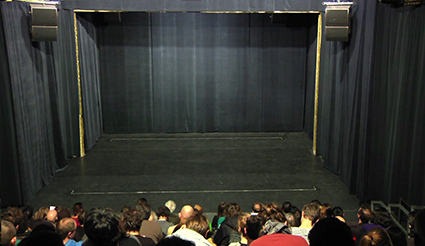 photo/video Alessan
For Your Ears Only, Dianne Weller, Apocalypse 2
The scenes excavate the deep cultural memories associated with the home, which tend towards images of violence, particularly violence against women—a surprising revelation about our collective imagination, contrary to the common discourse on women's safety. For Campenhout, a seedy sexuality reminiscent of Brian de Palma films permeates the show, not least because the spectator feels like a voyeur, having to choose which of the rooms and actors to focus on. The world built in the work is deeply paranoid, a world of men reassuring themselves of their strength by using women—all three critics draw convincing comparisons to an urban, peace-time version of Coppola's Apocalypse Now—and creating larger-than-life cultural hallucinations to replace reality.
Watching/listening to For Your Ears Only had intriguing parallels to calling a phone sex hotline, the (now vastly outdated) version where the listener dials into a pre-recorded audio story: the general seediness of the experience, the thematic intrusion into domestic scenes that fetishise the women who inhabit them, the reliance on the experience of the spoken description of events, as well as the very strange disjunction between feeling like a voyeur and not being able to see. The male gaze structures both, but the absence of visuals allows us to imagine things just right: the show in For Your Ears Only was exactly to my taste.
David Weber-Krebs, Into the Big World
David Weber-Krebs' Into The Big World is the best performance piece I have seen in years. It concerns itself with nothing less than how European science organises knowledge. It traces various scientific methods, taxonomies and epistemologies through history, progressing from direct observation and unstructured lists to detailed taxonomies and theoretical models, to active meddling into natural processes. This progress is brilliantly embodied on stage by two performers, Noha Ramadan and Katja Dreyer, who chant and list and enumerate the things we know on an empty stage. As the knowledge becomes increasingly abstract, exact and the facts distanced from the quotidian life, so the interaction between their bodies and the set (sculpted economically with lighting and sound) becomes disjointed, distant and rigid. With a rigorous minimalism, the organic liveness of performance becomes an oppressively rigid clockwork, the language shifts from 'Here is…' to 'I know…', and a sensuous exchange between bodies and the space surrounding them becomes manipulation, then abstract ownership.
The ideas in the piece are masterfully expressed with a sensibility that is unmistakably choreographic: Weber-Krebs sculpts and articulates body, space and emptiness as precisely as a a master craftsman fashions wood into a chair. Moreover, this is not a live artist's activist critique of abstract reasoning, and in no way a naïve work. Weber-Krebs has created many pieces with and for museums, and Into The Big World is a very informed performance. Its diagnosis of how our entire embodied lives are shaped by the scientific thought is accurate and precise: it equally describes the changes to how we eat, cure illness, how we attempt to harness energy or mitigate climate change. I am in no doubt that an audience of scientists would hugely enjoy Into The Big World.
I am also in no doubt that sound engineers and archivists would love For Your Ears Only: both approach their material with a rigour and conceptual depth that, paradoxically, makes their philosophical inquiry universally accessible, across relevant disciplines. Neither work obfuscates, but enlightens. In a comparatively more stressful, product-oriented and commercially minded ecology of Melbourne, I rarely see this level of rigour achieved by local artists. But it is rarely demanded, either, and this is why the experience of these two works was bittersweet.
For more on David Weber-Krebs see Virginia Baxter, In Between Time Festival, 2006.
For Your Ears Only, Dianne Weller, sound artists Ruben Nachtergaele, Ludo Engels, critics Andrew Haydon, Pieter T'Jonck & Elke Van Campenhout, lighting design Hans Meijer; Julie Pfleiderer, Beursschouwburg, 19-20 Feb; Into The Big World, by David Weber Krebs, performers Katja Dreyer, Noha Ramadan; Kaaistudios, Brussels, 10-11 Feb
RealTime issue #127 June-July 2015 pg. 40
© Jana Perkovic; for permission to reproduce apply to realtime@realtimearts.net