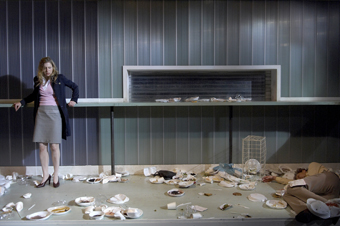 photo Matthias Horn
Jule Böwe Thomas Bading, Blackbird (Berlin)
Stein in Edinburgh
Paedophilia. That'll get you on edge. I'm at the Edinburgh Festival in the foyer of the premiere production of David Harrower's new play, Blackbird. Somebody is scared.
The program doesn't convey much about the play we are about to see but it does tell us what it is not. This play is not Mamet's Oleanna; Peter Stein may be the grand master of European theatre but definitely not a proponent of the dreaded 'director's theatre.' And of course: This play does not condone paedophilia. Is it because of or despite this reassurance that we reappraise the old panto posters above the box office window? Dick Whittington portrayed as a fetching adolescent girl…Babes in the Wood… this old Edinburgh theatre has been rendered downright seedy and we haven't even taken our seats, such is the power of the subject matter.
The plot is simple. Una confronts Ray in the canteen of his workplace. Fifteen years previously he had left her in a hotel room after sex, alone and scared. She was 12, he was 40. Now she forces this confrontation. She breaks him down and they fall again; we squirm at every turn, unable to escape the moral transgression, needing forgiveness and hating the possibility that it will be granted.
Harrower has a sharp knife and he wields it without blinking. Blackbird will be recognised as one of the greatest of modern dramas. Like most new writing it is economical. Two actors, one set. Unlike most contemporary plays, it goes to places most theatre only dreams of going: taboo and the holy grail of catharsis. Take us through the shit and we will be purified. Harrower does it with skill and an horrific, implacable humanity. Seems to me that these reassurances surrounding the production, the frame of the festival, the frame of the director, all serve to hide from our gaze what Harrower has looked at so squarely.
Stein in Berlin
Back in Berlin, Peter Stein is front and centre giving an interview in which he slags off almost all of his contemporaries. Brilliant. The week's amusement is opening up the morning newspaper to see which famous theatre director has responded to his lambast.
Here is he attacking his old sparring partner Claus Peymann at the Berliner Ensemble, condescending to Christa Wolf for reducing Medea from myth to domesticity, defending his 'monster' theatre, those marathon productions, Faust, The Oresteia. Stein is the grand impresario and makes theatre that the festival cogniscenti adore. Camped in Italy with another brilliant actress for his second wife, he raises the money himself for these grand visions. I like his style, the old bombast that typifies the generation. He is a handsome version of Robert Hughes, complaining of betrayal by his homeland.
Coincidentally, it is at the Berlin theatre that Stein created, the Schaubühne, that an Australian, Benedict Andrews, has responsibility for the German language premiere of Blackbird 2 months later. Robert Hughes and the great expat generation of the 70s comes again to mind but we, the new wanderers, are an altogether different breed.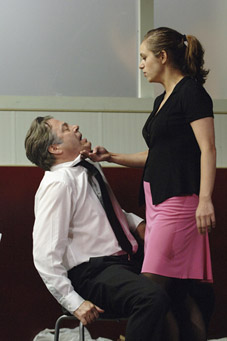 photo Richard Campbell
Roger Allam, Jodhi May, Blackbird (Edinburgh)
Stein vs Andrews
Stein is the master craftsman, Andrews only now breaking into the European theatre scene. There is a generation gap, a culture gap and a stylistic gap but interestingly, a comparison is possible because both directors play a straight bat. In both productions the text is complete, a naturalistic form is dominant, the stage directions are observed and as a result the productions are surprisingly similar. If this is a game, then it has gone down to a penalty shoot out.
There is something unnerving when you realise what a director is up to, like self-consciously good writing. Stein uses music programmatically, we hear it every time the characters recall past events and it fades tastefully when they finish their recollection. It is a recognisable device, it calls attention to itself and yes, it helps us follow the emotional journey.
Andrews' use of music is infinitely less polished and lacks the same logical rigour but by avoiding the programmatic story-telling technique of film (reinforcing emotional moments with sound) and embracing instead the power of sound in the theatre to reinforce silence, he allows us to experience the key emotional moments of the text unadorned and frightening. This is just the beginning of the thread of comparison.
The play is set in the drab canteen of a factory, the set-designs are similar and create highly theatrical spaces. The differences are in the authenticity of the detritus and more seriously, whether the actors commit to it physically. In Edinburgh, Una illustrates her psychological state by emptying the rubbish bin; it is self-conscious and the cups are conveniently clean. In Berlin, 2 people play amidst the half-eaten hamburgers and coffee dregs like emotionally crippled kids in a sandpit, they are yearning for the rituals of childhood, stuck in the rituals that made them special, that have made their lives special. Soon this childish game will be replaced by the sex games of adults. Harrower's great discovery (and one that Andrews honours) is that they partner each other, they are unique only because of their transgression and so are doomed to recreate the ritual that changed their lives, made them human. This is a messy idea; dirty even, a state that is almost inconceivable on the stage in Edinburgh, in a festival show.
Words vs bodies
In Edinburgh, the actors are brilliant: Jodhi May is perfectly cast and handles the necessary shifts from victim to tyrant with verve. Roger Allam is all middle-aged uncertainty and repressed anger. These actors create an impressive sustenato, 2 hours of struggle conveyed primarily through language. It seems that Stein has stripped back the naturalistic form, cleared space for this language with a firm but subtle choreography. Although this approach suits its audience perfectly, and will be lauded when it arrives on the West End, I can't help feeling that it is a limiting use of naturalism. German actors will never rival this use of the spoken word; but creating metaphors, making physical meaning, is their bread and butter—they are theatre animals, and this visceral quality has to be present to match the material. Here in Berlin is Jule Böwe pouring water onto a table top and obsessively mopping it up with an inadequate Kleenex, an absurd yet concrete gesture that captures perfectly the mess that an adult made of her childhood. Under the canteen bench Thomas Bading as Ray leans his head against a steel support and is suddenly back in gaol, doing time for his crime, paying over and over again, permanently gaoled, behind his assumed name, behind his ridiculous job, behind his cowardice. These expressionistic (or simply visual) moments leap out of the prevailing 'dirty realism' that Andrews has established, and serve to tug us back into the present, into the theatre, to face this dilemma.
When Stein gets to the blackout, a wonderful bit of writing, it is perfectly rendered. You never doubt that in the fictional world, there has been a power failure, but again, his mastery makes you conscious, you leap for meaning: "she is now left in the dark", "like she was as a child." It is an effective moment; in Stein's version, an effective intellectual moment. Andrews uses the blackout as a scare tactic. For perhaps 10 seconds the audience is in the dark, literally, wondering if there has been a power failure in the theatre, sharing, for a brief moment, Una's disorientation and powerlessness.
Morality and complexity
The intensity of Harrower's play reaches its penultimate height when Ray and Una try to have sex again. Ray stops it with "I can't." What follows is the killer line of the play: Una, this 28-year-old girl, responds with "What's wrong? Am I too old?" Thump. You can't muck that up; it's Harrower's rabbit punch. Stein's Ray suffers from a moment of impotence. The old man is too confused, too full of shame to get it up. It's seedy, fumbled, uncertain and partially obscured by an upstage table. By making it an issue of potency, Stein punishes Ray and introduces an element of morality play. It would be nice, easier for us, if these rules did exist. Andrews' Ray dealt with this idea within the first 10 minutes of the production. When he says "I can't" he is further down the path, much further. The game of blame was over long ago and this is revealed through the deliberate, agonisingly slow gestures performed in a sustained, brutal silence. Maybe she feels like a Helmut Newton model, maybe he sees her like one. Half naked, on her knees amidst the rubbish, dead centre-stage and closer to us than we want her to be, Una forces him to face the truth of his desire. His shame is not the issue in this moment. His "I can't" is a horrible choice: he chooses facelessness, and mediocrity over desire and the completion of a ritual that defines them both. He is now an empty man, a shadow. This might sound the same as impotence but is in fact the dark opposite. Harrower/Andrews put us in the infinitely more uncomfortable position of wishing, for his humanity's sake, and her dignity, that he could fuck her: we are at a genuine, theatrical dilemma. Having destroyed a child has finally destroyed him, but in the opposite way that we demand as moralists.
Managing the mess
The real controversy of Stein's evening is the end. Not written in the text, the entire set is flown out, large rubbish sweepers clear the stage and we are suddenly in a realistically rendered underground car-park. Ray drives a car on stage and is dragged out by Una in what would be an epic struggle, if it wasn't for the incongruous 'adult contemporary' ballad. For the length of the song they roll around in the glare of the cars headlights. I'll take Stein literally. He cleans up the mess. He takes us out of the hell that was such an effective metaphor for 2 hours and into a more symbolic hell, a mythical realm, a place fit for a Faust or an Orestes: even the most flawed, the most corrupted of us are fallen angels and this theatre ritual has carried us over the slime to the safety of the opposite shore. But we don't need to be reassured, we are adults not children.
Benedict Andrews knows how deep, how dirty, pathetic and beautiful the rituals we create for ourselves really are. We have loved Ray and Una for a brief moment, the way they avoid the truth, the way that they cover their pain, these are the rituals that support us, and we will survive the theatre, even without being reassured that our miserable bodies might resemble some gilded statues in a marble hall.
Andrews leaves us in the dark with the plaintive moan from Una, "Ray!". We don't know if she follows him but we do know that this doesn't end, this nightmare never ends. Stein spelled it out for us, made us, we think, "ahh, it never ends." Andrews connected with the stomach, with despair. After Stein I am talking about a brilliant production of a brilliant new play. After Andrews I am devouring the company of friends, the warmth of alcohol and, in the Schaubühne foyer, the DJ is playing Garry Glitter. Supremely bad taste? Yes. Provocation as instinct. Yes. Andrews could not exist without Stein, but in 2006, with this extraordinary play as material, it is Andrews who didn't blink and provided us with a unique, redemptive evening of theatre.
Blackbird, writer David Harrower, director Peter Stein, premiere production 2005 Edinburgh Festival, Aug 15-24; London's West End February 2006. German language version, director Benedict Andrews, translator Angelika Kingsford Röhl, premiered November 2005, Schaubühne am Lehniner Platz, Berlin, and will continue to play in the company repetoire.
RealTime issue #71 Feb-March 2006 pg. 10,
© Daniel Schlusser; for permission to reproduce apply to realtime@realtimearts.net