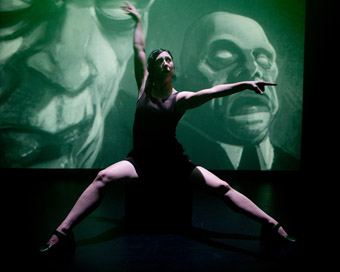 photo Sean Young
Lisa O'Neill, The Pipe Manager
2009 WAS A PRODUCTIVE YEAR FOR FREELANCE DANCE, THEATRE, CONTEMPORARY PERFORMANCE AND NEW MEDIA PRACTITIONER LISA O'NEILL. TWO WORKS THAT HAVE BEEN, WELL, A LONG TIME IN THE PIPELINE, ACHIEVED A FINAL APOTHEOSIS.
Apotheosis seems the appropriate word in this context. Rave reviews for her performance in The Pineapple Queen which premiered at La Boite Theatre earlier in the year were an indication of O'Neill discovering new depths of dramatic prowess [RT93]. An apotheosis of a metaphorical kind served as the expression of artistic freedom in O'Neill's off-beat take on the creative process itself, The Pipe Manager, where she is back on familiar territory as a leading exponent of dance theatre.
This solo show is sold as "a dark and quirkily comic journey through bureaucratic insanity." O'Neill's character superficially resembles the hardboiled investigator in conflict with greedy corporations. With a nod to Dorothy, she puts on her green shoes, ready to go for it. The storyline is radically out there. She is hired by the menacing Peers Pipe company as a pipe innovator. With her own reputation as a peerless innovator, O'Neill's pursuit of this hopeless task is lovely self-satire. She also has endearingly long obsessions. The menacing Board of Directors are caricatured as an alien species, as Yetis—self-referential to an early signature dance work, Sweet Yeti.
Two projection screens with a gap in between for exits and entrances. A cube and a pipe. The story is uniquely told by switches between O'Neill performing live on stage and the story book adventures of her onscreen double. This oppressive fantasy world is rendered adult comic book style by master illustrator XTN and given cohesion by Guy Webster's understated but menacing and dramatically effective sound design. The live O'Neill is playful, seductive and forceful in turns. All her movements, whether tentative, minimal, balletic or frenzied mechanical repetitions, are riveting. Even in taking on an absurd commission, there is warmth here as well as precision, a real curiosity that is at the heart of play: a desire for interaction wherever it may lead that is in contrast to product-obssessed, profit-orientated Yetis. O'Neill's escape from Yetiland was a coup for lighting designer David Walters whose laser lighting produced the breathtaking effect of O'Neill walking through a drawing of herself, caught in a world where dimensions slipped and slid. She disappears into a fierce light backstage.
In his program note, writer Peter Berkahn says that his story "homed in on the human need for endless rejuvenation, which was suggestive of a quest for humans wanting to be a 'God Head'." The journey thus undertaken may have provided no ultimate answers nor, indeed, lead to any real life outcomes. O'Neill wrily remarks that "the irony behind making the work is that in one way The Pipe Manager became about making The Pipe Manager…" O'Neill's triumph over Yetiland, however, lay in the apprehension that she so effortlessly and sensuously realised in performance but which seemed left up for discussion in this otherwise pertinent gem of a piece. She embodied the notion that—beyond God Head, beyond creation ex nihilo—the artistic imagination may require both the ecstasy of abandonment to what is other, and the self-possession of mastery. O'Neill didn't disappear into an absorbing God. She remains, to our joy, a dancer on the edge of infinity.
The Pipe Manager, creator, performer Lisa O'Neill, writer Peter Berkahn, illustrator XTN, sound composer & designer Guy Webster, dramaturg Kathryn Kelly, lighting designer David Walters, graphic design Jaxzyn, costume design, Glen Brown, artistic consultant Keith Armstrong; Visy Theatre, Brisbane Powerhouse, Nov 18-21, 2009
RealTime issue #95 Feb-March 2010 pg. 34
© Douglas Leonard; for permission to reproduce apply to realtime@realtimearts.net