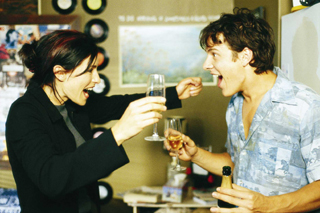 Claudia Karvan & Samuel Johnson, Secret Life of Us
At moments of change you have to step back into your world from a new direction. Life doesn't come in a straight line—it's more of a dance. You gotta know the moves.
Evan, The Secret Life of Us
They shag, drink and think too much. They try not to hurt each other, and fail. It's us, our stumbling secret life, but nothing stays secret for long, especially in a St Kilda apartment block.
Network Ten's series The Secret Life Of Us soars above the prosaic 70s pap wallpaper of Australian soapies with its mix of refreshing character-driven writing by Judi McCrossin and Christopher Lee, and nice shooting on Super 16 cameras, thanks to English co-financing.
Principal writer McCrossin believes the series has struck a chord with 19 to 30-year-olds because, "It's truthful. It shows how people actually behave. I drew inspiration from the lives and stories of my friends, the inconsistent way we behave—to the extent that some no longer confide their tragic stories."
The initial dazzling pace has slowed in the final episodes. Well, maybe some viewers prefer a more measured tempo. In real life we tend to fall blindly into the wrong relationships too fast and then it takes us a long time to crawl out. The frisson between Alex and Evan dragged on through the entire series. Realistic? Admirers are secretly thinking, "When is Alex going to get her top off?" Gabrielle and Jason's break up was painful and protracted. Realistic? Yes, breaking up is a process not an event, but did we want to watch it? And please, when is Will going to stop being a sour old sack? Why did that babe, Sam, have to die? It's the dilemma of balancing realism with entertainment.
The screenwriting textbooks say avoid voiceovers, unless you're Woody Allen. Evan's voiceovers are generally ironic and whimsical. He's the destitute writer who, like the young Henry Miller, hasn't written anything yet. He's the resident philosopher, but he's only 23, so what the hell would he know? At times his voiceovers state what's bleeding obvious from the action and the dialogue. Sometimes his tirades fall flat. Collectively they'd probably make an ideal Xmas gift or some nice T-shirt slogans.
The shooting is fairly conventional. I'd prefer to go more adventurous, like the double-take when Alex is asked out by a junior colleague and she intends to say no but says yes.
A real life drama has to face the fact that most young adults (including actors, writers, gays, doctors and lawyers) are doing some form of illegal drugs—without necessarily decimating their lives. Secret Life tackles this responsibly without the prudish moralising that you see on most TV shows.
If the second series continues on the same trajectory of personal and domestic relationships, it may risk becoming claustrophobic. I hope the series finds some new vistas of external experience—perhaps in the world of work. The younger vibe parallel ABC series Head Start exploits this realm quite effectively.
According to Mark Lawson of The Guardian, Secret Life has revived Australian television's reputation in the UK debased by crass teatime soaps—Neighbours and Home And Away. Comparisons have been drawn with its American cousin Friends but, thankfully, The Secret Life of Us is artier, sexier and doesn't cue us with canned laughter.
But it's another example of how commercial TV invests good money on good actors then shoots their best series to bits with a fusillade of commercials. They expect us to focus our late evening attention on a 45-minute story with 4 sub-plots which they interrupt 5 times (15 minutes) with attempts to sell us 40 products we don't want, not to mention a pseudo-newsflash and sports highlights. Will the ABC ever again be able to afford to make quality series, post-Jonathan Shier's assault on the national broadcaster's creative heart?
Damn it! Strike out my trifling picayune jibes. Like all the other fans who club together on Monday nights to watch it, I'm addicted. I look forward to seeing the next series, reflecting our foibles, our fragile human desires, our relentless vain pursuit of meaning in relationships, yep, next February. Secret Life—keepin' it real!
Secret Life of Us, Southern Star, Network TEN & Channel 4 (UK), writers Christopher Lee, Judi McCrossin, directors Cate Shortland, Stuart McDonald, Kate Dennis, Daniel Nettheim, performers Sibylla Budd, Damian De Montemas, Joel Edgerton, Samuel Johnson, Claudia Karvan, Spencer McLaren, Deborah Mailman, Abi Tucker. Monday nights, Network TEN, 9.30pm. The first series is currently available on DVD.
RealTime issue #47 Feb-March 2002 pg. 19
© Hal Judge; for permission to reproduce apply to realtime@realtimearts.net