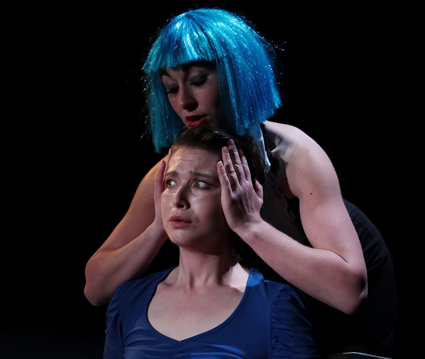 photo Carlie Devine
Bryony Geeves, Sara Pensalfini, She's Not Performing
Supported by the Tasmanian Theatre Company's Associate Artists' Program, this is the second incarnation of Alison Mann's She's Not Performing. The first was an acclaimed 2010 production at La Mama in Melbourne, directed by Kelly Somes. I understand that production made more of the visual symbolism of the piece. This apparently simpler production is directed by Belinda Bradley, with the playwright producing, and brings together a strong ensemble.
Margarite (Sara Pensalfini) is a troubled woman with a younger lover, Iain (Campbell McKenzie). A chance encounter pushes her from a precarious stability into turmoil. On a night out, watching a stripper performing she notices that the young woman bears a striking physical similarity to herself. She begins to suspect that this girl, Annie (Bryony Geeves), is the daughter she gave up for adoption as a teenager. Iain struggles to understand her sudden emotional intensity so Margarite turns to an old friend, Hamish (Joe Clements), for support. But that relationship too becomes fraught as Margarite's obsession grows. Once the idea that she may be Annie's mother has taken root, it consumes her—her confused sexual identity, the traumas of the past and her tendencies towards self-harm converging.
The play's strength is its unusual, skilful blend of realism and stylised forms of expression. The dialogue is often naturalistic and restrained, but a scene can transform into a dream, such as Margarite recalling the pain of childbirth, with the fully-grown Annie emerging from between her legs. Another scene transforms Annie the stripper into Margarite the schoolgirl in Hamish's mind, so that we are in his world for a time, seeing Margarite's situation through his eyes. Such shifts in perspective and tone are difficult to achieve in theatre and not often attempted. There's a sense of controlled experimentation to She's Not Performing, a blending of cinematic and genre influences which helps to elevate it to something more than an 'issues' play or a melodrama.
Crucially, there are electric moments of revelation and catharsis—particularly during the climactic scene in which Margarite finally faces the depth of her emotions and uses them as a weapon against the bewildered Iain. Sara Pensalfini's performance here lifts off to become something extraordinary, raw and teetering on madness yet utterly grounded in human experience.
There's no doubt this production suffers from budget constraints. Margarite's oppressive, hallucinatory world warrants a bolder, more cohesive aesthetic, particularly in regard to costuming. But aspects of director Belinda Bradley's staging hit the mark, making the best out of limited resources. The childbirth scene uses simple physical techniques to evoke a familiar yet unexpected scenario that highlights the story's most compelling aspect, its sense of transgression. Margarite has watched her 'daughter' perform semi-naked, after all, and Annie herself is possibly developing an attraction for Margarite, regarding her as a client at first but then as a friend. Where is this all going?
There's an understated remark from Joe Orton's Loot that I'm fond of: "It's a Freudian nightmare." So too is She's Not Performing, not only in the sense that it touches on taboos and dark sexuality, but in the even more complex sense of its attempt to define the nature of parenthood. What makes a woman a mother? Who, or what, is she without the child she's borne? Is the loss of a daughter a pain that can never be redeemed, or the loss of a mother? Perhaps something fundamental is forever damaged when that bond is betrayed.
Orton's characters put up a front of respectability but betray themselves with unconsciously hilarious and shocking utterances. She's Not Performing, although coming from a different theatrical tradition, shares that kind of ruthless clarity. Margarite is more in the vein of Blanche Dubois or Martha in Who's Afraid of Virgina Woolf?—all too aware of the danger she finds herself in, and of the knowledge that her connection with 'normalcy' is hanging by a thread. At any moment she might be compelled to sever that thread completely and fly off into some frightening new place from which there is no return. In Margarite's case it's the legacy of past injustices, which somehow she must live with. This is a powerful work that exposes audiences to difficult truths.
She's Not Performing, writer Alison Mann, director Belinda Bradley, Theatre Royal Backspace, Hobart, 27-29 Nov, 2013
RealTime issue #119 Feb-March 2014 pg. 37
© Briony Kidd; for permission to reproduce apply to realtime@realtimearts.net