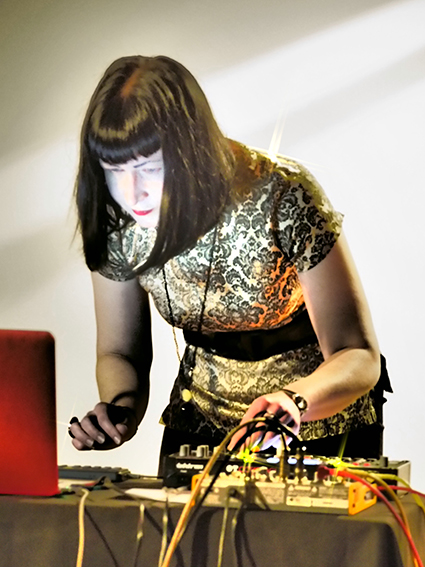 photo Motoko Kikkawa
Stanier Black Five (Jo Burzynska) performs Oenosthesia, Lines of Flight, Dunedin Public Art Gallery
Lines of flight (LOF) is a longstanding experimental music festival in South Island New Zealand. It continues to reflect its origins in the musical crossovers following on from punk, co-founder Peter Stapleton observing that the festival uses experimental as a "very loose, generalised term." LOF 2015 included high-end laptop processing, free-jazz improvisation and a healthy dose of noise and dirge rock or electronica.
Since the 1990s, Dunedin and its surrounds have been home to a healthy grunge and lo-fi experimental scene, largely centred in the satellite town of Port Chalmers. The festival is split across Port Chalmers and Dunedin, offering comfortable, establishment venues for sound arts—the Dunedin Public Art Gallery (DPAG), which, though acoustically problematic, hosts excellent, buzz-free sound systems—the more intimate if sonically imprecise converted Masonic Hall of the Anteroom and the dark, cave-like Chicks Hotel.
On day one at DPAG, Stanier Black Five (Jo Burzynska) presented a sound-and-wine-matching experiment, Oenosthesia, in which a sparkling wine, pinot gris and pinot noir—all from local winery Quartz Reef—were proffered to audiences listening to the high frequency, crinkly noise of viticultural effervescence, before the mix thickened into the gris and we followed the grapes into the acoustically resonant space of the fermentation vats, finally transitioning into dense blocks of mobile noise for the noir, and closing with the sound of bottling. While the correlation of sound and taste was opaque to most, the pairing stimulated a wonderfully self-reflective experience in which one pondered possible parallels between coincident sensory inputs. It was perhaps the high-end acoustic crafting of the piece, like that of the wine, which most impressed, rather than any specific compositional structures.
Burzynska's setting into motion multilayered sheets of noise marked a trend for the 2015 festival. Eye, featuring guitarist Peter Porteous, drummer Stapleton and electronics by Jon Chapman and guest guitarist Nathan Thompson, may nod towards John Cale and the Velvet Underground in their relentless, angry epics. They do not however share their complex song structures and are possibly closer to minimalistic dirge and sludge metal, or perhaps La Monte Young and the Dream Syndicate. Eye's performance followed a relatively straightforward rise from micro-elements into thunderous jungle drumming and guitar wails, relieved by a slight return and then a second crescendo.
Such tough noise was echoed in the more expansive but equally minimal-to-maximal approach of Teen Haters. Peter Wright coaxed bright, sparkly, electronic sounds out of processors while accompanied by Helen Greenfield's long, droning bows on cello. Characteristic sounds of guitar distortion gradually emerged before Wright raised the instrument above his head, and then rested it neck down on the wooden floor, downward pressure producing minimalistic alterations in cycling feedback. Though loud, their performance was if anything more meditative than Eye's.
An international headliner for 2015 was LA guitar virtuoso Peter Kolovos, his solo moving from isolated, fragmented flourishes and sharp string-bending leaps across the fretboard through to almost Moog-like processed noises, as well as more conventionally distorted strumming which offered a devastating irruption from, and annihilation of, preceding materials. Kolovos' performance might be considered a processed-guitar analogue to Bach's Well-Tempered Clavier (1722), sequentially exhausting the instrument's permutations within a compressed space of time.
Also notable was Kolovos' filmic accompaniment, Flight Dream (2014), by New Zealand's Joyce Campbell. Presenting filaments of white against an inky void, slow motion tendrils of smoke curled around indistinct, possibly wooden objects, before evaporating to blackness. A sense of dark but beautiful potentialities, the full force of which was alluded to but not released in any single gesture, was echoed by Kolovos, producing the most engaging of several sound-image pairings within the festival.
Prepared piano improviser Hermione Johnson and free jazz saxophonist Jeff Henderson were also a LOF highlight. They began with Johnson bowing the strings with fishing line, producing rich, extended drones which she punctuated with wobbling thunk from forks and short lengths of wood jutting out of the stringboard. Henderson's short improvisations danced about us as he meandered through the space. Discovering an elevator, he briefly disappeared, his squealing solos recommencing far beneath us. After he returned with a particularly violent onslaught of brassy, tongued noise, Johnson turned to the keys and commenced a virtuosic set of rippling variations across dead and live notes. A double-hand position towards the bass end acted as a point of intermittent return and teasing stabilisation from which the pair's shared musical exclamations emerged.
Over and above the impressive skills the pair displayed, it was their attentiveness to nuance and hinted potential in each other's material which made them so compelling, offering a set of constantly evolving intuitive relations. Their foregrounding of musical complexity acted as a fillip to the droney, feedback-rich cyclic minimalism of other acts, demonstrating the diversity which LOF continues to embody.
http://lof2015.blogspot.co.nz/
9th Lines of Flight Festival of Experimental Music 2015, Dunedin Public Art Gallery, Chicks Hotel, Dunedin; Anteroom, Port Chalmers, NZ, Mar 19–21
RealTime issue #126 April-May 2015 pg. 43
© Jonathan Marshall; for permission to reproduce apply to realtime@realtimearts.net