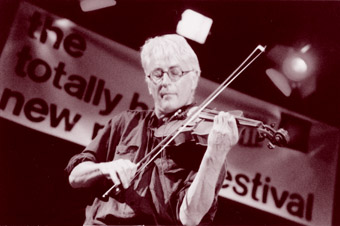 photo Nat Brunovs
Jon Rose, Totally Huge 2001
Totally Huge New Music Festival 2001 was a truly significant Australian sound/music event. We asked the festival's technical director and RealTime writer, Andrew Beck, to step back from the controls and tell it how he saw and heard it. Eds.
This year's Totally Huge ranged over 12 days with 26 events and 100 artists, the Perth-based festival had local, national and overseas artists from across the new music spectrum.
The festival opened with Melbourne sound artist and academic Phil Samartzis and Danish performer and programmer Rasmuss Lundig. Samartzis, known for his work in immersive sound environment installations, also has a history of collaboration with Lundig in a live performance environment. In the Performance Space at PICA, Samartzis' liquid ambient soundscapes rose and fell against Lundig's percussive and edgy live and sampled sound manipulations. The marriage in performance of their distinct styles heralded much of what this year's festival was to produce.
The teaming of Canadian multi-instrumentalist duo Joanne Hetu and Jean Derome with Ikue Mori's sequenced electro-percussion, and local artists Chris Cobilis, Hannah Clemen and Rachael Dease with Jon Rose on the Australian variations of Rose's Violin Factory, stimulated similar reactions to the co-billing of Rose and Rik Rue—issues of musicianship and performance were re-visited.
Several days into the festival, talking about audience expectations of live performance, Lundig said, "I have heard the arguments here in the last few days…It is not so important for me to see a 'performance.' I guess it's a matter of temperament. I don't have to have a lot of action to enjoy the music. It's what comes out of the speakers.
"When I am live onstage it is always very nervous whether the robots will work or not, or even my computer; sometimes my guitar (playing) is not so good. These are the things that make a live performance, regardless of playing a traditional instrument or a computer…What Phil (Samartzis) does is an art in itself. All those CDs and minidisks. His choice of sound, his control of the mixing into 4 channels, particularly when we are playing together. I suppose Phil is not a musician, more of a sound artist. But, if you fuck up and you're playing live, it is the same for everyone. Sometimes it is very hard work…I enjoy a virtuosic performance, people pay to see a performance. It's in our comprehension of what a stage is, what it is for. But, whether you play a laptop or a kazoo, it's what you do with it."
While Samartzis' presence at the festival continued as the installation Soft and Loud at the Central TAFE Art Gallery, Lundig later performed solo at PICA with his robots. A result of ongoing research and development based on the Lego Mindstorm RCX processor and microcontroller at Aarhus University's LegoLab in Denmark, Lundig's robots beat out percussive patterns in response to external stimuli.
Lundig, with guitar, sat bare footed on a small area of the stage floor in the centre of a circle of his robots and effects processors. The tiny robots played on found surfaces, soft drink cans, cardboard. The various found surfaces were equipped with contact microphones to pick up the sounds from the minuscule drummers. Surrounded by what appeared to be rubbish connected by wires and held in place with tape, Lundig performed a most remarkable and frenetic set. The sight was strangely affecting. The only problem was that the PA was not loud enough. The FOH engineer was trying to avoid broadcasting "extraneous noise" from the contact microphones picking up sound through the stage floor—Lundig's turning and spinning as he switched processors in and out of the loop, and the backwash of the other instruments. It all added a depth and musicality to the performance. Afterwards, when asked about the extraneous noise, Lundig replied: "Yes, I like this too. It is another layer and it has its contribution to make."
While Derome and Hetu performed at various gigs, their first collaboration with Ikue Mori was an impromptu trio at the Subiaco Theatre Centre. Originally programmed as separate performances on the one bill, the 3 decided to play as a trio. The plasticity of performance line-ups within the overall programming structure was one of the festival's ongoing strong points. At first, the exuberant and vigorous acoustic style of the Canadians and Mori's programmed electro-percussion sequences failed to find a point of mutual engagement. But common ground was found and explored within a soundspace that evoked a vast marshland populated by strange rhythmic creatures. Often interrupted and temporarily silenced by squealing, wailing and ululating interlopers, the creatures evolved their own complex patterns. If you can imagine Les Gilbert's Kakadu Billabong set on a wild metallic planet, you may be halfway to the experience. Quite remarkable.
The Young Composers Night provided a public platform for local composers and musicians at the beginnings of their careers. While there was much to be enjoyed, some material was simply pretentious. James Lee's short cello piece was an exception as was Rachael Dease's cross-genre chamber music composition for voice (her own) and strings.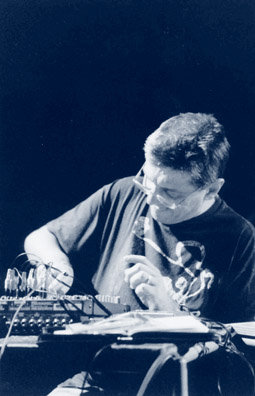 photo Nat Brunovs
Rik Rue, Totally Huge 2001
Returning to the audience expectations of live performance, Rik Rue commented: "I was playing with Ikue Mori at the ABC for John Crawford's new music show. During the recording the joke was that we were like 2 bad typists with laptops…It is a problem. I've developed a stage presence, but performing, for me, is sometimes difficult. I wobble around, knock things over looking for things…it's not a stage act but it seems to have developed into that. I'm not a poser turning knobs in a theatrical manner. I don't artificialise…Being myself, that's my theatre." His Sunday performance was broadcast live-to-air on Bryce Moore's Difficult Listening (RTR FM 92.1, Sundays, 9-11pm). Sitting behind his machinery, Rue delivered a distressed urban soundscape. Modulated as if it were the soundtrack to a modern silent-movie, the piece continually shifted from familiar house beats to threatening, antagonist samples and assaults of random static. Reflecting both the horrors and comforts of contemporary, western, amenity-based lifestyles, his performance was ultimately quite disturbing. Rue also had an installation, the open ear, at Artshouse Gallery.
Other installations included Sound Spaces, curated by Hannah Clemen at PICA, and Natasha Barret's Rain Forest Cycle, overseen by Rob Muir and installed in the Garden Week site in King's Park. The latter, a 10 metre triangular pyramid with 4 speakers set one at each vertice—emitting sounds recorded in a Costa Rican rainforest—was a mixture of success and failure. Walking through the Garden Week site, a retail plant nursery and allied industry promotion, the audience had little reason to focus their attention, and more importantly their time, on the sound pyramid. Against the surrounding commercial bustle and the diverting smells from the catering area nearby, the subtleties of Barret's work disappeared.
Jon Rose premiered Violin Factory II at the festival. While Lindsay Vickery conducted the string orchestra, Rose both manipulated live samples and conducted the percussion section. This performance in Winthrop Hall lacked in commitment. The string orchestra was adequate but the percussionists were tentative. The video projection, onto 2 large screens either side of the performers, was erratic. Lely Evans, who played the part of a Chinese guard alternatively berating and exalting the workers/performers below her scaffold platform, worked hard in her very first performance of the piece. There had been no prior rehearsal by the complete ensemble. And this was reflected in the performance.
Very different was the variation, Violins in the Outback, at Wogarno Station, 600 kilometres northeast of Perth. An audience of almost 700 enjoyed a vigorous and flawless performance. Chris Cobilis, one of the percussionists, remarked of the Wogarno experience, "We could see the light at the end of the tunnel. We knew where we were going. Before (at Winthrop Hall) we were playing blind." Energised and confident, strings, percussion and voice all performed with depth and precision against a backdrop of outstanding video projection across the walls and roof of the shearing shed.
On performance and musicianship, Jon Rose commented "I think an audience does need a set of parameters, like, OK, here's a guy with a violin. We know what a violin sounds like. Now, what can he do? He can't go any lower, he can't go any higher. He can't go that much faster, he can't go that much slower. He's only got 2 arms, 2 legs. Like, there's the setup. The 4 strings. What can you do with that? And that's a level of scale that we've lost. Now, with MIDI you can just hit return and have 16 channels of anything. It becomes meaningless. I think scale, physicality, is something we require as a musical expression. That's why the voice is the last thing on the budget to go. Because people will understand that more than they'll understand anything."
The Totally Huge New Music Festival, Perth, March 30-April 8, Midwest, April 14-18
RealTime issue #43 June-July 2001 pg. 39
© Andrew Beck; for permission to reproduce apply to realtime@realtimearts.net