A cold front hit NSW on the weekend of the Wired Open Day with torrential rain and temperatures dropping to single figures. Nonetheless a large group of locals and visiting audience members were not deterred. Rugged-up in puffer jackets and gumboots we all piled onto the courtesy bus in Cootamundra for the 40-minute drive, in part navigating a precariously muddy road, to the Wired Lab in Muttama for the deeply rewarding experience of Wired Open Day 2014.
Located on the farm on which artistic director Sarah Last, her father and grandfather grew up, The Wired Lab (also home to sound artist and computer scientist David Burraston) is a space for explorations around what Last calls "landscape scale practice." The initiating project saw the construction of long wire instruments, made in collaboration with West Australian artist Alan Lamb. While they feature as a conceptual anchor to the lab, over the six years of its existence, the focus has extended to a range of listening engagements based in nature and environment. The 2014 instalment of the Open Day, incorporating elements from Last's (G)local Frequencies Project, was focused on communication—not only between the local and global but between species as well.
In the main tent, offering a stunning view of the surrounding hills and vales, we are welcomed to country by Wiradjuri elder Bob Glanville and his grandson Peter Beath. Divided into four groups we are then led off into the landscape, our first stop being TARC, the Temporary Amateur Radio Club. Using the Wired Lab's preinstalled wires as a Beverage antenna (used for short and medium wave transmission), the Wagga Wagga Amateur Radio Club, a group of ham radio enthusiasts is seated in a tent ready for transmission. In pairs, we get two minutes to communicate by voice or Morse Code with either the northern or southern hemisphere. The success of the communication is rated according to its reception strength and then we map our results with strips of bright pink tape rolled out across the grassy hillock. As the afternoon progresses the pink stripes fan out, a graphical manifestation of lines of connection. The framing of the experience by Jackson Castiglione, Dario Varcirca, Zoe Scoglio and Alice Dixson with Last and Burraston, including a cosy tent displaying ham radio paraphernalia, is well conceived and allows everyone a first-hand, if all too brief, experience of the ham world.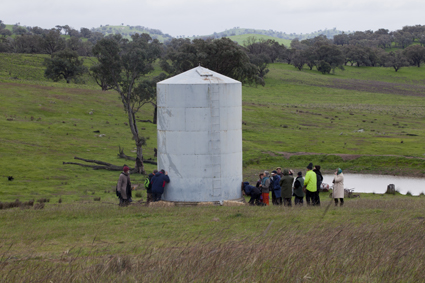 photo Jacob Raupach
David Burraston, Grain Silo Meditation Tones, Wired Open Day and (G)local Frequencies Project
Up over a hill and down a vale is an empty grain silo in which David Burraston has installed ring modulators and microphones to create a multilayered drone that changes and grows as the day unfolds. Poking your head in the chute or tapping the outside affects the resonance of the chamber, adding new properties to the sound. We are invited to sit on hay bales around the silo and meditate on the rich tones while looking out at the landscape. It is indeed a transcendent sound, the only problem is that everyone in our group is so damned friendly that there's constant chatter and it's hard to really have a moment of focused listening.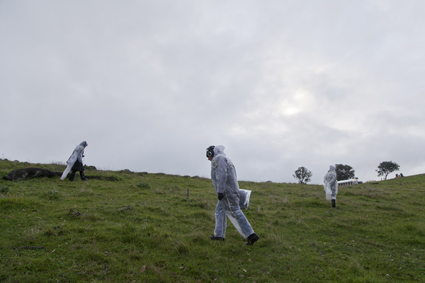 photo Jacob Raupach
Cat Jones, Evolution: A Walk [with Herbivores], Wired Open Day and (G)local Frequencies Project
Cat Jones is a guest artist for this year's event presenting two works that continue her ongoing investigation into our relationship with plants. Evolution: A Walk [with Herbivores] is made specifically for the Wired Lab site and is an audio walk through the landscape (with sound by Melissa Hunt). Audience members don a protective jumpsuit adorned with leaves from the Grey Box Gum—offering an olfactory element—and are guided on a speculative journey into the life of both herbivore and plant. Alas I do not get to experience this directly since I choose to partake of Jones' other work, Plantarum: Empathic Limb Clinic. In this one-on-one exchange in a small glasshouse in the middle of a field, Jones awakens my sense of smell, taste (with a fortifying nip of port) and touch, stroking my hands with a velvety soft branch of wormwood found on the property. Jones expands on the metaphorical connection of physical and psychic grafts as she attempts a kind of hypnotism. It's subtle, multi-sensory, esoteric and a great lateral addition to the program. (See RT118 for a review of this work at Perth's Proximity Festival).
The fourth afternoon activity is located in two listening tents. One contains Joyce Hinterding's Very Low Frequency recordings made at the King's Tableland in the Blue Mountains. This is an example of 'natural radio' as described in Douglas Kahn's recent book Earth Sound, Earth Signal (RT120). In these recordings Hinterding taps into the sound of the ionosphere as radio waves and electrical energy ping around the globe. It's fascinating material—a deep hum overlayed by static, chirps, whips and cracks—prompting you to ponder the vastness of space and its electromagnetic energies.
The second tent holds two headphone listening stations. The first allows us to hear the Wired Lab wires in real-time. Acoustically these wires literally sing: the two different lengths set up in a V-shape generate different pitches with glorious harmonic overtones. When miked up and amplified there are more zaps and pings as we hear the wires' vibrations and shudders on a micro-level. The second listening station plays field recordings made by Burraston and UK artist Chris Watson, of the surrounding natural habitat of the Box Gum Grassy Woodlands—a world of birds and frogs and rustling winds.
As darkness hits, we all gather in the main tent where we warm ourselves with wine and are fed hearty dhal and cake. The evening's performances start with Burraston's Computational Beauty of Nature IV which looks at patterns and progressions in nature and translates them into sonic material—swathes of hum with warm static taken from the wires. Burraston, with Garry Bradbury, also performs The Bovine Opera, a piece conceived with Last using field recordings of cows and calves as they are being separated. Among the mournful bellows of the animals is Bradbury's signature industrial throbbing that gives the work drive and a dramatic arc.
The centrepiece for the evening performance is a completely acoustic affair. In the lead-up to Wired Open Day, Last organised a workshop led by Western overtone singer Dean Frenkel and Mongolian overtone singer Burku Ganburged. Ten of the workshop participants join them to present a short work with many displaying a distinct level of skill. Frenkel and Ganburged are astounding, the room buzzing with a remarkable combination of harmonics.
The connection between this activity and the wires may at first seem oblique (though Last tells me there had been an intention to channel the voices down a temporary wire instrument, the weather rendering this experimentation too difficult). The link is to be found not so much in instruments or materials as in the sound itself. The majority of sounds generated at the Wired Lab are long and glorious drones encouraging the listener to explore the shifts and subtleties inherent in sustained tones. Listening to drones trains you to listen deeply, to appreciate sound in a profound way. Within this framework, the inclusion of the overtone singers is a perfect addition, not least because it offers a direct and meaningful engagement with local community, making them an integral part of the Wired Open Day.
In a realtime tv interview Sarah Last and I discuss how brutal weather made this event all the more significant; it required a different level of commitment from the audience, a capitulation to the forces of nature, as is always the case when you live on the land. Significantly the landscape, the weather, the art and our presence became one interconnected entity. The dominant memory I take away is the warm hum of communing.
The Wired Lab, Wired Open Day 2014, artistic director, curator Sarah Last, research & technology director David Burraston;
www.wiredlab.org
See also the video report of Wired Open Day 2014
RealTime issue #121 June-July 2014 pg. 28
© Gail Priest; for permission to reproduce apply to realtime@realtimearts.net