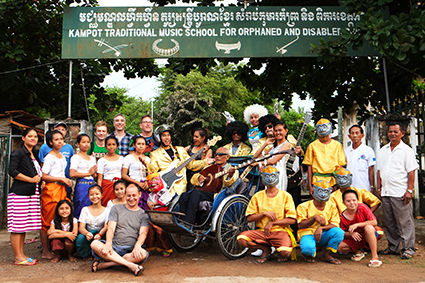 photo David A. Rosenberger
Harley Stumm (back row 4th from L) with the team from "Hanuman Spaceman" including The Cambodian Space Project, director Carlos Gomes, Master Kong Nay, and staff and students of Kampot Traditional Music School (Khmer Cultural Development Insti
Sydney-based Harley Stumm has been a producer since 1994, Executive Producer and joint CEO at Urban Theatre Projects 1995-2003 and Producer at Performing Lines 2005-11, managing the Mobile States contemporary touring program and producing 15 national tours by artists such as Splintergroup, Tanja Liedtke, Branch Nebula, Chamber Made Opera, version 1.0, Dancenorth, Marrugeku and Back to Back Theatre's Democratic Set. As Intimate Spectacle, Stumm is now in his third year as an independent performing arts producer with a list of notable productions including, most recently, the co-production with Performance Space of Vicki Van Hout's Long Grass (RT125, p.19-20).
Stumm is a passionate producer. A certain characterful gruffness signals directness rather than distance and fails to disguise his amiability. When we meet he chooses his words carefully; long thoughtful pauses are followed by lucid declarations of intent and conviction that leave you in no doubt about his principled commitment to innovative artists, contemporary practices and, not least, audiences.
Stumm dislikes the term 'creative producer.' "The position is inherently creative. I live at the intersection between being creative and problem-solving, making things happen. It's a creative relationship with artists—not that I want to be in the rehearsal room saying change this and that, but I do want to be in touch with making the work, and that's partly because I see myself not so much as an outside eye as a stand-in for the audience. I can say, 'I don't get it.'
"Much more important is that when artists say they have an idea for a show I want to be thinking from the beginning where the show's going and who it's for, what space and what presenter, who will fall in love with it—who will bring to the work more than just money? I want to work with presenters and producers we respect in a collaborative way and invite them into the making. I'm not going to dumb it down or commercialise it for a presenter; rather, they should bring some insight into how the work can respond to their space and the social context."
Stumm is wary of "the transactional sell-off model with its tendency to say, 'We're not in this together; I'm selling this project to you and I'm not showing you my budget.' Equally I want the producer and the artist to trust each other; the artist can ask, 'Why would we play in a 600-seater; we thought of this work for a small theatre?'"
Relationships are central to Stumm's approach to producing: "all of the artists are different—it's to do with their art form demands, with individuals and how they work—Vicki Van Hout with her collaborators, and Team MESS a four-hander collective, each member with specific roles, responsibilities and equal status. Plus there's history." Vicki Van Hout and the members of Branch Nebula each have some 20 years of practice, while Team MESS is young company with seven.
"I don't have a formal set of artistic selection criteria; that's the beauty of being a sole proprietor—I never thought I'd be a business person! My approach is a little bit intuitive—about the work, the process, the personal relationship—and I'm not wedded to a particular art form, as long as it's contemporary practice. As an unfunded independent producer I have to raise every dollar and the work has to be critical but also popular. Another inspiration for this 'walking the line' is to have the work go beyond generators like Performance Space and Arts House to Belvoir, Malthouse and major venues and major festivals. This was always (former director) Wendy Blacklock's vision at Performing Lines."
Stumm's productions have included Erth's Murder (Sydney and Adelaide Festivals and Ten Days on the Island), the live art installation I Think I Can by Sam Routledge & Martyn Coutts (Sydney, Perth and FOLA Festivals); a tour of Team MESS' Bingo Unit and Lenine Bourke's live art residencies featuring guided tours by children, The Walking Neighbourhood (Sydney in Art & About, the ANTI Festival, Kuopio, Finland).
"All the work that attracts me," says Stumm, "is about the relationship between audience, art and the world. None of the artists I work with are auteurs who lock themselves away and come out with a finished piece. They think of the audience as collaborators: Team MESS might have the audience perform in a 'cop show'; Branch Nebula, Matt Prest and Clare Britton put the audience inside the set of Whelping Box."
Stumm also puts great store by continuity. His relationship with his newest client, Branch Nebula, goes back 10 years when Lee Wilson worked with Urban Theatre Projects where Stumm was Executive Producer and then at Performing Lines, taking their Paradise City after its Performance Space premiere to the Sydney Opera House and Brazil and, via Mobile States, across Australia.
Looking back to the RealTime-Performance Space Forum "Wanted: Creative Producers" in 2008 (RT 69, p40) at the time when touring networks were forming, the notion of 'creative producer' was being discussed and direct funding to producers being considered by the Australia Council, Stumm comments that at the time it was contentious to attach a producer fee to your grant application and that Wendy Blacklock had long cobbled together "temporary communities" to get works touring. Now, he says, "Selling contemporary work nationally is easier than it's ever been." This is partly because of a responsive new generation of presenters. Stumm cites Country Arts SA which runs regional venues, touring and the community cultural development regional program. "Under the directorship of Steve Mayhew and management of Craig Harrison the organisation's Performance Development Program (formerly Local Stages) is not just touring but also producing work. They want contemporary artists to engage with the community, recognising that contemporary and community practices are doing similar things, if coming at them from very different positions, and meeting in the middle."
Stumm describes the logistics of the Team MESS Bingo Unit tour to Renmark and Mt Gambier. The company arrives in Renmark for location shooting, drives to Mt Gambier, shoots scenes, bumps into the theatre, builds the installation, performs and then returns to Renmark to perform. The plot conveniently has the killer come from Renmark, his victim from Mt Gambier. "Country Arts SA put money and energy into the residency; Australia Council Theatre provided a Community Engagement Residency Grant for this new touring model; and Market Development offered a Hopscotch Travelling Grant for touring Live Art."
As Intimate Spectacle, Stumm has been producing for two and a half years. He says he wouldn't be good at commercial selling, "but I can sell contemporary work and make a living." The big challenge in working with individuals and small companies is that they don't have the financial resources to invest in a producer with whom they can strategise development, touring, reaching co-producers and presenters and applying for grants. This kind of work can go unpaid for a producer if possibly recouped from sales, 60% earned income in Stumm's case to date.
Stumm is emphatic, "I love what I'm doing," not least working on his project with a rock'n'roll band, the Cambodian Space Project, founded by Julien Poulson, a musician formerly from Tasmania, and Srey Channthy Kak, a singer originally from a village in Cambodia. Julien heard Channthy in a karaoke bar singing "Johnny Guitar," thought 'Wow!' and formed the core of the band with her. "Channthy now lives in Sydney. I saw the band at the Basement three years ago with an Australian rhythm section. Channthy's a charismatic singer and performer with a great voice."
Channthy sings traditional songs and those of the Cambodian pop kings and divas of the liberal 60s before the arrival of the Khmer Rouge. An unusual choice is "House of the Rising Sun" covered by pop star Sinn Sisi Samouth in 1964; it has to be understood, says Stumm, in terms of genocide and all the artists executed. Most of the band's repertoire is written by Channthy and band members.
What specifically attracted you? "I love music, I love history, I love intercultural practice. I saw in this band something so theatrical—the ideas, the story, the quality of the performance. I made contact on Facebook. It's the only time I've approached an artist out of the blue. I asked them if they'd like to do something more theatrical, not a play. Then Julien had an idea for Hanuman Spaceman, a music theatre piece based on Channthy's life in terms of Hanuman the trickster Monkey God in the Ramayana. She wants to go to the moon, looking for something more than a culture where there's tension between individualism and collectivism with its memories of the Maoist regime and the Hun Sun government imposed by the Vietnamese. It excited me straight away."
Plans were interrupted by Stumm's emergency heart surgery in 2013 but subsequently an opportunity came up to participate in a laboratory run by Stephen Armstrong, the programmer of Asian performance at Melbourne's Arts Centre. The lab brought together Australian and Asian artists. Casula Powerhouse in Sydney's south-west quickly came on board as presenter of the Hanuman Spaceman project because of the work's potential for community engagement (there are 12,000 Cambodians in the area). Then the project received Australia Creative Partnerships with Asia funding.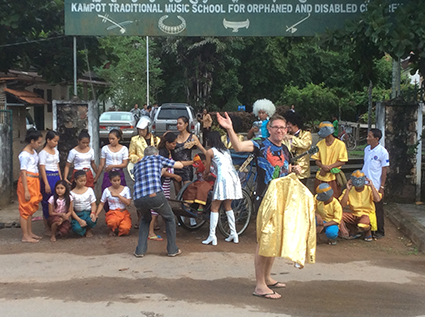 photo Carlos Gomes
Harley Stumm with the team from Hanuman Spaceman
Although the evolution of Hanuman Spaceman has involved considerable happenstance, Stumm puts it largely down to 20 years of networking and "pitching to the right place." There'll be a "casual residency and first draft performance " this May at Casula Powerhouse. One of the demanding requirements of the grant is that there be an outcome in each country. The first was staged three hours out of Phnom Pen in Kampot, "a cool, hippy town with lots of expats."' Work took place at the Khmer Cultural Development Institute, founded in 1994 by a young English concert violinist Catherine Geach who was appalled by the legacy of the Khmer Rouge and the loss of traditional culture. Music and dance are taught to orphaned and disabled children.
Carlos Gomes from Sydney's Theatre Kantanka joined the project as director for two weeks of rehearsal and a presentation, aided by a German documentary filmmaker, a UK giant paper-puppet maker, the band's two young traditional dancers who can rock'n'roll and Kong Nay singing and playing his witty "Mekong Delta blues" on a traditional long-necked, two-string guitar. In his 60s he's the Cambodian Ray Charles, blind since childhood and one of the few pre-Khmer Rouge artists to survive after being captured and forced to sing songs of praise to KR and about to be executed before being saved by the Vietnamese. Kong Nay is one of 17 Cambodian Intangible National Treasures.
Just what the work will become is yet to be seen: a rock opera or as Julien Poulson put it, says Stumm, "a concept album performed live"? Which is what it looks like in the photos and videos Stumm shows me of the highly successful outdoor performance. The focus of the Casula Powerhouse residency will be on collaboration with local Khmer musicians and dancers and the staging of three public performances.
For Stumm, Hanuman Spaceman is one of the most exciting projects he's been involved in—"totally challenging, working in a poor country and with a band. It crystallises more and more for me the work I want to do. It's out of the box, like nothing I've seen. We all want memorable experiences. We talk about formal innovation but it's not abstract—the old ways don't work. Some contemporary performance now is as old hat as heritage art for me. There's a real energy about this collaboration. I feel it's the future."
Cosmic Cambodia, Casula Powerhouse, 15, 16 May; Harley Stumm, Intimate Spectacle
RealTime issue #126 April-May 2015 pg. 30
© Keith Gallasch; for permission to reproduce apply to realtime@realtimearts.net