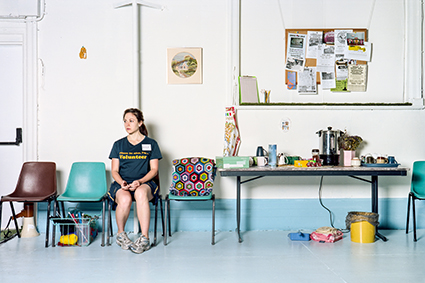 photo Pier Carthew
Nicola Gunn, Hello, my name is Nicola Gunn
The rush is on. Artists and producers are selecting their wares for the 2016 Australian Performing Arts Market at Brisbane's Powerhouse, submitting applications (deadline July 1) to present complete works or 25-minute excerpts (for productions ready to tour) in the Showcase or to deliver pitches (for works in development), or run stalls displaying samples of distinctive cultural produce.
Staged 22–26 February 2016 at the Brisbane Powerhouse and other venues, APAM 2016 will coincide with the welcome return of the World Theatre Festival (WTF), the Powerhouse's contemporary performance event and the wonderful Asia-Pacific Triennial of Contemporary Art at the Queensland Gallery of Art and Gallery of Modern Art.
The long-lived biennial APAM, established by the Australia Council for the Arts in 1994, is a major platform for artists working across a remarkable range of practices in theatre, contemporary performance, puppetry, dance, music, live art and performative installation, including always distinctive works by Aboriginal and Torres Strait Islander practitioners.
This venerable but progressive market's "key purpose continues to be the increase of international and national touring opportunities for Australian contemporary performing arts groups and artists." It achieves this not only through presentation but by providing "dialogue, collaboration and exchange between local artists and producers and their international counterparts," opening with a keynote address and followed by breakfast, panel and roundtable discussions throughout the market.
For prospective participants a glance at the 2014 APAM at the Powerhouse is telling, revealing a program rich in innovation and artform and cultural diversity. A strong line-up of complete showings included dance works by Shaun Parker & Company's AM I and Antony Hamilton Projects' Black Project 1. For younger audiences there were Barking Gecko Theatre Company's Driving into Walls and Erth Visual & Theatre Inc's The Dream of the Thylacine. Black Arm Band performed dirtsong and Roslyn Oades & Company presented the intensely physical verbatim-based work about boxing, I'm You're Man.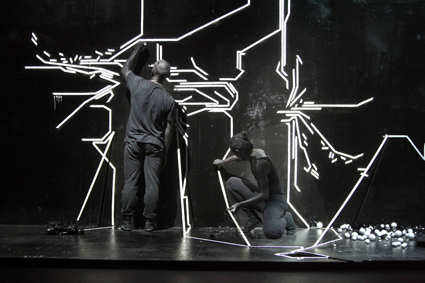 photo Ponch Hawkes
Antony Hamilton, Black Projects 1
In the 25-minute excerpt category were Branch Nebula with Matt Prest and Clare Britton, Kage, Nicola Gunn, Maud Davey, Casus, Force Majeure, ILBIJERRI, Perth Theatre Company, Speak Percussion and the Darwin Festival Tiwi Islander work Wulamanayuwi and the Seven Pamanui. Among the 10-minute spruikers were Tristan Meecham, Tamara Saulwick, pvi collective, My Darling Patricia and Aphids, one step at a time like this, Jeff Stein and Chiara Guidi, Lucy Guerin Inc and Vicki Van Hout. Featured prominently in the program were site-specific works from Dan Koop & Co, Martyn Coutts and Sam Routledge and Lenine Bourke.
The variety of forms exhibited in APAM 2014 illustrate the market's alertness to developments in the performing arts in line with the increasingly open-ended expectations among local and international festival directors, presenters and, above all, audiences about what constitutes the art experience.
An Australia Council press release (29, July, 2014) reported, "This year's APAM attracted more than 600 delegates from 31 countries and included more than 70 showcases of exciting and innovative Australian performing arts productions. The previous APAM held in Adelaide in 2012 resulted in at least 20 domestic and international tours, generating more than $2.1 million in performance fees."
Successful outcomes of APAM 2014 included Nicola Gunn's Hello my name is and ILBIJERRI Theatre Company's Jack Charles V The Crown in the Australian season at Dublin Theatre Festival 2014; Antony Hamilton's Black Project 1 presented at Taipei Arts Festival 2014; and, forthcoming, pvi collective's Deviator at Malmo Festival, Skanes Dansteater, Sweden, August 2015. Within Australia, Vicki Van Hout's Long Grass premiered at the 2015 Sydney Festival before going on to Dance Massive and Force Majeure's Never Did Me Any Harm will have a six-week, 10-venue tour in 2016.
APAM Roadshow information sessions occurred around the country in March-April.
To learn more about APAM and to see if it's right for you, go to APAM Roadshow. Closing date for applications is 1 July.
2016 APAM, Australian Performing Arts Market, Powerhouse Brisbane, 22-26 Feb 2016; applications at www.performingartsmarket.com.au/apply
RealTime issue #126 April-May 2015 pg. 41
© Keith Gallasch; for permission to reproduce apply to realtime@realtimearts.net