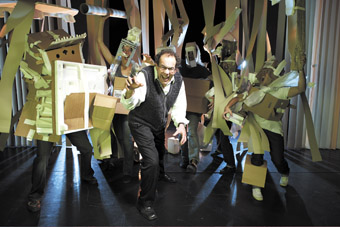 photo – Jose Jorge Carreon
Chunky Move, Two Faced Bastard
MELBOURNE INTERNATIONAL ARTS FESTIVAL ARTISTIC DIRECTOR KRISTY EDMUNDS FREQUENTLY MAKES THE POINT THAT HER FESTIVALS ARE NOT THEME-DRIVEN, AND CERTAINLY THE DIVERSITY OF CONTENT GRAVITATES AGAINST ANY EASY ASSUMPTIONS OF CONNECTEDNESS. BUT CONNECTIONS DO EMERGE SUBSEQUENT TO PROGRAMMING, SHE SAYS AT A PRESS BRIEFING IN SYDNEY, DESCRIBING MANY OF THE SELECTED WORKS THIS YEAR AS "ECSTATIC AND CELEBRATORY, OPTIMISTIC EVEN." ONCE AGAIN EDMUNDS HAS CURATED A FESTIVAL FOCUSED AND DIVERSE, CHARACTERISTICALLY IDIOSYNCRATIC AND RICH IN AUSTRALIAN PREMIERES (FROM MELBOURNE ARTISTS), ALONGSIDE INTRIGUING VISITING WORKS INCLUDING AN ABIDING AND INSTRUCTIVE NORTH AMERICAN PRESENCE.
patti smith
The placing of iconic American choreographer Merce Cunningham 'in-residence' at the centre of Edmunds' 2007 festival allowed for a constellation of related artists and works to give weight to the celebration of a figure who anticipated and still realises the riches of artistic hybridity. In 2008 Edmunds has given welcome prominence to another American artist, a generation on from Cunningham, but with a similar network of connections across artform practices: the avant-garde poet, rocker and photographer, Patti Smith.
Smith's residency includes two exhibitions: Patti Smith: Photography & Installation, focusing on the artist's photography from 1967 to 2007, and Objects of Life, a companion piece to a biographical documentary by Steven Sebring titled Patti Smith: Dream of Life. The film, shot over 11 years, has its Australian premiere in the festival. Objects of Life comprises 14 large photographs by Sebring of Smith's personal artefacts ("a childhood dress, an ancient urn containing the remnants of Robert Mapplethorpe…") and a video of Smith in the act of painting.
Smith will give two concerts with her band and a third, more intimate one with Philip Glass in a celebration of the great American poet Allen Ginsberg in words and music. Both artists had performed with Ginsberg. Glass will also be celebrating the poetry of Leonard Cohen in Book of Longing (which had its Australian premiere at the 2008 Adelaide Festival). Two of Glass' musicians, Andrew Sterman and Mick Rosso will present their own concert of originals and improvisation. Completing the American contingent, which also includes choreographer Deborah Hay (see below) will be the Grammy Award-winning sextet eighth blackbird in The Only Moving Thing, featuring new works by Steve Reich and Bang on a Can's David Lang, Michael Gordon and Julia Wolfe.
the other music
Other music in the festival program comes from a very different tradition as exemplified in the program of Reinbert de Leeuw's always adventurous Netherlands' Schönberg Ensemble, performing works in concert by Louis Andriessen, Mauricio Kagel and Schönberg, but also John Adams. A second concert will feature works by the late Gyorgy Ligeti and Australia's Michael Smetanin. Barrie Kosky will direct Australian composer Liza Lim's opera The Navigator which premiered at the recent Brisbane Festival (the co-commissioner of this work with the Melbourne Festival).
Australian Indigenous music is represented on a large scale in The Black Arm Band and Melbourne Symphony Orchestra collaboration on a new compilation titled Hidden Republic, again drawing on the many forms of Aboriginal song from the perspective of Australian history and politics.
theatre
As is usual, local artistry is prominently on show in Edmunds' festival. On the theatre front, the wonderful Back to Back Theatre will perform at Malthouse with the experimental music trio The Necks in Food Court, a part-concert, part-theatre work about humiliation experienced in public places. The long-awaited new Jenny Kemp work, Kitten, described in its press release as travelling "from the depths of despair to immense hope" should be a festival highlight, created in collaboration with Malthouse resident designer Anna Tregloan (promising a set-cum-installation that will transform the Beckett), composer Darrin Verhagin and choreographer Helen Herbertson. The Eleventh Hour, in their continuing exploration of classic texts and the meanings and other cultural items that constellate around them will stage their "nauticalised" Samuel Beckett: Endgame with Bach's Chaccone.
Other local productions will greet audiences on the streets or take them to a suburban house or a workspace. Director-writer David Pledger's performative installation, The Meaning of Moorabbin is Open for Inspection, will engage audiences with the auctioning of a red brick home. The Suitcase Royale will collaborate with the UK's Lone Twin (Melbourne Festival, 2005, RT70, p5) on Newsboys, an evocation of an era when you could hear the news headlines spieled on the streets—which is just what Suitcase will do with words provided by Lone Twin. Melbourne live art performers Panther (Sarah Rodigari, Madelaine Hodge) will present Exercises In Happiness at a car tyre outlet, testing their audience's expectations of life with questions and exercises. Polyglot Puppet Theatre will stage The Big Game—a huge board game for children in which the kids make the rules.
From Lithuania comes OKT/Vilnius City Theatre with their three and a half hour version of Romeo and Juliet, the family factions this time rival pizzeria owners. Belgium's Victoria presents UK writer Tim Etchells' (of Forced Entertainment) That Night Follows Day featuring 16 performers aged nine to 15 years of age re-enacting the mysterious ordering imposed on them by adults. Canada's STO Union presents George Acheson's 7 Important Things, a real-life barber's reflection on the meaning of the 60s and the profound challenges of democracy, performed by the writer with the show's director, Nadia Ross.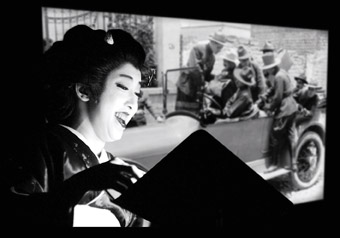 Teatro De Ciertos Habitantes, El Automovil Gris
performing with screen
Other live performances use film: "In 2007 DJ Spooky, America's Paul D. Miller, went to Antarctica to record a film about the sound of ice…Terra Nova Sinfonia Antarctica is the result. This large-scale multimedia performance work transforms Miller's first-person encounter with the harsh, dynamic landscape into multimedia portraits with music." Mexico's Teatro De Ciertos Habitantes performs to the 1919 silent classic El Automovil Gris (The Grey Automobile, about a gang exploiting the chaos of the Mexican Revolution; director Enrique Rosas), a small cast voicing some 50 characters in the traditional Japanese Benshi narrational style. Another classic is given new life with American composer and instrumentalist Philip Johnston performing with a singer and ensemble of musicians to FW Murnau's powerful 1926 expressionist Faust (reviewed RT81, p26).
dance
Local dance is also strongly represented with new works from established artists. Working with an interior architect, Donald Holt, and a Japanese composer, Haco, Lucy Guerin builds her audience into the set of Corridor which explores the anxieties engendered by certain spaces and contemporary media technologies. Guerin is also co-creator with Gideon Obarzanek of Chunky Move's Two Faced Bastard, this time inviting the audience to take the performers' point of view, from a kind of backstage from which they glimpse the actual performance—or two performances in this dance play with the real and actual. Helen Herbertson and Ben Cobham premiere their new work, Sunstruck. KAGE's Appetite brings together vocalist New Buffalo, playwright Ross Mueller, Kennedy Nolan Architects and performers to address a female mid-life crisis—"Can she reverse the side effects of contemporary life? Undo the damage done and find a new appetite for life?" You have to be there.
The festival's international dance guests are Israel's Batsheva Dance Company, and the influential choreographer and teacher Deborah Hay. Kristy Edmunds promises "a rejuvenated choreography" from Batsheva's Ohad Naharin, which is to be hoped for after the vigorous but empty formalism of the company's appearances at Adelaide and Sydney Festivals. The Deborah Hay Dance Company will perform If I Sing To You, originally commissioned by the Forsythe Company for an April premiere in Germany this year. Idiosyncratic UK movement and theatre artist Wendy Houstoun (one time DV8 collaborator and mentor for the Fondue Set's new show, p36) presents Desert Island Dances and a re-staging of her seminal work, Happy Hour, seen in Kings Cross many years ago in a tiny bar: in Melbourne it'll be seen at the festival's Beck's Bar.
sound
Sound culture makes a rare substantial Australian festival presence this year with two large scale hearings: echolocation, an electro-acoustic installation from US sound artist Alex Stahl, and 21:100:100, an exhibition, developed by Gertrude Street Contemporary Art Spaces, of 100 21st century sound works in concert and installation curated by Oren Ambarchi and Marco Fusinato. Echolocation refocuses our hearing so that dusk and dawn bird calls (miked beneath Princes Bridge and played across the city) are given due prominence alongside human noise. Mobile phone users will be able to 'conduct' the work and add their own voices to it.
On the interactive media art front, Australian artist Lynette Wallworth (RT79, p2) will premiere Evolution of Fearlessness in which audience touch triggers unspoken responses from women who have migrated to Australia after suffering horrifying experiences in countries such as Afghanistan, Sudan, Iraq and El Salvador. If the festival's implicit if unplanned theme is about the passage from despair to celebration, ecstasy even, then Wallworth, along with Jenny Kemp, KAGE, The Black Arm Band and others, might tell us how to bravely travel Lucy Guerin's narrow corridor to fearlessness or, at least, sense the pain and courage of others who have made the journey, actually or imaginatively.
Melbourne International Arts Festival, Melbourne, Oct 9 – 25, http://www.melbournefestival.com.au
RealTime issue #86 Aug-Sept 2008 pg.
© Keith Gallasch; for permission to reproduce apply to realtime@realtimearts.net