photo Luc Massin
Dark Matter, Kate McIntosh, PuSh Festival
Through a looking glass and via portals, this year's 2015 PuSh International Performing Arts Festival transports us to states of elsewhere in perception, consciousness and deep introspection. With an emphasis on the acts of looking, the stages for performance become films, become screens, optical viewfinders, a hall of mirrors and through these lenses we find the essence of new forms and practices. Some works offer enough space and time to dream up the keys that will unlock new experiences, while others leave us with questions.
Kate McIntosh, Dark Matter (Belgium)
Kate McIntosh portrays our emerald-dressed hostess in the peeling of a thickly layered quantum physics experiment that after some duration unravels into a cacophonous chaos. Accompanying her are Thomas Kasebacher and Bruno Roubicek, reminiscent of a bumbling vaudeville act—two suited men trying to fill the void by restaging life's big science experiments via a series of tableaus and a lot of ruckus. With bags of flour, black balloons and ping pong balls, Dark Matter hurtles us into the depths of the time/space continuum. But my response to the energy of these bouncing particles and waves is…stasis.
After a wild chain of philosophical explorations that go even further into the void of contemplating darkness we are left with some lasting afterthoughts and images. McIntosh performs a moth dance to the beat of metronomes as a starry sky rises to reveal a dazzling light. It takes these unexpected moments for me to consider letting go and falling into Dark Matter, but they get lost, overtaken by the work's chaos. The universe tests us; it is about a balancing act and a randomness that cannot be predetermined. It's immeasurable, but the choices made in this production begin to show a repetitive, logical pattern. In communications theory, randomness in a signal is called noise: after some time all the dark matter here speaks too loudly. In the end I am not immersed, just left watching a flurry of commotion.

photo Colin Griffiths
Fare Thee Well, PuSh Festival
Dries Verhoeven, Fare Thee Well! (Netherlands)
At Vancouver's lookout point, popular with tourists, we ride a glass elevator up 553 feet to view the city. Dries Verhoeven's Fare Thee Well! begins here and offers a different portal for the spectator. Looking down at a miniaturised landscape implies a colonialist's way of observing, ignorant of the complexity of a city's history. Each telescope is placed in a museological glass case with its lens pointing towards Port Metro Vancouver, Canada's largest port, responsible for trade with more than 160 world economies. Wearing headsets we are submerged in the passions of "Ah! Spietato," an aria about betrayal from Handel's opera Amadigi di Gaula. I am pleasantly taken by this unanticipated and yet simple magic as the telescope provides an upended perspective on the port and an LED display sends tiny messages of farewell to Jian Ghomeshi, Gobstoppers, Cobalt Motor Hotel, Canada Council…while welcoming Starbucks, Oil, Kinder Morgan… The poetic likes of "Only when we part do we look into the depths of love" trail off as we get caught up in the crescendo of commercialism. The loop of opera and LED slogans does not discriminate: all things are part of the flow of capital. The cinematic experience reads like the subtitles have not yet attached to their visual counterparts—our upturned port is a space where we dock our own meanings; a time capsule of what is to come.
Lotte van den Berg, Cinema Imaginaire (Netherlands)
In Cinema Imaginaire, spectators are given agency to walk through the downtown core of the city to make films. We choose the locations, characters, subjects and even the pace at which our film will play out. A facilitator guides us, equipping us with timers and sending us off on several missions. Back from filming, we are asked to share with the group our works-in-progress. The poetics of searching for cinema in everyday life is a simple meditation that we take for granted: we all search for 'story' in our fast-paced urban lives through daydream and imagination. Some of the best films and stories come from this place of wandering off. But in Cinema Imaginaire we don't get a chance to wander too far—there is still the umbilical cord that connects us to our facilitator and to the task at hand. This project assumes we haven't ever considered the everyday as the subject of film. For our clouded visions to clear we thus need another moment of transformation. In the final moments of Cinema Imaginaire we all sit in a dark theatre space with only the light of a projector on the wall. We take turns appearing before it, narrating our films from memory. This unexpected moment is what we are waiting for, and each moment spoken is poetry.
Fight with a Stick, Steppenwolf
The words "Magic Theater, Entrance Not For Everybody" (from Herman Hesse's 1927 novel Steppenwolf) make it very difficult to not want to prise open the door and step in. Steppenwolf is an attempt by the company Fight With a Stick to reproduce the book as a design-driven theatre installation. Like a labyrinth of mirrors, the original novel generates multiple meanings around the duality of Harry Haller/Steppenwolf as part wolf, part man. At the core of this piece is an interest in visual and cinematic illusions including a vertical mirror that audiences face to observe the show. We watch the reflective surface as a narrator (Alex Lazaridis Ferguson) housed in a booth reads passages from the book amid soundscapes of sea and city. Performers weave from right to left holding laptops that also present moving images of what appears to be the performance space during rehearsal. But the mirror shatters for me once the ensemble of performers enters the stage as characters (Harry, Hermine, Pablo, Maria) and there is no more value placed on them as reflections. There are stunning visual elements— a spinning bare framework of a house moves towards us against a backdrop of light and projections of shifting colour tones. Harry is swept farther and farther into the realm of drugs and sex or what he calls 'the bourgeois.' It's then you want to turn and face the energy of the performers in the flesh. There's a strong dynamic felt in Nneka Croal's Hermine, who might have offered an interesting twist as a female Steppenwolf. If this is a theatrical installation then character and plot need not be integral: seating is unnecessary and the audience should be able to free their animal spirits and roam the hall of mirrors. Then we might truly consume these cinematic and performative vignettes as pieces to a puzzle allowing for a 'truer,' reflective way of taking in Steppenwolf.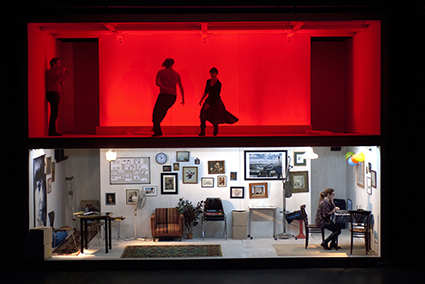 photo Mariano Pensotti
Cineastas, Carlos Furman, PuSh International Performing Arts Festival
Mariano Pensotti Cineastas (Argentina)
The lives and the films of four fictional filmmakers (Gabriel, Lucas, Nadia and Mariela) are performed in a two-storey set depicting the private and public spaces of the filmmakers' lives. The set doubles as a live split-screen of well-choreographed performance with characters and narrators moving via a revolving door of fast-paced entrances and exits. The performance unfolds over the course of a year, as the lives of the filmmakers intersect the making of cinema, footnoting a survey of films that influence and foreshadow major personal events that unravel later on in their pursuit of their creations. What's compelling in Cineastas is cinema's power not so much to archive the disappeared but rather to awaken them. In their artistic journey, the filmmakers face the same questions about life that are staged in their films. Cities transform, the ever-changing Buenos Aires is Paris, is New York City, and significant people disappear and then reappear. The text by Pensotti is dense and rich, the films and the filmmakers are related to Buenos Aires, but Cineastas defies geography and borders. As we near the end, the stage is swept clean of any traces of the performance. One of the last images is of Nadia coming home to the streets of Moscow and a beautiful cathedral, only to find it merely a film set.
PuSh International Performing Arts Festival. Dark Matter, Kate McIntosh, writers Kate McIntosh, Tim Etchells, Fei & Milton Wong Experimental Theatre, 28-30 Jan; Fare Thee Well!, creator, writer Dries Verhoeven, Vancouver Lookout, 30 Jan-8 Feb; Cinema Imaginaire, creator Lotte van den Berg, 4-8 Feb; Fight with a Stick, Steppenwolf, Russian Hall, 4-7; Cineastas, director, writer Mariano Pensotti, Fei & Milton Wong Experimental Theatre, Vancouver, 5-7 Feb
RealTime issue #126 April-May 2015 pg. 9
© Cindy Mochizuki; for permission to reproduce apply to realtime@realtimearts.net