I TELL DAVID SEFTON THAT I THINK HIS 2015 ADELAIDE FESTIVAL PROGRAM HAS MORE THAN A TOUCH OF THE LATERAL ABOUT IT, INCLUDING OSAKA'S OPERATIC NOISE, STRINGS, PIANOS AND VOCALS BAND VAMPILLIA. HE LAUGHS, "I THINK I'VE GOT ALL POINTS COVERED THIS YEAR."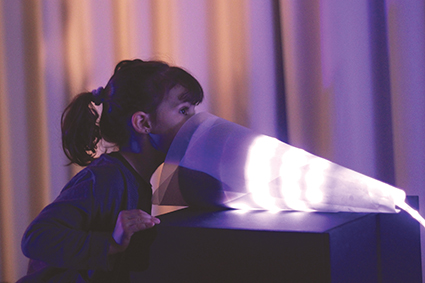 photo courtesy Adelaide Festival
Chevalvert, 2Roqs, Splank & Polygraphik, Murmur, BLINC
Blinc
"Actually, you took the words right out of my mouth! Blinc, for example, is a massive, free, digital art expo we're doing on the river and surrounding areas. It's not just ephemera or 'look at the shiny lights;' this is a curated exhibition, an A-list of digital artists that just happens to be outdoors. It's like a survey show of the latest in digital art—artists like Tony Oursler, who's just had a major gallery show in London and whose work will be on Pinky Flat next to the Adelaide Oval here. It will be on free every night of the festival alongside the broadest ever showing in Australia of the work of Bill Viola, arguably the world's greatest video artist." Including Oursler, the Blinc contingent numbers 20 artists from Europe, the USA and Japan with works that range from laser projection to intimate interactives. Although Australian artists, so strong in this field, are strangely, and disappointingly, absent, it's good to see electronic arts centre-stage in an arts festival.
Bill Viola
In contrast with last year's epics—John Zorn and The Roman Tragedies—Sefton declares, "we've taken a different definition of 'spectacular,'" as programming Blinc indicates. Bill Viola will be showing in three spaces: "in a gallery, in the cathedral and in a theatre space—because it was the only venue with a ceiling tall enough to fit the nine-metre high video screens. I've just seen his latest work in St Paul's Cathedral in London. Because spirituality is so much a part of what he does, churches tend to be good places to see the work. I'm doing a platform discussion with Viola over the opening weekend."
Cedar Lake Contemporary Ballet
On the dance front, Sefton has focused on one company with two large-scale programs. "Cedar Lake Contemporary Ballet from New York is an extraordinary entity insofar as they are a fully funded American dance company. That's almost a contradiction now in that culture. They have one patron who enables them to cherry pick the best dancers in America and the world's greatest choreographers as well. They're a company I'd worked with in the US and we've been in discussion for a couple of years. They're quite a young company in the scheme of things. We're doing two major projects with them: one is a triple-bill with Jiri Kylian, Crystal Pite and Hofesh Shechter works made for the company. The other project is a whole evening's work made for them by Sidi Larbi Cherkaoui. So it's a huge commitment from us to one company in their first and exclusive Australian appearance."
Gavin Bryars
Music is one of David Sefton's great passions. I ask him where it's taken him for his 2015 program. After the magnificent John Zorn tribute in 2014 (RT120, p20), Sefton has this time secured the presence of another great artist—UK bassist, improviser and post-minimalist composer Gavin Bryars—in a sizeable program of his works. "It's not that he's never been to Australia before but his ensemble hasn't and the breadth of his work has never really been seen and heard here. He'll be a kind of composer-in-residence for the festival. The symphonic Jesus' Blood Never Failed Me Yet is obviously a signature work with Bryars conducting the Adelaide Symphony Orchestra.
"His ensemble will do a concert on their own and then one with guests including Song Company from Sydney, whom he's worked with before—he's a big fan. That concert will feature for the first time in Australia the suite of Tom Waits' songs Bryars arranged at Waits' invitation. We'll also stage one of his operas—Marilyn Forever—another important aspect of Bryars' work. It's a chamber opera based on the life of Marilyn Monroe that's only ever been seen in Canada where it was commissioned. Again, these works will be staged across a range of venues—the Town Hall, Elder Hall for his Ensemble concerts and ABC Studio 520 for the opera.
Unsound Adelaide
A challenging but popular dimension of Sefton's Adelaide Festivals has been the international Unsound music program. Sefton says, "If it ain't broke don't fix it. I do like to change the look of the festival but in this case it's such a rich seam of places to go with the electronic music world, there's absolutely no reason not to continue it. Even though I was inordinately happy with the first two I feel like this is the strongest one. The program includes Forest Swords (UK), Shackleton (UK), Lawrence English (AUS), Vatican Shadow (US) and a work from Robin Fox (AUS) and Atom™ (Germany), which is a commission between us and the Polish branch of Unsound. We were able to get Fushitsusha (JAPAN) to come, led by rock experimentalist Keiji Heino—that's a huge deal in the new music world. And there's The Bug from the UK. We've ventured more into slightly clubbier territory for the first time. Basically the best way to describe a group like Model 500 is Detroit Kraftwerk."
Tommy
Oddly for an international arts festival, there are two musicals, of a kind, in the 2015 program. Sefton admits, "I'm on record as saying I'm not a person that likes musicals and now, ironically I end up with two in the festival." One is the re-imagining of The Who's Tommy with producer Hal Willner at the helm—the other is Fela!, the concert version of the Broadway show featuring the work of Afrobeat master Fela Kuti. "The conversation about programming Tommy has been going on for something like six years. Eric Mingus came to me when I was still in Los Angeles and said, 'Look, I wasn't quite sure where to take this idea so I thought I'd come to you.' Turns out for the best part of the previous decade he had been in communication with Pete Townshend about creating his version of Tommy. It seemed such an unlikely proposition but Pete Townshend has been 100% behind the idea from the start and has been working on it with Eric remotely. It never happened in Los Angeles and we got lucky because it is the 50th anniversary of The Who next year.
"It's along the lines of an elaborate semi-staged concert with multiple guests. Hal Willner is known for that—the Leonard Cohen Came So Far For Beauty concert and so on. Eric is a much under-rated composer and arranger in his own right. He's completely re-scoring Tommy for a jazz band—but with quite unconventional forces. He's the musical director of the project. He'll also take some of the singing roles because he's got a fantastic voice. And, like his father [the great jazz bassist and composer Charles Mingus], his instrument is the bass. So he'll be performing, arranging and singing. There are about half a dozen guest-singers."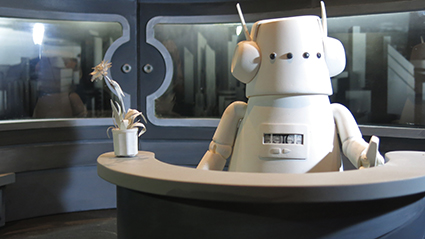 photo K K Barrett
Kid Koala, Nufonia Must Fall
Kid Koala, Nufonia Must Fall
Fans of Montreal's Kid Koala will be ecstatic; the virtuoso scratch DJ, music producer and graphic comic book artist will be presenting an onstage version of his book Nufonia Must Fall. Sefton tells me, "There'll be a dozen small puppetry stages projected onto a large screen over the artists and performed to a score—played by Kid Koala and the Alfara String Quartet—which I've heard and which is beautiful. He's on the road as a turntablist in Australia in the month before the festival." The production is directed by KK Barrett, the designer for Spike Jonze's feature film Her (RT120, p28).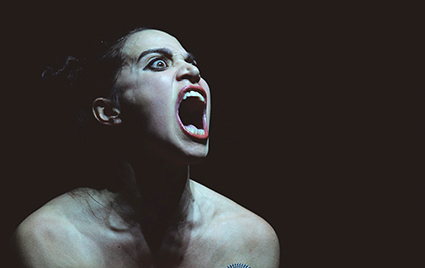 photo Valeria Tomasulo
Silvia Gallerano, La Merda
La Merda
A work on the 2015 program I'd not heard of was La Merda. I ask Sefton where he found it. "I saw the show in Edinburgh three years ago and it completely knocked me sideways. Silvia Gallerano tours the world with it and has won a string of awards. It's unlike anything I've ever seen." I ask if it's a confessional monologue. "Its like somebody allowing you to take the top of her head off to get a glimpse of a terrifying mind."
Other monologues include the State Theatre Company's Beckett Triptych (Footfalls with Pamela Rabe, Eh Joe with Paul Blackwell, Krapp's Last Tape with Peter Carroll), Riverrun, from Ireland, which features the writing of James Joyce and Big Mouth's SmallWaR (Belgium) about the nature of war, in a live/digital mix. "At the other end of the spectrum," says Sefton, "we have Dylan Thomas—Return Journey(UK), another extraordinary performance. It's the official Dylan Thomas centenary show remounted at the request of the estate. So the program's ended up exploring the range of things that can be monologue."
David Chisholm's The Experiment
Australian composer David Chisholm's The Experiment to a script by UK playwright Mark Ravenhill is a Major Festivals co-commission with the Sydney Festival and a work, Sefton thinks, "the Unsound audience should really come to." There's an electric guitarist—Chilean Mauricio Carrasco—centre-stage, performers, images by Emmanuel Berndoux and media art by Australian Matthew Gingold: "It's very much a cohesive multimedia piece, and unsettling. It's unquestionably a total theatre piece." The work asks if we'd experiment on a child at the risk of their life if we thought it would save thousands more.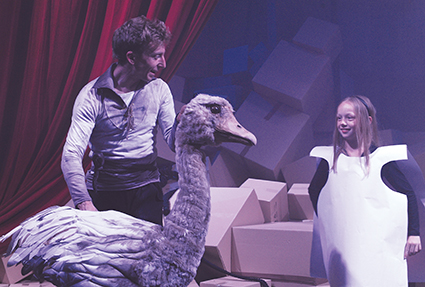 photo Heidrun Löhr
Chiara Guidi & collaborators, Jack & the Beanstalk
Chiara Guidi, Jack and the Beanstalk
In another work involving Australians in an international collaboration, Chiara Guidi of Italy's Societas Raffaello Sanzio has created Jack and the Beanstalk with Australia's Jeff Stein, Erth Visual and Physical Theatre and Insite Arts from a commission by Campbelltown Arts Centre and Adelaide Festival. This vivid work for and about children, who participate directly in it, visit the ogre's incredible, towering cardboard home, encounter "slinky worm creatures," a golden goose and the ogre himself—"a chilling apparition shrieking the kind of blackness you just might find in nightmares." Bryoni Trezise concluded her appreciative review with the observation that "The children in the room…seem[ed] unnervingly content with this bleak but complex image of themselves" (RT 122, p42).
There's a final recommendation from David Sefton: "When I got this job I did tell the powers that be here that there wasn't any way I saw myself putting on anything in the Entertainment Centre because that's not what I do. And then Danny Elfman's Music from the Films of Tim Burton appeared on my radar and I thought well, never say never. The composer will be conducting but he also actually sings. Not many shows can claim that. There aren't many things I'd consider cool enough to put into a 6,000-seat venue but I think in this case I'm prepared to make an exception."
Adelaide Festival, 2015, 27 Feb-15 March
RealTime issue #124 Dec-Jan 2014 pg. 24-25
© Keith Gallasch; for permission to reproduce apply to realtime@realtimearts.net