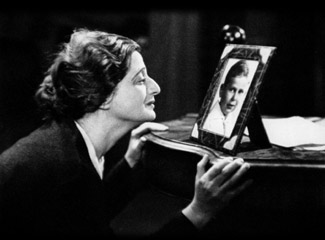 Lucy Gerhman, A Letter to Mama, from Mamadrama
Monique Schwartz's Mamadrama is a rare Australian documentary in that it takes 'thinking about cinema' as its subject. It also openly reveals the filmmaker's own process of testing and questioning the limits of film and its modes of representation.
Mamadrama traces the difficulties Schwartz experienced attempting to reconcile the Jewish mothers of the silver screen with her images and ideas of her own mother. This very personal narrative drives a rigorous investigation into the representation of Jewish mothers in American, Yiddish and Israeli cinema. Schwartz treats her subject with great respect, both critiquing and taking pleasure in the rhythms and idiosyncrasies of the Jewish mother characters and their creators.
Mamadrama is such a big research project. How did you prepare for it and what was the genesis of the idea?
It came out of my academic work, at Melbourne University. I have always been interested in women and Jews. In this instance, I was particularly interested in the idea of the mother and especially the Jewish mother. If you look at the 'mother' in film, you see there is a very big difference between the way the Jewish mother and the non-Jewish mother is represented. There are many problems with the representation of the mother anyway, but there is more of a problem with the Jewish mother.
I'm interested to know what your selection criteria was in both the films you decided to profile and the people you chose to interview.
The films had to be feature length; the mother had to have a reasonable amount of screen presence; the woman's role as a mother had to be substantive; and the films had to be talked about in the literature in some way. A lot of people said 'Oh you've gotta look at Crossing Delancey', which is a fabulous film, but the character is a grandmother. Then there is a Yiddish film called Two Little Mothers, but it's a daughter playing a mother, so I couldn't use that. I wanted to keep very strictly to the feature criterion too, so "Oedipus Rex" in New York Stories is really a 40 minute segment, and maybe I'm being pedantic, but I didn't feel 100% comfortable about using it.
I interviewed people who directed or acted in these films…I didn't interview the writers because you can write a character's lines, like 'I love my son' and, in the end, it's the direction that determines how it will come out on screen.
It's always very ambitious, and often very difficult, to work a personalised narrative around an intellectual premise; can you talk about your process of weaving those strands of the film together?
Well that process started in the script. All the work that I have done has a personal dimension and a public dimension, showing the context of the personal and the structured reality. I can't actually see any other way of doing things. I was a little scared in the first instance, and I had to be cajoled into keeping myself in there. I've never done something quite so personal, you know. I've always had a distance in there, different points of view. I had a lot of help from the script editor Annette Blonski, commissioning editors Sabine Bubeck-Paaz (ZDF) in Germany and John Hughes (SBS) here and the editor, Uri Mizrahi, to make sure I got the balance right and that the personal narrative always reconnected to the main theme.
There is a very interesting moment in the interview with Paul Mazursky where he says, "I should do a Jewish mother heroine" with this sense of surprise as if the idea that a Jewish mother could be a heroine has never occurred to him before. I wondered how you felt in those moments where the premise of the film was almost subconsciously proved correct by the commentary of some of your subjects.
I knew the sort of material I was going to end up getting because I'd interviewed them all before. You do the research interview and then people will often repeat themselves the second time, verbatim. I was very grateful for whatever people gave me because they were very open and talked about their mothers and their mother experiences which are very close to them…it's an incredible act of trust…I end up respecting and caring for the people I interview which is why I don't make aggressive films! I thought he was very funny, Paul Mazursky; he was desperate to do this film because he believes in Jewish cinema and he was so happy that I'd got this film together.
I was really fascinated with a lot of the archival material and certainly the Yiddish films were new to me. How did you get introduced to that work?
I am very interested in Yiddish culture and Yiddish film in particular. The interest followed on from Bitter Herbs and Honey and working at 3ZZZ community radio [Melbourne], when I was very involved with the Yiddish-speaking community. I began to investigate the sort of cultural product they made and I was fascinated by the whole culture which is very dedicated to the world of ideas. Not only that, when I looked at the films themselves, I noticed that they were incredibly radical. Some of that Yiddish cinema employed the techniques and methodologies that feminist filmmaking employs like breaking the narrative, bursting into song, positioning the women at the centre of the narrative drive and the stories not revolving around the rejoining of the couple…In addition to the gender point of view, they were also politically radical in that they would make very strong commentary about migrant life and about the class system that Jewish migrants were dealing with when they arrived in places like New York. Of course I found them totally transporting emotionally and the musical items in them, well, I always found those to be just fabulous.
I love the title. I liked that it had its own phonetic quality at the same time as 'Mama' replacing 'music' in 'Melodrama'.
Mamadrama has a lot of play on words…it's very musical, and it actually is a word that comes directly out of discussion about Yiddish films with film critic Jim Hoberman. He came up with the term when I first interviewed him 6 years ago.
I noticed that there was a temporal cut-off point in relation to the American cinema, more so than the Israeli cinema and the historical end-point of Yiddish cinema. Do you see any change going on with contemporary American representations of Jewish Mothers?
Not that I've seen. You know there are hardly any Jewish mothers now in feature films. But they have moved over to television and they're all the same, and if anything they've got worse…it's vile, a stereotype.
Although the situation of those mother characters can be funny when you watch them, there's something very sad about them…because you see in front of your nose the history of the Jewish people, and it makes you very aware of what a turbulent and difficult history that has been. That's how I felt during the middle of editing. Yes these excerpts are really funny—hee hee haw haw—but there is an underlying tone of real sadness.
And that's where the personal narrative works really well because you can draw that out in a melancholic way, instead of a sentimental way. You've referred to Yiddish culture's interest in upholding the world of ideas, and obviously this film on a supertextual level is really doing that as well…
Well you know I hope its very entertaining too. I don't like ideas by themselves, they have to be entertaining, they've gotta make you laugh, they've gotta make you cry. That's what I tried to do, and I think I achieved it to a certain extent with Mamadrama.
Mamadrama, writer/director Monique Schwartz, distributor Sharmill Films, is screening in Melbourne and Sydney with other states to follow.
RealTime issue #46 Dec-Jan 2001 pg. 14
© Clare Stewart; for permission to reproduce apply to realtime@realtimearts.net