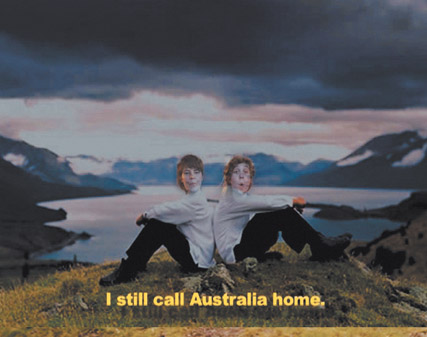 spat+loogie, National Treasures, installation for Karaoke Bedlam, MAAP
IF YOU HAVEN'T HEARD, THE HOTTEST ACCESSORY FOR THE YOUNG AND EMERGING ARTS EVENT IN 2006 IS SPAT+LOOGIE'S NEW!SHOP.
After an initial Performance Space residency in 2005, new!shop premiered at Next Wave (RT73, p2), toured to Canberra Contemporary Art Space (RT73, p48) and inevitably landed in Newcastle for Electrofringe.
new!shop, we are told, is our retail future. Installed in an actual shopfront, the spat+loogie team stock shelves with bemusing objects marked only with barcodes, which when scanned reveal their life affirming purpose (eg Bright Future Sun Glasses, Fear Mask, DIY Botox Kit) through stills, text and video snippets. The shop has efficient, friendly staff who offer you samples, direct you to specials and occasionally lock all the doors and undertake security checks of the not-so innocent looking shoppers. Although no money is exchanged and no items actually acquired (some lucky shoppers in Newcastle did get badges), new!shop is a satisfying experience for the art shopper with its no-fuss integration of performance, installation, technology and social commentary.
I caught up with the new!shop creators spat+loogie (Kat Barron and Lara Thoms) as they ran between rehearsals for the three projects they are currently working on. They only had time for one beer.
Gail: When your were little, what did you want to be when you grew up?
Kat: I think I wanted to be an illustrator or a doctor.
Gail: And what stopped you going down that path?
Kat: I think what stopped me was that on the night I finished the HSC I went to have dinner with Lara's family and her grandmother got out a future predicting pendulum and told me that I needed to be an artist.
Lara: That's true! I tossed and turned and never really knew…In high school I was really pissed off a lot of the time and a bit of a socialist and never wanted to work for the system. My dad is a filmmaker so I got quite interested in image making and artmaking. I think at some point I thought I wanted to do acting, but didn't really have any dreams of a particular career.
Gail: You seem to have known each other a while.
Lara: Yeah but we weren't really friends at high school (laughs)…We went away after school and became really close friends. We moved in together and started making art in a little studio in a tiny terrace in Surry Hills.
Kat: A balcony!
Gail: What's your training?
Lara: We've both got Media Arts Production Degrees in Communications from the University of Technology (UTS). Aside from that I've done imPACT ensemble (PACT Youth Theatre's training workshop) and lots of little bits and pieces. We did a little short course at VCA a couple of years ago.
Gail: How did your collaboration come about?
Kat: We used to just make a lot of little collages and paintings together…passed things between each other.
Lara: We also travelled together and did a travel zine. We've got this pretty amazing trust in each other. We can leave something half finished and be happy for the other to finish it without even checking up on it…We do have slightly different skills but we have the exact same aesthetic, so we never really have problems with bickering.
Kat: Lara is more interested in performance…I guess I do more new media stuff. But we do both as well.
Lara: It's quite equal but Kat is actually a lot better at getting things done and I'm a lot better at talking about things. So I can sit down with performers or anyone and go on for a while, while Kat's behind the computer. She's a can do-er. She's more technically proficient than I am…
Gail: It's been a good year for spat+loogie.
Lara: I think the past 12-15 months have been such a steep learning curve—trying to work out the art world and festival lands. So many people have put work into new!shop that it's been really worthwhile being able to give it a bit of a life.
Gail: How did you get new!shop off the ground?
Kat: We got a Kickstart grant from Next Wave which was a year long development.
Lara: We were really inspired from seeing the previous Next Wave festival. There were so many multiform works and things in non-traditional spaces, young people doing really experimental stuff. After the festival we sat in a café and said we have to do something like that right now!
Gail: And what's next?
Kat: Gathering Ground [a large scale site-specific project by PACT Youth Theatre and Redfern Community Centre taking audiences on a performance tour of the Block in Redfern, for which spat+loogie are the designers. Ed.]; The Whistling Man [PACT Youth Theatre's imPACT ensemble performance for which they are creating media design and video]…
Lara: And then we're going to MAAP [Multimedia Arts Asia Pacific Festival] to do a karaoke installation for Karaoke Bedlam [RT75, p32]. Then next year we're doing a site-specific vending machine in Bankstown through Terminus Projects and the Western Front. [We will] create objects that represent the Bankstown community that they can take home, after visiting a website and receiving a token through the mail. That's accompanied by a very slow process of stocking the machine in the beginning. So it's called Unstance—it's not an instant vending machine, it's about process.
Gail: What do you have to do to make a living?
Kat: We're both careworkers at The House With No Steps for adults with mental illness. And we also do graphic design work… I think next year I'm going to get a job working at the AV department at UTS!
Lara: I guess the fact that we don't spend a lot of money on anything is a bonus. I mean I live in a squat; we avoid consuming heaps of new things all the time.
Gail: Thus the impetus for new!shop. Do you have any grand plans for the future?
Lara: I guess in the short term, we feel that new!shop's been really successful and we believe in it because it attracts unexpected audiences. We really like the idea of non-art crowds interacting with the work and it would be nice if that could have more of a life and go overseas. That is something that we'll try to do in the near future…and in the long term… I can't even think about it!
Gail: It's an insane question I know. I just thought I'd try it out.
Lara: It would be great to have a practice that's really sustainable… a few days a week, paid [to work] on your own projects but I don't think the world works like that at the moment. I think even if there was some really great job that secured us in one place for a long amount of time we'd get really fidgety and want to put our feelers out and do lots of different things.
Gail: The ultimate restless, hybrid artists?
Lara: Restless, yes…
RealTime issue #76 Dec-Jan 2006 pg. 12
© Gail Priest; for permission to reproduce apply to realtime@realtimearts.net