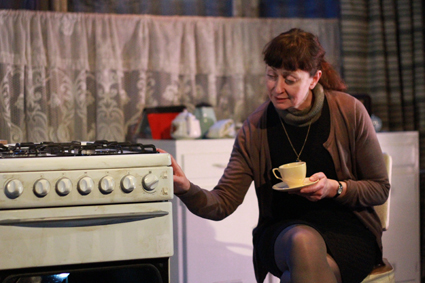 photo Daisy Noyes
Caroline Lee, A Kind of Fabulous Hatred
In staging Barry Dickins' fantastical script about Sylvia Plath's suicide, director Laurence Strangio, contracts the expansive 45 Downstairs warehouse space into an intimate pocket; one situated before a foreboding barred window. Imaginatively transposed to London, England, February 11, 1963, the audience is further seduced by an attention to detail that often characterises Strangio's directorial efforts.
Mattea Davies' design is a microcosm of Sylvia Plath's mental duress: punitive order set amongst emotional chaos, and accentuated by a Shakespearean storm that, apparently, was the worst ever recorded at that time in England. Thankfully, centre-stage is not consistently occupied by a self-gratifying human presence; instead there is a gas oven inside which a luminous pilot light reminds the audience that this appliance is both heater and exterminator. Plath was arguably of Jewish descent and, as in history, her grasp on life is as tenuous as the arbitrary decision that underpinned the Holocaust. Sylvia Plath will die tonight: this will be the celebrated poet's last night on earth.
But before Plath dies she targets with vituperative animosity those, and those things, that she believes have contributed to, if not caused, her incandescent unhappiness. Here, Dickins' florid script enters remarkable territory. But not before Caroline Lee as Sylvia Plath hurls bolts of disdain at writing and poetry, poets and writers, the banality of motherhood, publishers, miserable London winters, her miserable self and, by extension, British poet laureate, academic and adulterous husband, Ted Hughes. Dickins' phantasmagoria of Plath's demise proffers a Jungian framework for understanding her predicament. Alone in her London flat while Hughes is apparently out porking one of his literature students, Plath's absent husband becomes the dominant subject of a diatribe against her inability to reconcile a very personal hatred of her own masculine persona. Hughes is simply the transparent figure in the mirror, behind which lurks Sylvia Plath's divided and irreconcilable self.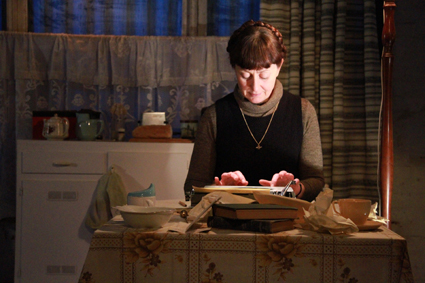 photo Daisy Noyes
Caroline Lee, A Kind of Fabulous Hatred
Quite possibly, self-loathing kills more people than Jack the Dancer. Dickins understand this, and by concentrating Plath's hatred for others upon herself, his decision to write an embellished, interior monologue, irrespective of the difficulties associated with performing such, is, in retrospect, both insightful and accurate. Form should reflect content.
But a difficult night in the theatre is one not easily justified. Sometimes, though, an audience should be prepared to sacrifice cosy entertainment for the demands of understanding the pathology of one of the 20th century's more controversial poets and a prominent literary figure. Dickins, too, has made sacrifices. A Kind of Fabulous Hatred is a serious work from an Australian writer who is sometimes perceived as a nostalgic humourist. I don't necessarily agree with this view. There is, I believe, more to Dickins' writing than meets the 'I.' The usual Dickins' idiosyncrasies are few here. A Kind of Fabulous Hatred is a provocative play that grapples with, and illuminates, clinical depression; a mental health condition that, for reasons prejudicial and economic, remains a lingering taboo in the 21st century.
A Kind of Fabulous Hatred, writer Barry Dickins, director Laurence Strangio, performer Caroline Lee, design Mattea Davies, lighting Bronwyn Pringle, sound Anita Hustas, 45 Downstairs, Melbourne, 12-22 Sept; http://www.fortyfivedownstairs.com/
RealTime issue #117 Oct-Nov 2013 pg. web
© Tony Reck; for permission to reproduce apply to realtime@realtimearts.net