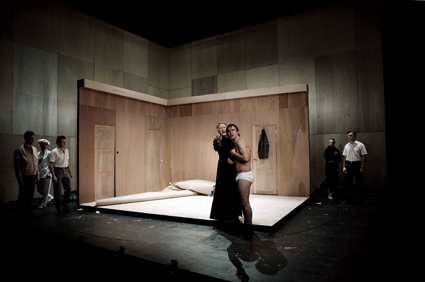 photo Jeff Busby
The Trial
'KAFKA' IS ONE OF THEATRE'S OWN NEUROSES; A SCENE COMPULSIVELY RETURNED TO BUT WHOSE PLAYING OUT NEVER ACHIEVES RESOLUTION. THE AUTHOR'S WORK IS FAMOUSLY UNFINISHED IN VARIOUS SENSES, FROM THE POSTHUMOUSLY PUBLISHED NOVELS ASSEMBLED FROM MANUSCRIPTS TO THE OPEN-ENDED MEANINGS SUGGESTED BY THE WORKS THEMSELVES. BUT THERE'S ANOTHER UNFINISHEDNESS TO KAFKA—TO GET THEM RIGHT IS TO GET THEM WRONG, AND VICE VERSA. KAFKA CAN'T TRULY BE TRANSLATED TO THE STAGE, WHICH IS WHY SO MANY ENDLESSLY ATTEMPT TO DO JUST THAT.
Nabokov's assertion that "one cannot read a book: one can only reread it" is apposite here. Were a production of The Trial to really nail it, the potency of the novel would be nullified. Perhaps the enduring appeal of Kafka's writing stems not from its status as a glorious achievement, but as a kind of wound—the theatrical adaptations that most intrigue are those that pick at the scab rather than cauterising the wound.
Which is a roundabout way of approaching Matthew Lutton's take on The Trial, which certainly seemed to pluck at the sutures rather than applying any salve. It wasn't a satisfying work, but in thinking about that I increasingly wondered what such a thing would look like. Kafka's literary worlds are anxious, paranoid ones tiptoeing the blade's edge between self and other and frequently losing their footing. They are endless, circular, self-annihilating and uneven. They shouldn't make for a particularly fine night at the theatre.
In some ways The Trial felt like the work of a young director approaching a canonical text: it appeared a surface rendering lacking a thorough engagement with its source while struggling to produce its own, original vision against the grain of the original. The thickly ironic comedy became farce; the sinister sexuality mere posturing; the infinite narrowing of Josef K's agency was diminished by the set which confined him from the outset.
Most disappointing, for me, was the intrusion of more contemporary surrealist imagery onto a work that could only crudely be aligned with the modalities of surrealism. The films of David Lynch were an obvious reference, from the curtain design to a soundtrack song taken from one of Lynch's own films. These were problematic allusions, since Lynch's aesthetic is of a different paradigm to Kafka's—like confusing Jung and Freud or Camus and Sartre.
But Lutton, while relatively young, isn't a young director—his resume is both deep and reckonable and to dismiss his work here as that of a neophyte is an easy way of avoiding having to really become involved with it. If some of his directorial choices seemed superficial, it's worth considering the dialogue between depth and surface that continues to characterise much of the work of his peers and mentors.
It's a cliché to state that theatre is a collaborative medium. I think it's usually true to say, however, that no one agent can bring low a superlative work of theatre, just as no star can make a mediocre work shine. In reality, it's rare that any production doesn't canvas a spectrum of success, and that's not even factoring in the interpretative diversity of its audience.
Ewen Leslie's K suffers from a common disregard for the specificity of the character. Too often Kafka's protagonists are figured as beleaguered Everymen when each possesses a particular voice, often hysterically rendered. Josef K isn't merely an icon of the average soul dumped in an absurd situation, but is marked by a comic indignation lacking in Leslie's accounting.
So too do the rest of the cast veer toward caricature rather than complexity. There's little evocation of the terrifying strangeness behind the face of a neighbour, since all are figured as sideshow clowns from the get-go. The only element of this production which really achieves a rich and unsettling density is the superb sound design and composition (by Kelly Ryall and Ash Gibson Greig, respectively). Half-heard voices and other aural pinpricks floated around partial melodies, suggesting a troubling presence that could never finally be located.
I think that any niggling complaints about this rendering should be balanced, however, by the broader view. Nabokov's point, in his call for rereading, is that narrative is a time-based thing, and that we can never perceive it as a whole. When we are at the end, we can no longer understand the beginning as beginning. After each pass, we rewrite what came before, and the lasting works of art are those that find some niggling grounds for appeal each time we threaten to deliver a final judgement. This is why a definitive rendition of The Trial would be self-defeating, why this production still maintains a certain necessity. It's a cruel process, as Josef K's bleak scenario suggests, but the alternative—for the character or the text—is arguably worse.
Malthouse Theatre & Sydney Theatre Company, The Trial, adaptation Louise Fox from the novel by Franz Kafka, director Matthew Lutton, performers John Gaden, Peter Houghton, Rita Kalnejais, Ewen Leslie, Belinda McClory, Hamish Michael, Igor Sas, set design Claude Marcos, costumes by Alice Babidge, lighting Paul Jackson, composer Ash Gibson Greig, sound design Kelly Ryall; Merlyn Theatre, CUB Malthouse Aug 13 – Sept 4.
RealTime issue #99 Oct-Nov 2010 pg. 37
© John Bailey; for permission to reproduce apply to realtime@realtimearts.net