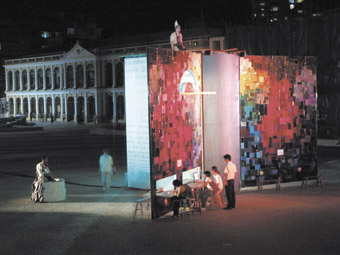 photo Rebecca Rutter
Book by Durational Night, Macau, 2007
THE FUTURE OF THE BOOK HAS BEEN IN DOUBT FOR A COUPLE OF DECADES, BUT EVEN ITS CHALLENGERS, THE WORDY WORLD WIDE WEB AND THE EMERGENT E-BOOK ARE 'BOOK-ISH', DEPENDING ON YOUR COMFORT OR NOT WITH SCREEN-BASED MEDIA. MELBOURNE'S WELL, ESTABLISHED IN 1999, CELEBRATED THE BOOK BY CREATING A GIANT TOME THAT CAN BE OPENED, ENTERED AND READ IN VARIOUS WAYS, WRITTEN AND DRAWN IN AND PERFORMED ON. GREAT WALL OF BOOKS IS A PORTABLE PUBLIC SCULPTURE, RESPONSIVE TO ANY LOCATION AND CARRYING WITH IT, MATERIALLY AND VIRTUALLY, THE TRACES OF ITS INTERACTION WITH ITS MANY VISITORS, FROM MACAU TO MELBOURNE TO BANGKOK AND BEYOND.
The new wave of outdoor art around the world has been influenced by installation art and new media practices, incorporating electronic media as well as performance. It's also highly adaptive, ready to move on to new sites, or it's altogether temporary, as in Ephemeral Art at the Invisible Lodge in Tasmania's Freycinet Peninsula in 2007 (RT84, p46). For Well, their book "carries with it its previous incarnation and location [becoming] a book of that time and place…[The audience] trace goes with us, bound into a book." Well's director, Dario Vacirca, enjoys playing with metaphor, lending the 10-year project an almost metaphysical dimension with its cross-artform, cross-media, cross-cultural evangelism.
For all of its innovations, Great Wall of Books is in the fine tradition of Australian outdoor performance (Five Angry Men, Strange Fruit, Snuff Puppets, Bambuco, Erth, PVI etc). Vacirca spent some formative years with Five Angry Men who, as part of their performances, built the very sculptures they would perform on and about. Great Wall is already constructed, "literally a gigantic book, five metres tall and opening out to over 11 metres wide", ready for delivery by container, ship, truck and crane, but its book-lined insides are transformed depending on wherever it finds itself and the people whose ideas, dreams and stories it records.
Well describes the work as "a vessel that both generates and stores written, aural and visual stories.?People are invited to create and record their own stories across a range of interactive spaces within the structure. These creations are bound and catalogued, becoming a part of the ever-evolving library that is the central body of the book."
the birth of the book
Touring with Melbourne's Five Angry Men for three years, Vacirca recalls seeing "amazing works, profound installations—mostly outdoors." But what intrigued him was "the possibility of making these works, with their visual arts momentum, performative and participatory." He describes the vision that came to him as "a heavy and heady metaphor for the universe", one which merged the physical and the virtual in the notion of a book.
Where precisely did this vision come from? "A dream in 2001, a moment of reality", says Vacirca. In the dream he saw "books on the way to becoming landfill fly out of their skip and onto a wall." Another trigger was a Borges story about a warrior king who builds a great wall and for every brick orders a book burnt—his aim being to erase history and start again, with his own. Vacirca thought he'd invert this process by making a great wall of books. Jason Cross [RT84, p14] commissioned the work for the 2005 Big West Festival in Footscray. To get The Great Wall up, says Vacirca, took a lot of lobbying and the vision for the work was "not believed in by funding bodies." This, however, changed once the first version of the wall had been created.
The outside wall of the work originally comprised covers taken from thousands of abandoned books collected from 2002 on. Weather conditions later required a new "clean exterior surface with a pattern [suggestive of] many thousands of years ago. We went through many stages of designing this, experimenting with arabesque, various brickwork designs, outsider art—layered and recessed, built up surfaces—and settled on a vibration of colour that calls to mind the works of Klee and Rothko. The design needed to work from a great distance as well as in detail. It was finished off with litres of marine grade polyresin so it can withstand most weather."
The inside of the book was seen as being like a library which would decay if not constantly fed with ideas. The re-worked design entailed sliding doors and three screens (two monitors and a projector). The book now unfolds into a two-tiered theatre and big projection space. The cover is constant but the interior is subject to constant change.
Great Wall's audience is invited to participate by writing, drawing or verbally recording their stories, dreams or responses to the work itself, or to questions posed by it, like "What is the true story of your death?" The audience work is created on the ground and inside the book and, once indexed (using the chronological Bliss classification system which suits the evolutionary nature of the work), hoisted by abseiling Caretakers of the Book to take its place on a giant page. Vacirca says that audiences "willingly give their contributions away, but they have to specify if they want them archived, transformed or destroyed." The transformations are into "sound compositions, visual projections, and/or inspirations for performance."
Stage two of the book was realised in 2007 after a year's gap in presentations and in which contact was established with the government of China's Macau at the Asian Arts Market in Singapore. In Macau, says Vacirca, there was "a quite beautiful collaboration with local artists—mostly restricted by the authorities to traditional artform groups." It involved a tea ceremony, music and calligraphy. The work was political in some respects, says Vacirca: the typewriters provided for audience use symbolised bureaucracy, as did "red tape on all the nearby glass windows", while the performers' shark costumes reflected "the ecological impact on shark populations in the harvesting of fins for the beloved soup."
The company brought Rita Portugal Lima, one of the Macau contemporary visual artists, back to Melbourne for a 2008 Federation Square season: "She built a mixed media exhibition with film, video and sculpture. Addressing the Chinese meaning of Macau—gateway or door—Rita created works that were doors within the 'doorways' or boxes of the gallery, looking at "a country as an opening" that can at the same time be "a nation as a closing."
next
Great Wall of Books travels next to Thailand, spending six weeks in Bangkok and Chiang Mai, supported by the education foundation of a telecommunications company. Planning is under way for visiting other Asian countries: "After that, Europe 2010, the Americas 2011-12 and, in 2012, possibly burn the book or find a permanent space for it."
For Vacirca and his collaborators, Great Wall of Books is more than a labour of love. The director even describes dealing with crane operators, truck drivers and shipping merchants as "hilarious…like being kids." For Well's audiences and guest artists Great Wall of Books is at once a theatre (the company's own visual theatre performances and guest works), a cinema, a gallery (featuring various exhibits and a collaborative mural in Macau), "a quiet space to escape the cacophony of the outside world" and reflect on life and art or to "be part of sharing community", however ephemerally or enduringly. As Well puts it:
Works created for and within the book are transformed, explored and reinterpreted in future presentations. Consequently all those involved remain a part of the biggest story ever told—this is a metaphor for the universe after all.
The Great Wall of Books was in residence in Macau, China from June-September 2007 and during January 2008 at Federation Square, Melbourne. Well are Dario Vacirca, Alex Ben-Mayor, Matthew Gingold, Rebecca Rutter, El Pablo, Renato Vacirca, Bill Buckley and Bo Svronos. http://welltheatre.com
RealTime issue #86 Aug-Sept 2008 pg. 6
© Keith Gallasch; for permission to reproduce apply to realtime@realtimearts.net