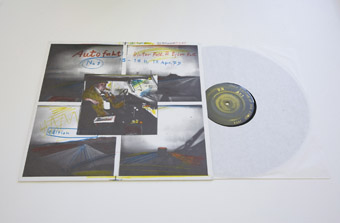 photos Tobias Titz, courtesy The Narrows
Autofahrt (car journey), 1979, Dieter Roth
DIETER ROTH'S LIFE WAS ALMOST AS ITINERANT AS HIS ART. ONE OF THE 20TH CENTURY'S GREAT POLYMATHS, HE WAS BORN IN HANNOVER, GERMANY TO A SWISS FATHER AND GERMAN MOTHER, LIVED FOR A WHILE IN ZURICH, SWITZERLAND, HAD A STUDIO IN PROVIDENCE, RHODE ISLAND, AND SPENT SIGNIFICANT PERIODS OF HIS LIFE IN REYJKAVIK, ICELAND AND BASEL, SWITZERLAND, WHERE HE PASSED AWAY IN 1998. BUT MORE IMPORTANT, PERHAPS, WAS THE SEEMING ROOTLESSNESS OF HIS ART. I SAY 'SEEMING' BECAUSE THERE IS A COHERENT META-LEVEL GOING ON IN ROTH'S ART THAT BINDS HIS APPARENTLY DISPARATE PRACTICE, THOUGH CORRECTLY DIVINING AND EXPRESSING SAID COHERENCY HAS ALWAYS BEEN A CHALLENGE.
My key interest in Roth is his obsession with documentation and publication—the way he embraced both the multiple and the reproduction, and subsequent degradation of the 'aura' of the artwork. In much the same way, his infamous food paintings and sculptures, using bananas, chocolate and cheese, are all about removing the 'stain of aura' from the coherent, historicised artwork.
For North Star/Dark Star, curated by Greg Fullerton, The Narrows gallery focused on four artists who, in Fullerton's words, "share an experiential bond with the polar region, an aesthetic sense of place, geographic distance, time and light." The three other artists, Austria's Franz Graf, Norway's Sandra Vaka Olsen and Iceland's Huggin Pór Arason, acquitted themselves well, Olsen's gorgeously indistinct photographic works in particular. But their works were humbled by the power of Roth's art, and indeed the context it brought to the exhibition. Roth deals with base elements—one of the books on display was his wonderfully titled Die die Die DIE GESAMTE VERDAMMTE SCHEISSE (The the The THE COMPLETE DAMNED SHIT), and it's publications like these that best express Roth's sometimes conflicted personality: anal expulsive in his obsession with fluid, decay and a kind of 'playful abjection', yet incredibly anal retentive in his need to catalogue, document, keep and maintain his body of work. (As Fullerton puts it, Roth's work was "[a] process of accumulation and regurgitation of pulp, poo and pop.")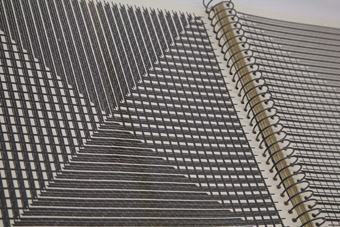 photos Tobias Titz, courtesy The Narrows
Bok 2b, 1961, Dieter Roth
There was a mere handful of Roth's works on the walls of The Narrows, and it felt as though they were selected almost randomly. And although it was good to see his art up in the small white cube, you gained a far more powerful and revealing sense of Roth's creative processes from the small glass cabinet containing several books and one record, which sat to one side of the room. It looked like an afterthought at first—some books collected from local libraries and an audio record, Autofahrt, which, if you were lucky enough to come to The Narrows toward the end of the exhibition's run, was playing quietly in the background on an old portable record player. But flipping through books like Mundunculum or Die die Die DIE GESAMTE VERDAMMTE SCHEISSE, one gets a very real sense of not just Roth's prolific nature, but his compulsiveness, his need to repeatedly toil over ideas, and also to try things from all angles, to not get bogged down in any one field or approach.
The energy contained in his drawings—fast, almost off-the-cuff productions which have all the humour and freakish humanity that you also find in Daniel Johnson's eschatological, religious pop-comic art—translates to the stamped pattern that snakes across the cover of Mundunculum. Here you see a mind moving quickly, perhaps too quickly, searching for a process or form that can keep up with his movement. In that relentless need to create and reproduce, Roth is very much a precursor to many DIY and punk practices of the late 20th century, and in his embrace of the book or record as artist multiple, but also as viral contagion, as a form for dissemination, his work reminds us of other savvy art-print-noise iconoclasts—New Zealand's Witcyst; England's Vitamin B-12; even the silences and reticence of avant-gardist Raymond Djikstra owe something to Roth.
With Autofahrt bubbling away in the background, a simple 33RPM vinyl documentation of a road trip taken by Roth with his son Björn, North Star/Dark Star almost accidentally opened up another way of thinking through Roth's art. It's no surprise that he's a towering figure amongst the German underground, from the A-Musik label's adoption of his Selten Gehörte Musik (Seldom Heard Music) motto as their guiding principle, to his influence on artists like Albert and Markus Oehlen. The best representation of Roth considers his dualities—his untrammelled energy meeting the precision of his documentarian mind; the messy curator; his ability to sit at odds in any context.
A closing example. Autofahrt, while 'sound' and 'art', is as far from institutionalised 'sound art' as you could hope/pray. It would grubby up those pristine, laptop-sheen surfaces. And God bless Dieter Roth for that.
North Star/Dark Star, curator Greg Fullerton, The Narrows, Melbourne, Jan 29-Feb 28; www.thenarrows.org
RealTime issue #90 April-May 2009 pg. 54
© Jon Dale; for permission to reproduce apply to realtime@realtimearts.net