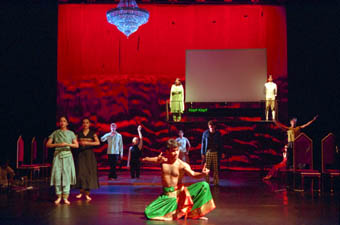 Total Masala Slammer, Heartbreak No 5
At last Melbourne has got a festival where local artists—there's a lot of them in the program—receive deserved prominence side by side with some unique overseas and interstate productions. It's the first of Robyn Archer's 2 Melbourne Festivals. The second will be about the body—in dance and physical theatre. Perhaps she'll get the guernsey for a third festival given that she's already forecast it to be about voice, as in opera and music theatre.
This one is centred on text ie language in performance. If you're expecting a season of nice plays, forget it. Archer's choices and her vision of text in performance are as wide-ranging and provocative as you'd expect from her Adelaide Festival programs. She deals a blow to the myth that postmodernity has been the ruin of language. Here it comes embodied in dance, puppetry, music, physical theatre, installation, multimedia, contemporary performance and, yes, plays, but what plays! From Berlin's Hebbel Theatre comes Total Masala Slammer, Heartbreak No 5, an erotic adaptation of Goethe's The Sorrows of Young Werther. There's The Fortunes of Richard Mahony, adapted by Michael Gow from the novel (QTC/Playbox), and the Pinter version of Proust's Remembrance of Things Past (VCA). The profoundly disturbing, not-to-be-missed Societas Raffaelo Sanzio make their first Melbourne appearance with Genesi, from the Museum of Sleep. Ivan Heng's 140 minute solo performance about power and gender, Emily of Emerald Hill (writer Stella Khon), comes from Singapore. The 150 minute virtuosic adult marionette work, Tinka's New Dress, has Ronnie Burkett creating and voicing 37 characters. Argentinian writer-director Frederico Leon presents one of his plays and a mini festival of recent Argentinian cinema. A handful of very intimate performances designed for small audiences include the Canadian STO Union & Candid Stammer Theatre's Recent Experiences, 3 works by US actor-writer Wallace Shawn (My Dinner with Andre) performed by local actors, and IRAA Theatre's Interior Sites Project, an all night stayover theatre experience. Gertrude Stein's Dr Faustus Lights the Lights (St Martin Youth Arts Centre) gets a rare airing, and Daniel Schlusser, Evelyn Krape and sound artist Darrin Verhagen take a tough new look at Medea. And there's more, from Five Angry Men, The Keene/Taylor Project, NYID, Chamber Made Opera, Back to Back Theatre, Company in Space, Arena Theatre Company, Joanna Murray-Smith & Paul Grabowksy, Helen Herbertson, Trevor Patrick and work-in-progress showings from others.
From Sydney comes Kate Champion's impressive dance theatre work Same same But Different and Sandy Evan's Testimony, a powerful and beautiful big band, multimedia tribute to Charlie Parker to a libretto by Yusef Komunyakaa. From Berlin there's Uwe Mengel's murder mystery installation, Lifeline, where you can become an active investigator. From the Kimberley region of Western Australia comes the passionately debated Fire, Fire Burning Bright; premiered at the 2002 Perth Festival it's the story of a massacre presented by an all-Indigenous cast. There's also a visual arts program (featuring Susan Norrie and Nan Goldin), a National Puppetry & Animatronics Summit and a timely national symposium on "The Art of Dissent." In the past there have always been a few shows to draw interstate visitors to a Melbourne Festival, but this time you can feel the pull of the whole program, a unique opportunity to see an impressive display of Victorian performance talent in the context of distinctive and provocative international productions and a theme of the reinvigoration of language in and through performance.
Melbourne Festival, Oct 17-Nov 2. www.melbournefestival.com.au
RealTime issue #50 Aug-Sept 2002 pg. web
© RealTime ; for permission to reproduce apply to realtime@realtimearts.net