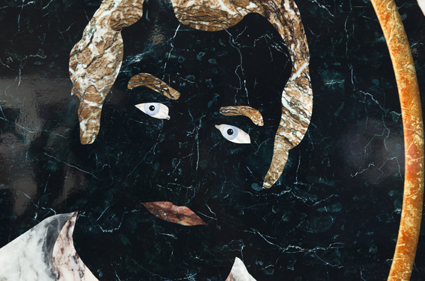 photo Jennifer Leahy
Gary Carsley, D.106 The Annunciation (Whitlam in China), detail, 2014, courtesy the artist and Thatcher Projects, New York and Torch Gallery, Amsterdam
"It's Time." With this slogan Gough Whitlam swept to power as Labor Prime Minister in 1972, ousting a stale and stagnating Liberal government that had ruled for 23 years. Whitlam delivered his "It's Time" speech at Blacktown, home of this exhibition in Blacktown Arts Centre. The exhibition title, It's Timely, suggests the need for another leader with Whitlam's vision. He was our last visionary politician (some say our first) and his legacy looms large over the deep shadowland into which the damaging shenanigans and budget carve-ups of the Abbott-Hockey leadership are currently casting Australia.
Just as Whitlam prophetically stated, his government was going to change the country so definitively, and so rapidly, that any incoming Liberal government would never be able to change it back again, so Abbott and Hockey seem hell-bent on a copy-cat approach—the dark inverse of Whitlam policy.
Whitlam ended the lottery of conscription and our participation in the Vietnam War, gave us a multicultural policy, promoted feminism, championed the rights of Indigenous Australians, introduced universal health care through Medicare and a multitude of other access and equity reforms. His abolition of university fees replaced a system in which only the rich, or those winning the prestigious Commonwealth government scholarships, could attend (if you missed out you signed a bond and attended through a teachers' college). He scandalously approved the purchase by the National Gallery of Australia of Jackson Pollock's Blue Poles for a million dollars (an investment now worth infinitely more). He bought art—astounding given that during the long Menzies years money for the arts was so tight that the government could refuse credit for any sums over 10,000 pounds, crippling the Australian film industry. The Liberals attacked Whitlam, calling him Father Xmas. Now, as fast as they can, the Abbott-Hockey team is ripping through the social fabric, tearing apart as much of the Whitlam legacy as they can.
It is therefore fitting that, in the current political darkness, this exhibition pays tribute to Whitlam and to kinder, more egalitarian times. Deborah Kelly's devastatingly cynical banner, THE BILLIONAIRES UNITED WILL NEVER BE DEFEATED, lies on the floor, a direct hit at the likes of mining magnate Clive Palmer, now in parliament, and Gina Rinehart who infamously paid her workers to faux protest Kevin Rudd's super-tax on big mining—respectable first world countries like Norway tax big mining at 70% to compensate for environmental damage. Hockey-Abbott just abolished the mining tax. It's open slather now to destroy the Great Barrier Reef—only falling coal prices can save it from the ravages of shipping.
Kelly's banner lies on the floor, ambivalently a thin ray of hope. The billionaire rulers have been defeated and don't need their banner any more, or, more cynically, more reflective of the contemporary times, it's discarded because they have won. Kelly's work symbolically holds the ground of defeat, an abject centrepiece that eclipses its own hope, and tilts in the direction of rule by magnates. It lets us know we are living in politically dangerous times—when much is being taken away, even though thousands of citizens, including the Knitting Nannas (KNAG, Knitting Nannas against Gas in the Northern Rivers region, NSW), war veterans and even members of the priesthood are on the barricades, getting arrested in far away places out of sight of the media, in rural backwaters like the Pilliga and the Liverpool Plains as they try to protect our precious farmland and water from the predations of big mining and coal seam gas fracking companies. The people might have had a recent minor win at Bentley in NSW, but the tide is hardly turning.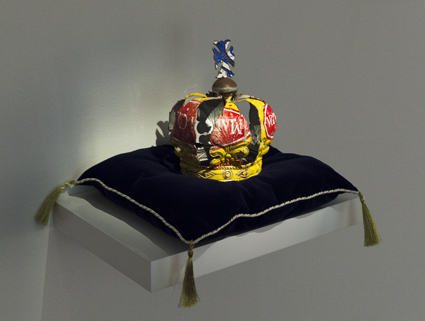 photo Jennifer Leahy
Isabel and Alfredo Aquilizan
Common-wealth: Project Another Country #130010FFS, 2014, courtesy the artists and The Drawing Room Gallery, Manila
Common-wealth (Project: Another Country) by Isabel and Alfredo Aquilizan, arranges a series of tin crowns of state—one from a recycled sign for Vegemite—in mock reference to a tourist visit to see the Crown Jewels in the Tower of London (a rite of passage for Australian royalists). In respect of curbing our evolution towards a Republic, one of Abbott's first acts was to re-instate knight and dame honours. This work's nod to the English Crown reminds us that its Australian representative, the Governor-General, John Kerr, infamously sacked the Whitlam government during an unprecedented double dissolution of Parliament when the Liberals blocked supply. Ironically, the Abbott-Hockey team are now potentially facing the same fate.
As political commentary the exhibition is subtle and spot-on, not overtly laboured or burdened with metaphor. A room dedicated to memorabilia from the It's Time event includes a poster signed by Whitlam, a video and copies of his original 1972 speech. Local wedding photographer Anthony Berbari has produced a series of portraits and images of Blacktown locals who were present for the historic event, revealing shocking details that as late as 1973, under a state Liberal government, much of 'westie' Blacktown did not have basics such as sewerage. Whitlam fast-tracked a National Sewerage Program.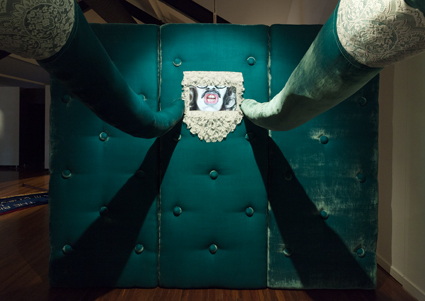 photo Jennifer Leahy
Aunty, 2014, courtesy the artists and Neon Parc
Perhaps in oblique reference to the sewerage situation circa 1972, the King Pins' Aunty with its giant boxing gloved hands reaching out from the wall to 'rip your bloody arms off,' has a mouth, or an anus (say the room notes), speaking onscreen through a giant pair of lacy underpants. The message is scatological—politics is crap—as a moustached mouth, recalling Grahame Bond in bad drag in the ABC TV cult comedy The Aunty Jack Show (1972-3), slurs its way through snatches of pop songs which circulate in the media in much the same way as political promises or threats: "Your time is gonna come," "This could be the last time," "If you fall, I will catch you, I'll be waiting, time after time"—and in respect of being politically done over—"Do it to me one more time."
Countering the cynicism, Gary Carsley's D.106 The Annunciation (Whitlam in China) sets into stone in 'pietre dure' inlay technique the historic meeting between Whitlam and Mao in the Chairman's Bejing library in 1973. Asked by Mao whether he would dare a revolution, Whitlam replied he believed in evolution. Consisting of banknote-proportioned twin panels, in one the faces of both leaders are blacked out, the work simultaneously glorifying but also erasing these men. Who remembers or even knows the personages portrayed on our currency? The work wryly suggests that perhaps it's time for a Whitlam bank note, but more importantly for re-evaluation of our political history and future.
It's Timely co-curators Gary Carsley, Paul Howard, Blacktown Arts Centre, 29 April-28 June
RealTime issue #121 June-July 2014 pg. 55
© Ann Finnegan; for permission to reproduce apply to realtime@realtimearts.net