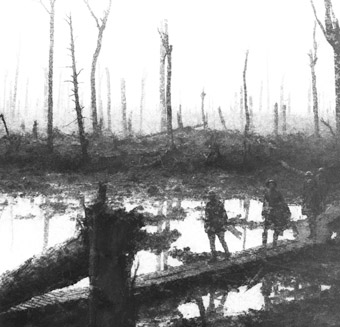 Chris Marker, Owls At Noon Prelude: The Hollow Men
CHRIS MARKER IS ONE OF THOSE ARTISTS OF SNIPPET AND RUMOUR RATHER THAN EXPERIENCE. FOR YEARS I HEARD OF THIS INTRIGUING MOVIE, LA JETE (1962). IT WAS GREAT, INNOVATIVE, THE INSPIRATION FOR GILLIAM'S TWELVE MONKEYS. EVENTUALLY I SAW IT VIA A CRAPPY, SCRATCHED AND WARBLING VIDEO COPY. INTRIGUING THROUGH THE INDESCRIBABLE SOUNDTRACK, A PRISTINE VERSION IS A BONUS OFFERING WITH THE MAIN SHOW AT THE IMA—OWLS AT NOON PRELUDE: THE HOLLOW MEN.
Originally commissioned for the re-opening of New York's Museum of Modern Art in 2004, Owls At Noon begins Chris Marker's attempt at a larger "subjective journey through the 20th century"—not a bad project to start up for a man past 80. Owls at Noon grows out of Eliot's The Hollow Men. The installation/media object/video is "a reflection upon that poem, mixed with some images gathered from the limboes [sic] of my memory", following the poem from start to finish—a straight line. However, Marker resists reproduction or illustration. In response to an interview request from Mikkel Aaland, Marker replied, "no interviews. Instead, if you must write something use your imagination. Place us on a boat on the Nile, We are drunk, It's your story." Similarly Marker is no flunkey to the source, taking Eliot's poem and reworking it into partial quotes, fragmentary paraphrase and comment.
The installation of Owls At Noon at the IMA is minimal and pretty much as it was for the MoMA show—white gallery wall, 8 flat panel monitors in a long thin row. There's a bench just comfy enough away to take in all monitors at once. That's all that's in the room. It's on a loop—a reasonable curatorial convenience I guess—but it has a definite beginning and end that is worth following. Sound fills the space—Corona by Takemitsu, with Roger Woodward on piano. The soundtrack is inspired. Rumbling, sparse, building in complexity throughout to finally end simply at a recapitulation of the beginning. People come and go through the other gallery rooms but not enough to interrupt.
First image is words floating in on the left hand screen—there might be eight screens but really it's a diptych of screens quadrupled up, so it's left right left right left right left right across the wall. First words point to Eliot, "remember 'the hollow men'." Shiny automatons appear from the darkness, skin eaten, circuits exposed. Is this what it is to be hollow? The machine without a ghost. Other faces appear, dead and human, carved back into patches of black and white. Gridded up documents of atrocity. Bodies arranged in rows; you do your best but it's hard to get them neat.
As far as I can tell the images are all from World War 1, the war to end all wars, "which we found untrue scarcely 80 seasons later"—another fragment oft repeated. There is strangeness in the idea that one war would end all others. A message from another time of proud, religious colonisers thinking their suffering was just as supernaturally effective as the suffering and sacrifice their Christian faith had them dream of. For Marker the war happened a few years before his birth, and was still fresh in memory and artefact into his time as a boy. Owls At Noon acts as a meditation on his memories of the effect of that war, and extends into an exploration of WW1 as a cultural generator, a supplier of metaphor and image to scaffold our interpretive schema. I think of a graph of war density over time, statistical distributions of violent death.
The video is always black and white, fragments of words, fragments of people. A dead man in a dead tree, a face looking down, no children, no animals. There's a team photo of convalescents, staggered rows, rugs on knees. Accusations and fury, straight to the camera. But mostly, faces look out—the piece is filled with gazes—without engagement. Trauma creates a type of specialised human—hippocampal spines shrink, thoughts dwell over and over on the the same old thing—inputs are reduced, reorganised, outputs are stereotyped, old memories are the only memories. These are the humans Marker has look out at us: total interiority, no contact with their own surface, the skin makes a boundary that neither side can read, neither side can cross. He obsesses on their eyes, "how often did we meet in dreams those eyes that Eliot dared not meet." A phrase contrasting 'blind' with 'sightless' recurs. The eyes of Marker's memories are sightless, waiting to look out on another world.
Yet more faces, a fibrous kiss shattered into granular decay. Faces scraped and burnt back into the soil. Ambiguous boundaries between people and dirt, people and wood, people and bodies. World War I has always been the muddy war, the war without colour. Marker has commented elsewhere on colour as sex, for billions of years an ancient device of seduction. "When I began to play with B&W film clips…I just wanted it to be a light, unpretentious way to celebrate in my manner one hundred years of cinematography…But to put it more simply, wasn't it fun to free oneself from a three-billion-year-long addiction?" Scarcely fun, Owls at Noon Prelude is paced slow, hypnotic, always in motion. Images fade in and out, side to side, up and down. Words move across the screen, close up, partial. There is no colour here, yet there is seduction in Marker's evocation of memory's obscured scrutiny.
Chris Marker, Owls At Noon Prelude: The Hollow Men, visuals Marker, score Toru Takemitsu (Corona, 1962), piano Roger Woodward; Institute of Modern Art, Brisbane, April 10-May 26
RealTime issue #79 June-July 2007 pg.
© Greg Hooper; for permission to reproduce apply to realtime@realtimearts.net