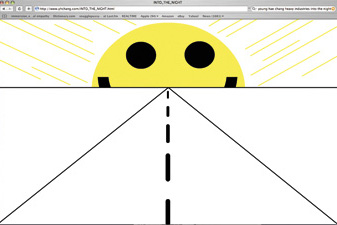 (Out of the Internet and) Into the Night, Young Hae Change Heavy Indsutries
IN A LARGE STUDIO ADJOINING THE NEW STATE LIBRARY OF QUEENSLAND, MAAP 2006 OFFERS VISITORS INTIMATE, INTENSIVE BROWSING OF MEDIA ART IT HAS COMMISSIONED AND COLLECTED. THE LIBRARY, A PARTNER IN MAAP'S OUT OF THE INTERNET, IS IMPRESSIVE ARCHITECTURALLY, IN SCALE AND IN THE ARRAY OF SCREEN AND COMPUTER FACILITIES AVAILABLE TO USERS. IT'S WELL PLACED AS PART OF THE SOUTHBANK CULTURAL PRECINCT BETWEEN THE QUEENSLAND ART GALLERY AND THE SPECTACULAR NEW GALLERY OF MODERN ART. MAAP FITS WELL IN THIS SCHEME OF THINGS, EMBRACING AND INTERROGATING NEW MEDIA WORK AS ART AND SIMULTANEOUSLY AS PART OF GLOBAL COMMUNICATION NETWORKS.
In titling MAAP 2006 Out of the Internet, artistic director Kim Machan was hoping to give internet art a palpable exhibition presence as well as an online life: "I am shepherding the work back into taking a material form in the museum context, to achieve authority, blending the different fields in which they operate, and joining another official art history context. Making a representation of all the works in the State Library of Queensland adds another dimension—or escape route—out of the closed museum context" (RT 75, p2).
This physicality manifests itself for visitors too. Near the entrance to the exhibition, on Singapore based artists Charles Lim and defence scientist Melvin Phua's exercise rowing machine, alpha 4 (GENERATOR), you work hard until the point at which you've powered up the battery which kickstarts a computer that is set up as a server for its own website and which sends the image of you rowing out around the world. As Machan observes in her catalogue notes, there's something dryly funny about an "overly earnest scientific approach coupled with the absurdly circular demonstration." This is interactivity that not only makes you work but triggers ideas of bizarre potential applications.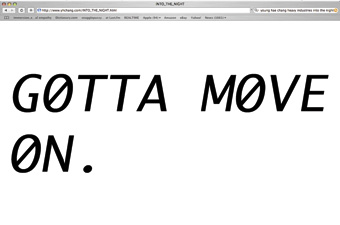 (Out of the Internet and) Into the Night, Young Hae Change Heavy Indsutries
In the relaxed MAAP exhibition space, scaffolding creates a second level to which you climb to view YOUNG-HAE CHANG HEAVY INDUSTRIES' flash animation, Into the Night, on a big screen, or look left to another featuring G'day, G'day by Japan's Candy Factory. Beneath the floor are rows of video monitors on which, with headphones, you can choose to view a host of DVD-based works from the Move on Asia Clash & Network Exhibition originally shown in Seoul and Tokyo and, once sifted through, featuring some strong work. A seat per screen makes the experience a serious as well as comfortable one (galleries take note). In Zhong Shuo (People say…; Australian artist Iain Mott with Chinese collaborators li Chuan Group, Ding Jie) you can set yourself down on cushions in a small house to hear Chinese people speak of their experience of cities as they change (www.reverberant.com; RT 71, p26).
As promised by Machan, YOUNG-HAE CHANG INDUSTRIES' Into the Night offers a cinematic version of what is usually an internet experience. The Korean pair have created a wickedly witty text rendition of a film-noirish road movie replete with the artists' own fine jazz score backing a hilarious argument in aptly dead-pan computer-generated speech. The only concessions to imagery (the scale, distribution and lyrical movement of the words make the art here) come in the form of road markings flickering into the distance and a happy face sun on the horizon. There's a shocking crash (the word falls off the screen) and fitting closure after droll renditions of Talk About It and Funky Town: "You kill me." Go to www.yhchang.com to see Into the Night, and many more inventive works, on the small screen, but it must be said: BIG is good.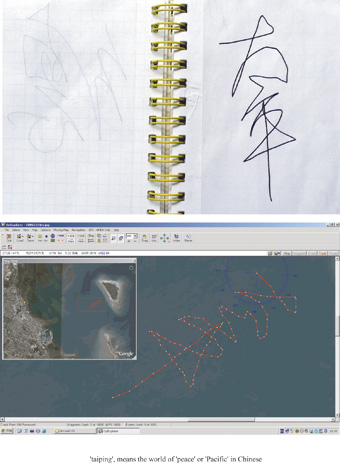 Feng Mengbo, The Invisible Words: A GPS Calligraphy Project, 2006,
Moreton Bay, November 2006
As with Candy Factory and Young Hae Chang, Feng Mengbo (China) has a longstanding relationship with MAAP. GPS technology is employed quite laterally in his appealing Invisible Words installation. He uses it to 'write' Chinese characters across city maps (www.maap.fengmengbo – expired) and oceanographic charts. The artist travels the route (in "kilometres' long brush strokes") determined for him by the shape of a an ideogram and records the result as he goes. For MAAP he worked off the coast of Queensland. The finished exhibits, where the techno-calligraphy hovers beautifully between the impressionistic and precise, are accompanied by images of the artist 'writing' at sea. RT
MAAP: Out of the internet, artistic director Kim Machan, State Library of Queensland and international partner venues, Nov 30, 2006-Jan 25, 2007; www.maap.org.au. For the full extent of MAAP Out of the Internet activities see Danni Zuvela's interview with the curators in RealTime 75.
RealTime issue #77 Feb-March 2007 pg. 34
© Keith Gallasch; for permission to reproduce apply to realtime@realtimearts.net