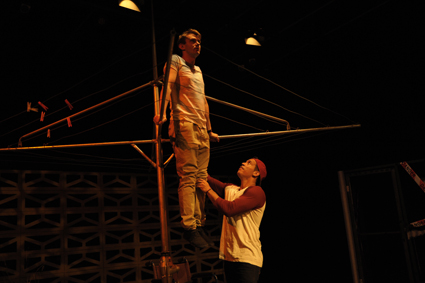 photo Paz Tassone
The Hoist
Darwin has seen a resurgence in high calibre original theatre in recent years, thanks in no small part to Brown's Mart who have co-presented and supported numerous local theatre makers to develop and produce new work. Sarah Hope's first full-length play, The Hoist, is the latest new work supported to production stage by Brown's Mart, here with Corrugated Iron Youth Arts as co-producer.
This well-crafted and tightly directed play features a strong ensemble of five young actors. It begins with a 'fast forward'—on a high balcony, the actors each step forward in turn into the light to speak a line which is at once revealing about a character and also intriguing. These lines are satisfyingly repeated at the play's end and taken further.
Exploring friendship, dreams and change, The Hoist deals with the lives of teenagers in Darwin. It's a coming of age story that avoids sentimentality while celebrating elements of youth culture. The dialogue is fast-paced and funny and sometimes deliberately stereotyped as Hope plays with current catch phrases which expose teen insecurities, cruelty and manipulation.
The play is centred around a Hills Hoist, that iconic Australian version of the clothes line. For Max, a wheelchair user who can't always go where his mates go, the Hills Hoist becomes Shirley, his confidante and central to his dreams for the future—not only as a part of his gang's secret plan but also as a slightly fantastical element when they climb to the top and the earth-bound Max asks, "What do you see?" Their visions reveal imaginative lives and also conjure the landscape of Darwin—expanding the claustrophobic backyard world of teens getting ready to fly the nest.
Kris Bird's set is a beautifully simple evocation of a typical Darwin backyard: Hills Hoist, cracked concrete, corrugated iron shed and cyclone fencing—with a hole in it as an entrance/exit point. Director Gail Evans uses the whole area effectively: high balcony and side fences with the centrally placed Hoist providing opportunities for both climbing and canoodling. The ubiquitous tin shed comes alive in an explosive finale brought to life by first-time lighting designer Angus Robson. His design creates the big bang we know has to come: multiple colours from within the shed and lights that rove over the audience and high up to the ceiling of the theatre, extending the space and supporting the action.
I would like to see more empowerment in the female characters. Sarah Hope herself is clearly an empowered, intelligent writer. Call me old fashioned but I believe powerful new voices like Hope's have a chance to make a difference in a still gender biased society—maybe even a duty.
The young actors give powerful, believable performances, testament to Evans' ensemble building process. The writing is strong, the dialogue fluid and engaging, the characters rounded and the structure engaging—moving between linear storytelling to fast-forwards and flashbacks. It is a great first play.
Brown's Mart Productions, Corrugated Iron Youth Arts, Salt Theatre: The Hoist, writer Sarah Hope, director Gail Evans performers Daniel Cunningham, Darren Edwards, Antony Koum, Aimee Gray, Ciella Williams, dramaturg Stephen Carleton, design Kris Bird, lighting, sound design Angus Robson; Brown's Mart Theatre, Darwin, 10-22 June
RealTime issue #122 Aug-Sept 2014 pg. 48
© Nicola Fearn; for permission to reproduce apply to realtime@realtimearts.net