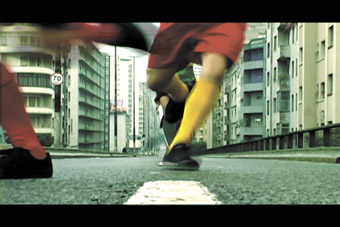 Varzea
CHOPSTICKS WITH EMBEDDED CAMERAS? OIL PRICES AS DATA SOURCE FOR ABSTRACT VISUAL GENERATION? DISPOSABLE SURVEILLANCE CAMERAS? TIMELAPSE SCREENSHOTS UPLOADED FROM YOUR RECENTLY STOLEN COMPUTER? ANIMATED TALKSHOWS SET INSIDE COMPUTER GAMES? YOUTUBE? NICHE DVD LABEL CREATION WITH A WEBSITE AND $100 BURNER? LIVE MOBILE-PHONE-VIDEO-TO-WEB-TO-MOBILE-PHONE? THE POSSIBILITIES FOR CREATING, DISTRIBUTING AND VIEWING VIDEO CONTINUE TO EXPAND, NECESSARILY MAKING IT MORE COMPLICATED TO DEFINE VIDEO ART, OR DISTINGUISH WHAT PARTS OF IT OVERLAP OR INTERSECT WITH CINEMA, TV, VJING, VIDEO BLOGS AND THE CONTINUOUS SPRAWL OF CONTEMPORARY ART-MAKING THAT CAN INCLUDE THE MOVING IMAGE. THAT BOUNDARY BLUR BETWEEN CINEMA AND VIDEO ART IS THE FOCUS OF A D/LUX/MEDIA/ARTS' PROGRAM OF SCREENINGS, EXHIBITIONS AND FORUMS IN JUNE. ALL OF THIS IS A LONG-WINDED WAY OF SAYING, A PAIR OF PREVIEW DISCS ARRIVED IN THE MAIL TITLED VIDEOBRASIL.
In October last year Sao Paulo, a city with more breathing humans than all of Australia, hosted the 16th annual Videobrasil Video Art Festival [RT82, p26]. Its theme? Exploring the convergences of "video, cinema and the visual arts." Downtown Sao Paulo obviously made an impression on d/Lux, as they've decided to import two sets of those screenings along with the director of Videobrasil, Solange Farkas. The Videobrasil website still gives off ghostly echoes of what seems like a vibrant festival (in which many Australian artists have featured over the years), a great range of forums, plenty of exhibitions, provocative international guests (eg Peter Greenaway, Kenneth Anger, Dutch curator Tom van Vliet talking about 360º projection panoramas etc) and a vast collection of video art screenings, including the following prizewinners from the Videobrasil 2008 Jury Selection: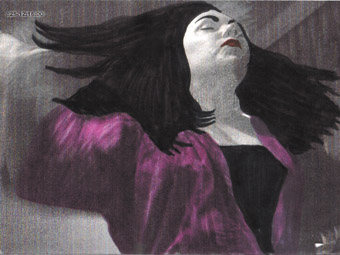 Revolving Door
Revolving Door, David and Alexandra Beesley [Australia]
Nice to see a pair of Melbourne animators collect a prize on the international stage, and quite deservingly too, for their painstakingly animated (14,000 frames of rotoscoping anyone?) and well nuanced documentary about prostitution in St Kilda. Amazingly, they started working on the documentary in 1989, albeit in a more conventional video documentary style, so the recent spate of awards must be gratifying. The animation technique employed perhaps facilitates easier empathy with the various characters, and the well structured script ensures the social impacts of prostitution are provocatively presented. More at the companion website: www.beeworld.net.au/rdoor.
Rawane's Song, Mounira Al Solh [Lebanon/The Netherlands]
"I got jealous of those artists who were able to do an artwork related to identity matters and I was particularly pissed off by the ones who came from a war background and knew how to talk about it", Mounira reveals via on-screen text before juxtaposing her own handicam footage of her bright red shoes walking around her studio. This is interpolated with more text of her personal history and art projects, and her attempts to reconcile the differences between personal and national identity. Cute video, from the three chords and a guitar school, getting its wings from the more insightful text commentary.
Juksa, Mauricia Dias & Walter Reidweg [Brazil/Switzerland]
Because of the screening context, or because video art might have an emphasis on ideas and provocations or on exploration of form, we accept or even expect lower production values than we might within cinema. On the other hand, while Dias and Reidweg's premise had merit, revisiting characters in a remote Norwegian village who had been interviewed on video 30 years before, a combination of bad editing, badly overexposed footage, badly fitting motion graphics and a pretentious scene of an opera singer framing the film on the beach, killed for me material that deserved better.
Varzea, Estudio Bijari & Ricardo Lazzetta [Brazil]
With South American vigour, a sports commentator as narrator asks us, "Victory against who? Will nostalgia be able to remind us of our life's finitude?" and continues a blistering pace, while aerial shots display incredible urban density, then ground shots reveal characters in a range of colourful soccer jerseys running through the concrete spaghetti highways below. Abruptly the commentary stops and, against melancholic violin, each of the runners slides about on a muddy, grassless soccer field (Varzea='muck'), in smooth slow motion cinematic style.
half-time, change sides
Brazil has won the soccer World Cup more times than any other country, but how would they fare in a World Cup of video-art-meets-cinema compilations based on this selection? In trying to gauge the merits of Videobrasil, you necessarily run up against comparisons with large traditional film festival compilations (which offer higher production values), or digital media festivals such as onedotzero, Resfest (both offering much higher technical innovation). Inevitably, you are judged against abundant web video channels and, inevitably, short films recently popularised online and as provocative as anything on this compilation (eg from neighbouring Argentina's blublu.org). It's partly that context question though. Some of these works would seem better in an installation, where higher cinematic expectations mightn't be placed on them. Hey Brazil, you can't win them all. But eat your oranges up and see what you can do in the second half—the Videobrasil 2008/2009 Residency Program which offers support to selected artists who have competed in the festival competition screenings.
Canto Doce Pepequeno Labirinto, Caetano Dias [Brazil]
No idea why this is international festival prizewinning video art. It seems worthwhile enough, building a large edible sugar sculpture in a public place, a railway station, but is a very basic video documentation of a small public art project.
Canto de Aves Pampeanas 1, Nicolás Testoni [Argentina]
File under 'better off as an installation', a series of fixed camera long shots of landscapes; industry as always encroaching on the traditional terrain; not particularly enthralling shots.
Untitled (Zimbabean Queen of Rave), Dan Halter [Zimbabwe/South Africa]
A cheesy diva rave anthem (everybody's freeeeee, feels good…) serves as a backdrop to show white crowds dancing at raves juxtaposed with black crowds on the streets demonstrating. Anything that can illuminate disparity seems useful, but there's not much going on here.
Abismo Virtual, Eustáquio Neves [Brazil]
Grainy mobile phone video in which a scattering of illustrations and text explore the strange, disembodied communications we have available today, connected and disconnected.
Weekend, Federico Lamas [Argentina]
Innovative on a number of levels, this video uses a series of voice bubble post-it notes to provide English subtitles for some domestic scenes played out in vertical strips, each sliding the previous scene further to the left of the screen. There it continues to play out, eventually providing around four or five overlapping slices of time simultaneously, complete with previous post-it note dialogue intact. The sense of playfulness continues over time, adding variations to its novel multi-layered looping universe.
Videobrasil 2008-09 tour, d/Lux/Media/Arts; for program and dates go to www.dlux.org.au/artcinema.
RealTime issue #85 June-July 2008 pg. 25
© Jean Poole; for permission to reproduce apply to realtime@realtimearts.net