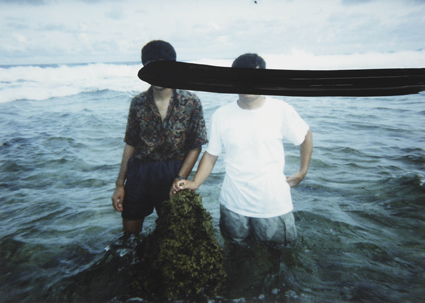 courtesy of the artists
Ross Gibson and Carl Warner, 'protection' 2011, C-type photograph and blackboard paint; source material courtesy of Fryer Library, The University of Queensland
IN THE WEEK I FLY TO BRISBANE TO SEE THE UNIVERSITY OF QUEENSLAND ART MUSEUM'S THREE EXHIBITIONS ABOUT ASYLUM SEEKERS, SBS SCREENS THE DOCUMENTARY GO BACK TO WHERE YOU CAME FROM, TO MUCH CONTROVERSY AND ACCLAIM. IN THE WEEK I WRITE THIS ARTICLE, THE HIGH COURT RULES AGAINST THE MALAYSIAN SOLUTION, LIKEWISE TO MUCH CONTROVERSY AND ACCLAIM.
Not only do these two events bookend my encounter with these exhibitions, they also seem to encapsulate some of our representational habits when it comes to refugees. In both instances, asylum seekers are simultaneously everywhere and nowhere; being spoken about but rarely spoken to or with; being represented through images and text but rarely representing themselves. In other words, they seem to oscillate between invisibility and hypervisibility—disappearing into detention centres, only to reappear just in time for the next election.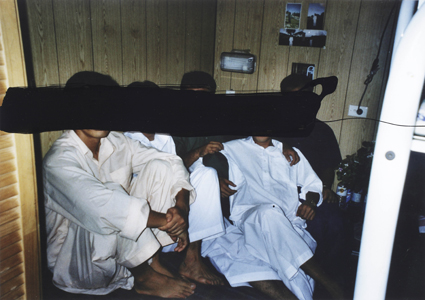 courtesy of the artists
Ross Gibson and Carl Warner, 'protection' 2011, C-type photograph and blackboard paint; source material courtesy of Fryer Library, The University of Queensland
Such an economy of visibility puts artists who are not asylum seekers in something of a double bind: if they choose to represent refugees, they risk reproducing them as spectacle; if they choose not to represent refugees, then they risk further hiding the already hidden. One solution is to work with images produced by asylum seekers themselves, as Ross Gibson and Carl Warner do in their commissioned work Waiting for Asylum: Figures from an Archive. The archive is the Elaine Smith Collection, held by UQ's Fryer Library and named after the activist who donated it. From 2002, as part of Rural Australians for Refugees, Smith and her husband coordinated support for asylum seekers held on Nauru. Not only did they write letters to detainees, they often wrote for them—to parliamentarians, lawyers, anyone who would listen. They also sent disposable cameras to detainees so that they could document their lives on Nauru. When detainees had finished the film they would post it back to the Smiths, who would then develop two sets of photographs: one to send to Nauru and another for their own records.
In the archive these images are postcard-size, remarkable in their domesticity, even banality. Rather than being pictured as cargo on a boat or as convicts in a prison, these images show asylum seekers in the supermarket, on the beach and preparing for a birthday party. In the gallery, however, they become poster-size, blown up to 29.4 x 41.4cm: their figures are too large, the tropical colours too lurid. The danger of spectacle awaits, but Gibson and Warner forestall this possibility by painting thick black stripes across the faces of these figures, in a gesture that both protects and censors, as Gillian Whitlock and Prue Ahrens point out in their excellent catalogue essay. There are 69 images in all, displayed in three rows of 23, an arrangement that recalls the family photo album but also reminds me of the Sydney Morning Herald's "Meet the Barcode Kids" article (2005), proof that even an intervention as astute as this cannot fully undo our spectatorial histories and habits.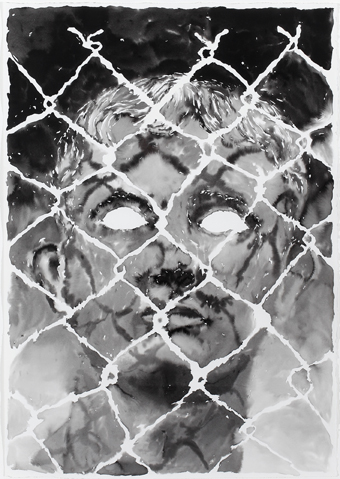 photo Carl Warner
Benjamin Armstrong, Witness 2010, ink and pigment on paper
Collection of The University of Queensland, purchased 2010. Reproduced courtesy of the artist and Tolarno Galleries, Melbourne
If one way to intervene in the economy of visibility is to include images by asylum seekers themselves, then another is to examine the machinations of this economy, specifically its main motor, the media. This is what the second exhibition, Collaborative Witness: Artists' Responses to the Plight of the Asylum Seeker and Refugee, sets out to do. The ambivalent movement from within the detention centre to without is beautifully captured in Benjamin Armstrong's ink and pigment drawing Witness (2010), in which a face without eyes—a mask perhaps—peers through the wire. Initially it reads as yet another image of a refugee in detention, until we realise that as well as looking into these unseeing eyes, we could also be looking through them.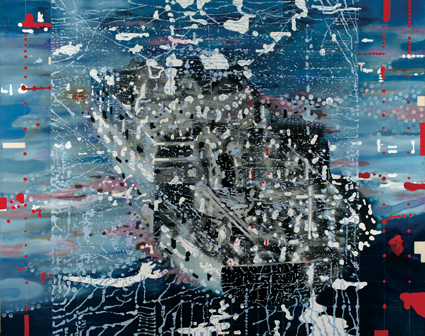 courtesy of the artist and Milani Gallery, Brisbane
John Cattapan, Imagine a raft 2003
oil on linen, private collection, Brisbane
Jon Cattapan's Imagine a raft (Mirror boat no.1) (2003) also plays with our sight, depicting a ship that could be carrying refugees but is covered in pale blue scratchings, red and white ink blots and a very faint grey grid. It might be a map, a series of data projections or an infrared image but we can't tell and what's more it obscures the boat beneath it, suggesting that for all our technologies of vision, we still cannot see.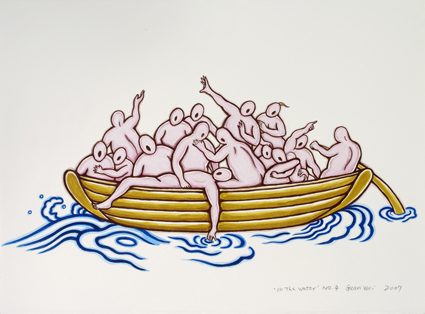 photo Carl Warner
Guan Wei, On the water no. 4 2007, synthetic polymer paint on cotton rag. Private collection, Brisbane. Reproduced courtesy of the artist
Guan Wei depicts a smaller boat in On the water no. 4 (2007) in a cartoonish style that reminds me of a book I had as a child, Pamela Allen's Mr Archimedes' Bath, in which Mr A and his friends frantically hop in and out of the tub in order to work out why the water always overflows when they bathe together. Only here on this tiny boat, there is no escape, no exclamation, only terror as the boat starts to sink. Wei's lines of water also look like contours on a topographical map, as if we could map the mountains of bodies beneath.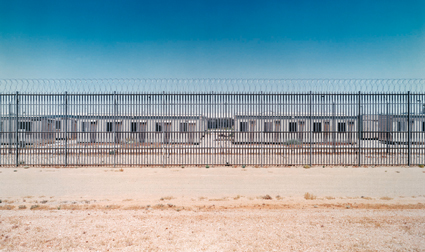 Collection of The University of Queensland, purchased 2007. Reproduced courtesy of the artist and Tolarno Galleries, Melbourne
Rosemary Laing, and you can even pay later 2004, c-type photograph
There are no bodies in Rosemary Laing's remarkable photograph titled and you can even pay later (2004), only desert and distance. Taken from the perimeter of the Woomera Immigration and Reception Processing Centre after its closure in 2003, all we can see is pale pink sand, a bleached blue sky, white demountables and, cutting across it all, a steel fence with razor wire. There are several other strong works, which I can't do justice to here, but which all seem to interrogate the relationship between blindness and insight in some way.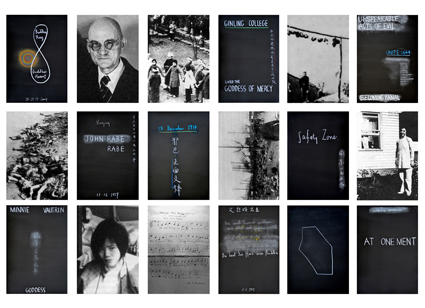 photo John Young
Safety Zone 2010, John Young, digital photographic prints; chalk and blackboard paint on paper
60 parts. Reproduced courtesy of the artist and Anna Schwartz Gallery, Melbourne
The third exhibition, Safety Zone by John Young, takes a different approach again, by examining an historical event, the Rape of Nanjing. Immediately prior to the Japanese invasion in December 1937, 21 foreign nationals stayed in the city to set up the Nanjing Safety Zone in order to protect 250,000 Chinese citizens from Japanese troops. The main part of this exhibition records this act of remarkable resistance through a combination of images, texts and documents which are displayed on 60 separate boards and hung across two walls. Some feature pictures of the doctors and nurses who saved lives; others issue instruction such as "Girls: 1. Cut your hair 2. Blacken your face 3. Wear men's clothes." On others, there are images of sheet music, lists of names, scraps of interviews—the detritus of history reassembled, though not completely rescued. Perhaps in 74 years, another artist will be making a similar work about our own period, its policies and the artists and activists who so strongly resisted them.
Exiting the exhibition, I see a small sign that says: "Caution: Images in this gallery may disturb some viewers. Parental guidance recommended." It is a gesture of such caution and care, but in combination with the images it warns against, it seems absurd, almost offensive. Why is it that we can summon compassion for the viewer, but none for the victim?
Waiting for Asylum: Figures from an Archive, artists Ross Gibson and Carl Warner, curators Prue Ahrens and Michele Helmrich, project research Gillian Whitlock; Collaborative Witness: Artists' Responses to the Plight of the Asylum Seeker and Refugee, artists Benjamin Armstrong, Lyndell Brown and Charles Green, Jon Cattapan, Tim Johnson and Karma Phuntsok, Rosemary Laing, David Ray, Judy Watson, Guan Wei, curators Prue Aherns and Michele Helmrich; John Young: Safety Zone; University of Queensland Art Museum, Brisbane, June 11-August 7; www.artmuseum.uq.edu.au/2011-exhibitions
With thanks to Professor Gillian Whitlock for arranging access to the Elaine Smith Collection at the Fryer Library.
This article first appeared in RT e-dition sept 6.
RealTime issue #105 Oct-Nov 2011 pg. web
© Caroline Wake; for permission to reproduce apply to realtime@realtimearts.net