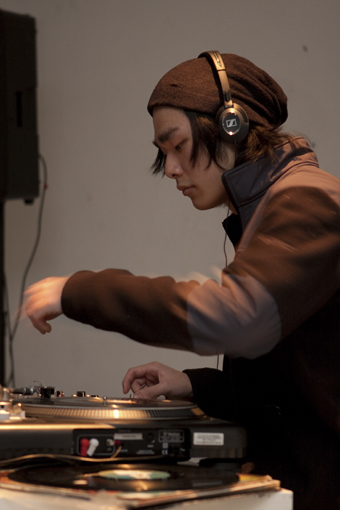 photo Marnie Vaughn – see image note*
Jordan Dorjee performing at Refraction June 29, 2010 (co-curated with New Weird Australia)
THERE IS A RICH HISTORY IN AUSTRALIA OF VIBRANT AND GROUNDBREAKING HIGHER EDUCATION PROGRAMS THAT OFFER AN ALTERNATIVE TO THE MORE TRADITIONAL CONSERVATOIRE EDUCATION FOR YOUNG ARTISTS AND MUSICIANS. EXAMPLES INCLUDE THE LATROBE UNIVERSITY MUSIC PROGRAM THAT STARTED IN THE 1970S, THE FORMER DEGREE IN MUSIC AND ELECTRONIC ARTS AT THE UNIVERSITY OF WESTERN SYDNEY, CURRENT PROGRAMS SUCH AS RMIT AND QUT'S CREATIVE INDUSTRIES, WAAPA'S BACHELOR OF MUSIC TECHNOLOGY AND THE NEW UTS BACHELOR OF SOUND AND MUSIC DESIGN. OVER THE YEARS JULIAN KNOWLES (QUT) HAS BEEN INVOLVED WITH A NUMBER OF THESE UNIVERSITIES AND ARGUES THAT "THESE PROGRAMS HAVE BEEN CRITICAL TO BUILDING THE CULTURE AROUND EXPERIMENTAL MUSIC IN AUSTRALIA FOR 30-40 YEARS" BECAUSE THEY HAVE TRAINED PRACTITIONERS AND DEVELOPED NEW AUDIENCES.
Knowles explains that "those of us teaching in university programs in the 1990s were very active as practitioners in the scene and we brought students into contact with the network of festivals such as What is Music? and Liquid Architecture and the warehouse gigs that were happening in the more underground artist run spaces..[and we] brought practitioners from this scene back into the university by offering casual teaching appointments." Indeed, it seems that the most successful educational programs in Australia have always involved engagement with the wider community, a feature of the La Trobe Music course, UWS and most recently RMIT. Articulating perfectly such an approach, which seems relatively common in Australia, Philip Samartzis (RMIT) claims that "the role of an institution is to facilitate opportunity and development by introducing students to an expansive range of ideas and practices that afford a greater appreciation of sound culture."
Despite their success and involvement with the wider experimental music and sonic arts community in Australia such programs are often regarded as expensive and relatively niche and so have frequently been at risk. Knowles explains that "the 1970s was particularly active. There was some fallback in the late 80s and early 90s, then a significant increase in offerings from the mid 1990s onwards." Still it is only a few years ago that the widely admired UWS Electronic Arts program was shut down and academics and students alike know they can't be complacent about the future. Cat Hope (WAAPA) says that "there is not a good feeling amongst academics in Australia" because, while the area is vibrant and active within universities, constant instability and demanding teaching loads have the potential to effect the quality of the teaching offered.
Apart from concern about the future, issues currently of interest in experimental music and sound art include the increasing numbers of artists and musicians taking up PhD and DCA places, the focus of students on career pathways and the centrality of research to university funding models and activities.
paperwork
It is widely speculated that there has been an increasing number of artists and musicians taking up PhD and DCA places in the last few years but it is unclear what effect it will have on the development of experimental music and sonic art culture in Australia. Kirsty Beilharz (UTS) comments that "there has definitely been an increase in composers pursuing higher degrees which may be due to various conditions, such as the almost requisite PhD for academic employment, and returning to studies in the current economic climate, but also positive factors such as the increasing recognition and understanding of creative practice as research or as being significantly rounded by research." Analysing this trend, Cat Hope thinks that the increase in PhD and DCA study among artists and musicians "will result in better articulation of artists' ideas since some sort of record of arts practice has been absent from the experimental music scene for over 30 years." She argues that "perhaps experimental music has more academic credentials now than before."
exploration & employment
Despite the increase in numbers taking up research places, students on the whole seem to have an increasing focus on career pathways. Philip Samartzis believes "that institutions are now so invested in postgraduate research, students are generally thinking beyond their undergraduate program in order to develop strategies that will assist them upon graduation…For some this may lead to further education, but for many the ultimate goal is to practise as an independent artist." Consequently, "it is incumbent upon program leaders and lecturers to ensure that students are provided with as much workplace integrated learning as possible so that students establish and grow their practice whilst at the institution." Addressing this issue, Julian Knowles suggests that while it is clear that students have become more focused on their career pathways in the last 10-15 years, a really good program can meet such needs as well as satisfy students more interested in exploration. He says that he struggles with the 'nostalgic' notion of 'the liberal arts education as an end in itself.' "Being interested in the experimental arts does not mean that a student has no desire to work in a relevant field and it does not mean that academics can ignore or absolve themselves of the responsibility to help people establish viable practices." Instead he claims it has been his experience that "many graduates from these programs have developed production skills in audio which have served them very well from an employment perspective."
the research economy
Perhaps the most notable shift in tertiary education in Australia in recent years has been the increased emphasis on research in universities. The Federal Government has made a significant amount of funding dependent on each university's research output. Understandably this has increased the focus of the institutions on research but beyond that it has made the issue of defining just what counts as research more crucial than ever and this is a problem for experimental music and the sonic arts in universities. Knowles explains that "the real issue is that the research assessment process does not easily recognise the sites for output or activity in the experimental music scene" because "major sites for experimental music research and output—artist-run spaces—are not considered 'serious' in the national assessment process, despite the fact that they host top national and international practitioners." But he believes that, fundamentally, "there are fairly marked cultural and ideological differences between the most underground experimental musics and the institutionalised research economy."
Samartzis feels that "the emphasis on research however has somewhat devalued undergraduate learning and teaching as more resources are directed to the post-graduate sector." However, while he believes that "the undergraduate sector provides the biggest contribution towards the general development and wellbeing of sound culture, postgraduate research does offer the artist an opportunity to develop intellectual rigour whilst investigating rarefied areas of knowledge and practice." Significantly, he points out that "the institutional model of research often results in an invaluable contribution to the field but it is no more important than less formal modes of practice and research generated by independent artists with no institutional affiliation."
The focus on research that dominates the tertiary sector, the increased number of artists studying towards PhDs and the increased vocational focus of students, raises important questions for experimental music and the sonic arts. How can universities maintain strong undergraduate programs while increasing their research output? How can they develop programs that encourage students to be exploratory and still offer strong career opportunities? What effect will an increased number of research students have on the experimental music and sonic arts community in Australia?
In the meantime there is undoubtedly a great deal of activity in the tertiary education sector, reflecting the strength of the field in Australia. Indeed the most successful experimental music and sonic arts programs in Australia's universities appear to be those that generate and facilitate activity in the wider community while meeting the needs of students and supporting the work of staff. Although a number of highly regarded experimental music and sonic arts programs have been shut down over the years there are still a significant number of respected courses on offer in this country, such as those at RMIT, QUT and WAAPA, and the launch this year of a new program at UTS demonstrates that even in the current climate of economic rationalisation such programs can not only survive but thrive.
*Image note: Jordan Dorjee is a BA student in Sound and Music Design at UTS. Refraction is a semi regular media art, music and sound event run by the UTS Sound collective "dedicated to the support, mentorship and development of student projects as they take their practice from the classroom to the community." (Emily McDaniels, Refraction coordinator)
RealTime issue #98 Aug-Sept 2010 pg. 44
© Ben Byrne; for permission to reproduce apply to realtime@realtimearts.net