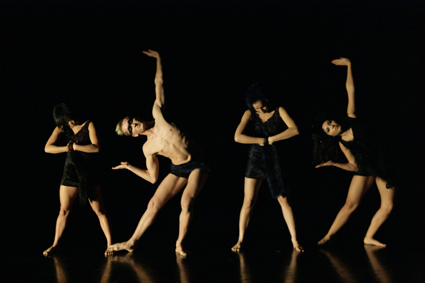 photo Jeff Busby
Hannah Glennie, Tyler Hawkins, Sophia Kennedy, Irina Nita, Kwacko, Victorian College of the Arts & Music (VCAM)
"DANCE PRACTICE" IS A TERM USED LOOSELY AND LIBERALLY TO DESCRIBE A VARIETY OF ACTIVITIES UNDERTAKEN BY A DANCE ARTIST. IT ENCOMPASSES MANY DEFINITIONS INCLUDING THE ACTIVITIES THAT DANCE ARTISTS ENGAGE IN, THE VARYING PROCESSES THROUGH WHICH DANCE ARTISTS CONNECT WITH THEIR WORK AND THE METHODOLOGY OF CONDUCTING POSTGRADUATE RESEARCH IE PRACTICE-LED RESEARCH. BUT WHICHEVER WAY YOU LOOK AT IT, THE ARTIST'S PRACTICE—THEIR ACTUAL ENGAGEMENT WITH THEIR CHOSEN FORM IN THE WAYS THAT THEY DETERMINE IT TO FULFIL THEIR CREATIVE OBJECTIVES—CAN BE REGARDED AS THEIR OWN ONGOING RESEARCH AND DEVELOPMENT PROJECT, WITH A "TECHNIQUE" OF ITS OWN MAKING.
Ultimately it is up to the artist to sort out which of their many experiences are integral to their artistic work and which are ancillary. Dancers often begin this process by undertaking a tertiary dance course. But as an artist's dance practice is based on accumulated experiences and knowledge, a challenge for undergraduate tertiary dance courses is how to approach setting students upon their individual paths. So what role do these courses play in guiding young dance artists to begin thinking in these terms? And how do they help to set them upon their journey towards developing a practice which is relevant to their artistic pursuits?
Granted, the establishment of an individual dance practice is quite a sophisticated concept for a student beginning a tertiary dance course to grasp, let alone to appreciate that this is what he or she is ultimately headed towards. Sally Gardner, Lecturer in Dance at Deakin University, questions whether the majority of undergraduate students can initially engage with the notion of a dance practice: "99% of our beginning students understand dance in terms of 'styles': hence they say 'I love doing contemporary' or 'Modern is so free' and so on. They do not really understand dance as an 'art' as in the development of an individual creative vision. So they need to be led towards a new idea of dance. My hope is that on leaving Deakin they have come to realise that the journey is just beginning."
It is widely acknowledged by the makers of Australian tertiary dance courses that the development of their students' dance practice is an important and distinct element of their artistic training. Amongst the tertiary dance courses that had input into this article (Melbourne University's Victorian College of the Arts and Music [VCAM], Western Australian Academy of Performing Arts at Edith Cowan University [WAAPA], Queensland University of Technology's Creative Industries Department, Macquarie University's Dance course and Deakin University's School of Communication and Creative Arts), a variety of approaches was described. These included investigating a range of physical techniques and body based information, incorporating professional secondments and experiences such as touring and performing in the works of professional choreographers, and contextualising dance training through academic research and in terms of other creative fields. By and large these strategies and programs have been devised to provide students with opportunities to experience how artists work and for students to experience the reality of the artform's requirements in the professional realm.
embodying
Jenny Kinder, Associate Professor at VCAM, describes their approach as an initial focus on the body, with further investigation of how that information can be incorporated to establish an autonomous dance practice with a distinctive artistic voice: "Students are exposed to the latest in dance science, kinesiology and somatic practices in addition to daily technique training and regular choreographic practice. Embodiment is developed through focus on neuro-muscular coordination and anatomical awareness. Students are encouraged to engage in an ongoing investigation of movement: anatomically, consciously and creatively in order to experience the dancing self and to find their own artistic voice."
embedding
Secondment programs and employing sessional dance staff who have currency within the profession for dance technique, associated dance and movement subjects, and choreographic and performance projects are cited as excellent strategies that expose students to the variety of ideas, applications and methods that can inform their own dance practices. Cheryl Stock, Associate Professor at QUT, believes that "probably the most invaluable experience in terms of 'real world' practice is the secondment program in which final year students are embedded within a dance company or project."
WAAPA in Perth has developed the secondment strategy further in establishing the LINK program that literally links new graduates from tertiary dance courses to the professional world. The one year program provides a postgraduate year of study while functioning as a pre-professional dance company. LINK members engage in extended dance training and performance programs worldwide, exposing them to a global perspective and providing the opportunity to make valuable professional connections. WAAPA's third-year undergraduate students also participate in national and international intensive dance programs.
rationalised dance education
The current climate of change within many Australian universities is raised as a cause of concern where artistic practice is based around intensive physical training. Under current university restructuring programs, such as Melbourne University's Melbourne Model, dance courses which have low student to teacher ratios and consume time and space less cost-effectively than others are facing a kind of economic rationalisation. In future years this may not be the best scenario for the continuation of studio-based dance practice, particularly where quantifiable employment outputs are emphasised. Cheryl Stock believes that "Although dance is quite nimble at getting around these bureaucratic and centralised 'solutions' it is my view that we are at a crisis point in being able to continue the highest level of training for dance practice in the industry (and by practice I mean the contextual, theoretical and practical aspects of being a dance artist in the 21st century, in all their complexity)."
another path
An altogether different approach towards dance practice can be found at the dance course at Macquarie University in NSW where students are accepted into the BA program academically rather than through audition. The vision and structure of this course seeks to redress the contention that those who study dance at tertiary institutes are primarily focused on becoming virtuosic company dancers. The course at Macquarie caters for students who wish to gain in-depth knowledge of dance as an art form and as a practice, in order to apply it to a range of other creative and research fields. Pauline Manley, Lecturer in Dance Studies at Macquarie, believes that the course enables a wider range of creative artists to intersect with the notion of a dance practice by "leading them away from the idea that dance is a display of technique", and "developing the appropriate disciplines for an effective life in the creative arts."
A lessened focus on physical technique means that students do not gain as readily the sophisticated and refined body management skills that are provided by courses which prioritise physical techniques to a higher degree. This reiterates the issue of whether tertiary institutions will be the ideal place for engendering a dance practice which is body based. In the case of the Macquarie course, Pauline Manley believes that their particular goals and approaches to students developing a dance practice are appropriate to a university study program and that "uni is the place to do it."
finding the right space-time
Dance practice as observation and comprehension can be differentiated from the act of engaging in a dance practice through physical participation and rigorous assessment. Thus, determining whether a university setting is the best place to develop a person's dance practice relates to the kinds of conditions and contexts that are relevant to what the student wants to do. Sally Gardner says that she would like to think that all aspects of dance at Deakin are approached as a form of inquiry. In terms of physical training, Gardner believes that body practices which have been so important in the development of dance artists like Trisha Brown and Russell Dumas require a specific kind of space-time. The university format of short timetabled classes is not conducive for this heightened degree of attention to the body and its movement. Importantly, she underscores an essential tenet for any young artist beginning to build their own dance practice:
"Students need to be able to spend time with practicing artists and they need to be able to see the best works that have ever been made in dance. Only then can they measure the gap between what they can do with their experience so far and what is possible. They will then go looking for the means to get where they want to be in dance, and they may in the process learn that they also need to develop the conditions that the dance they want to make needs."
Awareness of how a dance artist interacts with the context of their work, as well as identifying the physical skills required for their chosen dance work, forms the very beginnings of an individual's self-defined practice. A dance artist's practice—like all other areas of the ephemeral live art that dance is—will always be subject to constant change, shifting opinions, re-evaluation and contradictions over time…as it should.
RealTime issue #98 Aug-Sept 2010 pg. 20
© Linda Sastradipradja; for permission to reproduce apply to realtime@realtimearts.net