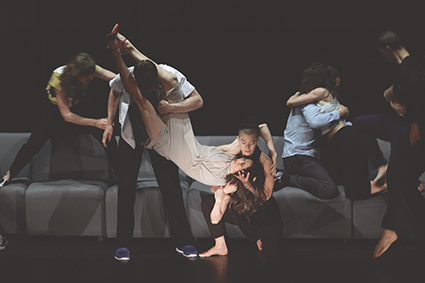 photo Jeff Busby
Chunky Move, Complexity Of Belonging
VISUAL AND CHOREOGRAPHIC WIT PLAY OFF AGAINST VERBAL EFFUSION IN THE COMPLEXITY OF BELONGING, A VISION OF FRUSTRATED INTIMACY IN A DIGITAL WORLD. THIS IS THE FIFTH COLLABORATION BETWEEN GERMAN PLAYWRIGHT AND DIRECTOR FALK RICHTER AND DUTCH CHOREOGRAPHER ANOUK VAN DIJK, ARTISTIC DIRECTOR OF CHUNKY MOVE.
A panoramic horizon of dappled grey clouds over outback scrub spans the back of the stage. Onstage are a blank billboard, cameras and microphones, a desk, whiteboard and a scattering of airport chairs. The 'story' begins in an international transit lounge, where daily allegiances and coordinates of identity are dissolved. A young woman (Eloise Mignon) observes in these conditions of globalisation a crisis of identity and intimacy. So she launches an investigation, propelling us through a storm of encounters among nine performers: these are enabled by mobile phones and Skype, often projected live onto the billboard. They are also interspersed with, accompanied by and sometimes embodied in, a volatile dance language.
Using their actual names, the five dancers and four actors perform a fiction woven together by Richter from personal stories they offered him. That we cannot trace these seams doesn't matter; boundaries are fluid (actors dance and dancers act), in favour of a collective maelstrom, a mood of confession, restlessness and stress.
We see the struggles of a romance conducted long distance: its crisis peaks in a meltdown that is lost in a scrambled Skype connection. One dancer (Joel Bray) is probed about his Aboriginality and finds himself either falling short or feeling fake. Another two (and Tara Soh) reflect on their Asian-ness in Australia. And a same-sex couple (Josh Price and Joel Bray) meets all the milestones of romance by phone, leading to a parenting proposal that is delivered (with anxious tenderness) as a Power Point presentation.
There is a shadow to all this, of a zoo-like, United Colours of Benneton effect, of voyeurism or a sentimental notion of the global or urban tribe. But we are referred back to a profusion of particulars, often back to the body. "I need to feel your body," someone bawls at their lover at one point on Skype. With sometimes grotesque intensity, the confessional rants propel themselves, building to shrillness, then are severed with a trivial quip and dropped, unresolved, into bathos.
Romantic themes recur above all (the question becoming, to whom do I belong?). Lauren Langlois' monologue on the 'perfect man' shows the obscene demands we thrust on the single figure of partner-as-saviour-and-soulmate. As it crescendos, doll-like manipulations are enacted on her by another dancer, turning to drollery. These ironic, playful moments abound throughout. But the enveloping movement in the work as a whole reflects transience, with its temporary clusters that fracture and dissipate, the dancers breaking away as free fragments again and again. (The set and props undergo parallel treatment.)
These ailments of globalisation are in the end addressed with a level gaze, with a suggestion of freedom and reinvention prevailing over stress. And as for digital media, in all its stage presence it exudes paradox, as both a cause and a remedy, an uneasy medium for modern intimacy in itself.
Melbourne International Arts Festival: Melbourne Theatre Company and Chunky Move, Complexity of Belonging, script, direction Falk Richter, choreography, direction Anouk Van Dijk, Southbank Theatre, Melbourne, 6-25 Oct
RealTime issue #124 Dec-Jan 2014 pg. 16
© Jessica Sabatini; for permission to reproduce apply to realtime@realtimearts.net