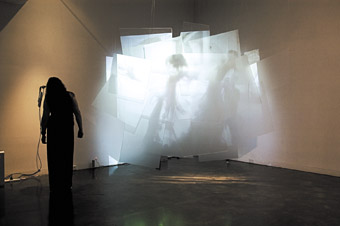 photo Nicholas Goldhourst
Impossible Geographies, Memory
IT'S A WET AND COLD AFTERNOON IN EARLY SPRING AS I SLIP THROUGH THE DOORS OF THE TIN SHEDS ON SYDNEY'S ROARING CITY ROAD. THE PHYSICAL GEOGRAPHY OF SO MANY THOROUGHFARES IN THIS CITY IS UGLY AND ANTI-PEDESTRIAN—LONG WAITS BETWEEN MULTIPLE TRAFFIC LIGHTS TO CROSS THE ROAD; BUS STOPS EXPOSING COMMUTERS TO THE FORCE OF THE ELEMENTS; SEMI-TRAILERS THUNDERING PAST AND PELTING OUT SMOG. WHAT A DELIGHT, THEN, TO ENTER INTO AN UTTERLY DIFFERENT TERRAIN: THE UNHURRIED, LUMINOUS AND IMPERCEPTIBLE SPACES OF PETRA GEMEINBOECK'S EXHIBITION, IMPOSSIBLE GEOGRAPHIES.
Here we encounter two installations that stretch and fracture screen space, stitching and splitting image projection, surface and interaction. Installations that amplify the weird radiance of digital light—to the point where it becomes the material substrate constituting the works' visual field. Installations that mesmerise in the minutiae of their movements or in the slow image disintegration that they perform.
The two installations that form the topography of this other space—Memory and Urban Fiction—both depend on maintaining a relation to physical, encountered and imagined spaces outside the refuge of gallery walls. Memory is a restaging of an installation that Gemeinboeck exhibited previously in Singapore, the US and UK. This was its Australian premiere and this fact alone attests to the lag we still experience in curating and providing access for our audiences to experimental new media arts. Memory captures audience members' images as we pass into its net of Mission Impossible style laser beams. These ethereal bounding mechanisms trigger image captures, which end up spread both across the work's fractured and layered screens and deposited in a databank. We join up with the ghosts of audiences long past and become slots in the computer's memory to be accessed according to its algorithmic and rhythmic processing. That space of computational processing—utterly impossible for human memory to inhabit—nonetheless returns on the installation's screens. We find our own real time gallery movements conjoined with the traces of previous visitors and of movements we have made in the gallery only five minutes before.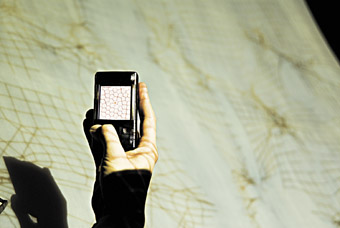 photo Felicity Jenkins
Impossible Geographies, left – Urban Fiction
We expect a mirror, conversation or cause and effect response as we interact with Memory. We are met instead with distribution, fragmentation and filtering of the relations between image/trace, computer/embodied human and processing/thinking. What is delightful and pleasurable about Memory is that these are impossible spaces to navigate, if by navigation we mean to steer or move in a purposeful manner toward obtaining a goal. But this impossibility makes the interaction all the more enjoyable, provoking us to experiment with virtual and actual space and action.
We are also impossibly tiptoeing through something else in Memory—time. Although digital media have long been flaunted as 'nonlinear', much of our experience of them tends really to be multilinear. We branch through options in an interactive story; we go forwards, backwards, even sideways but advance through levels in gaming. Memory, however, gives us no such pathways: visitors' images from the installation's past are entangled with our own in a visual dynamic and in the software dynamically processing its present and prior captures. There are gaps and syntheses between the present and past and the installation's future only materialises from this interplay. Memory is one of those rare interactive experiences where we momentarily perceive the impossible temporality of the nonlinear.
A fracturing aesthetic and experimentation with dynamic human-machine interaction connect the installations Memory and Urban Fiction, within the gallery. What threads together the two works visually is the distribution and layering of screen spaces. Rather than just a convenient wall to absorb projection, Gemeinboeck treats screens viscerally. They are the fabric and fabrication place of digital production, to be ripped, stitched, piled upon and scattered. In Urban Fiction, three screens are stretched in mid-air, catching their projections but also letting the edges of the moving image spill out onto the floor. Everything is beautifully positioned and executed yet simultaneously unshackled.
But what are we actually looking at? Pulsations become patterns; dots march imperceptibly across the screen space; deforming lines and grids slowly unravel. This feels like a fragment from a map of planet 'Information' or the twisted, skeletal wire-frame of 3D-generated space or computer code run through a visualiser of the imagination. If Urban Fiction is a map, then it is not of familiar territory and it defies all formal cartographic conventions. And yet, the barely moving images are all generated through engagement with the surrounding geography of Darlington. Participants use customised mobile phones to walk around the vicinity of the gallery. The installation also logs signals from unwitting mobiles on the same network within specified parameters surrounding the gallery. These signals all aggregate via custom software into forces and tensions that interfere, are sutured into and deform the image fields.
As we stand in the gallery, we begin to realise we are watching the formation of vast movement patterns beyond singular instances of navigation through urban space. We keep time instead with collective city rhythms beyond immediate visibility. Indeed we see more than we would when looking at a map or image of the city. For here the surrounding buildings block, refract and lose network signal and these processes affect the absorption of signal into the data capture process. An image scape emerges of the urban landscape we think we know but to which many histories, forces and traces also belong. What emerges is not cartographic but topological—the nonphysical yet ever-present ground of shifting relations between people, between people, buildings and urban cultures, buildings and signals, signals and signs, all contributing to contemporary urbanity.
Petra Gemeinboeck, who lectures in digital media in the University of Sydney's Faculty of Architecture, is one of those rare new media artists whose work is equally aesthetic and intellectual. The sensation of inhabiting her impossible geographies is visceral but also a jolt that provokes thought: the thought of inhabiting the impossible. Like that of Jorge Louis Borges' writing fragment, The Garden of Forking Paths, Gemeinboeck's 'impossible' is actually a space and time of infinite possibilities.
Petra Gemeinboeck, Impossible Geographies: Memory (in collaboration with Mary Agnes Krell), Urban Fiction, Tin Sheds, Sydney, Aug 21–Sept 8
RealTime issue #82 Dec-Jan 2007 pg. 28
© Anna Munster; for permission to reproduce apply to realtime@realtimearts.net