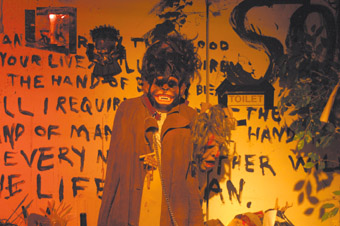 photo Ari Wegner
Mark Winter, Avast
The feel on the street is that these are exciting times for independent theatre and performance in Melbourne. Opportunities are opening up through new creative development programs such as Full Tilt at the Arts Centre and Culture Lab at Meat Market. The Malthouse Theatre is programming remounts of independent shows and commissioning emerging artists and the Australia Council and Arts Victoria are providing indirect support through new producers' initiatives. In addition to this, festivals such as Melbourne Fringe and Next Wave are facilitating a thriving performance scene, providing vital professional support, enabling theatre makers to create the partnerships required to put their ideas to the public. Independent artists are widely acknowledged by funding bodies and producing organisations as a vital part of the arts ecology, who need support to achieve sustainability and growth. The mainstream press, perhaps responding to the buzz, also seems to care about what is going on outside the main stages.
As Alison Croggon noted on her excellent blog last month (theatrenotes.blogspot.com), the nurturing role offered by larger organisations such as those mentioned above can only succeed if there is something to nurture. I have to admit that at times I have found myself despairing at a lot of what is created by independent theatre makers in Melbourne, with a tendency towards reproducing, on a small scale and on the cheap, the unambitious and uninspiring artistic goals of the larger, 'flagship' companies. Thankfully, while this is one dominant tendency, there are also plenty of new companies emerging, making their mark by expressing particular artistic visions, not based on commercial, 'cover band' models but on inspiration, passion and need. The latest such company to emerge is The Black Lung.
The Black Lung is an appropriately bilateral name for a new 2-pronged entity, a theatre company and performance space located above Kent Street, a bar in Collingwood's Smith Street hub. It also has 2 co-Directors, Thomas Henning and Thomas Wright, the former an actor, the latter a writer-director. Black Lung announced its arrival on the scene with an opening night party in April. Through a guerilla campaign of text messages, 'appropriated' email lists and word of mouth, the organisers drew a huge crowd to the little bar, exceeding its capacity by 200. The company put on an evening of music, performance and visual art, although the density of the crowd in the small venue meant that the focus was on talking, drinking and celebrating, even if no-one knew yet quite what they were celebrating. The bar and upstairs performance space were decked out with a grungy, garage sale aesthetic that has since become Black Lung's house style. The crowd was heterogeneous but mostly young; most were in their early to mid-20s, and not your familiar opening night theatre crowd. This is not surprising, as Henning and Wright are themselves in their early 20s and their interests go beyond those of mainstream or independent theatre into visual and performance art. This opening blast was not a one-off. In the 3 months since this grand opening, the theatre has sold out most shows—a sign that it is clearly fulfilling a need.
Henning and Wright have managed to set up this space on very little money, lots of hard work and the goodwill of artists and the owners of the bar which hosts them, and to whom they pay no rent. They have shown great maturity in the process, consulting widely with the independent theatre and visual arts community in order to set up a space that will serve its future stakeholders. Posted on the company website is a clearly articulated manifesto which is focussed on its key interest in creating an environment where the members of their own company and visiting artists can develop and expand new works experimental in form and deeply collaborative in nature, and present these to audiences in an affordable and supported environment. Ticket prices have been set at $10, making it an inexpensive and low-risk option—important for attracting new audiences.
This thoughtful, consultative approach has resulted in keen interest from the theatre-making scene. The directors have found themselves immediately in the position of enjoying a demand for their space, which outstrips their capacity to supply. This means that they have been able to curate works based on artistic criteria rather than scrapping around for what's available. According to Wright, the decision-making process has been based on personal interaction and discussion with prospective companies, keeping process and concept at the centre. "We've had a lot of interest from people and we really feel for the time being that it's very difficult to source people who have a similar concept of work. We've kept it really small, and approach people individually. The whole ethos has been to simplify." The performance space could not be simpler—a tiny white room above the bar with no fixed seating or technical equipment. It seats about 30 at a pinch and shows have to contend with noise transference from the DJ downstairs. This calls for a style of performance that is able to work with these immediate constraints, and the programming so far has reflected that.
The first show in the space, created by the resident company, was an inspired piece of theatrical excess entitled Avast: A musical without music. Written and directed by Henning and featuring Wright in a leading role, as a statement of purpose for the venue it was an excellent choice. Ushered upstairs, we were crammed into a tiny foyer, barely lit, with a television by the theatre door playing static, partially obscured by a cheap devil's mask. On entering the theatre, we were greeted with a nearly naked man (Wright) playing a character in a heightened state of anxiety, ready to burst out of his skin, on which statements were painted such as "Viggo Mortensen is a cunt." Wright quickly gave context for this in a wild-eyed, maniacal retelling of The Lord the Rings, with theme music from the film series blasting behind him. I was later informed that this text had been added into the previous night's performance, by which time they had obtained the soundtrack for added impact. What followed was (barely) a play about 2 half-siblings (Wright and Gareth Davies) arguing over an inheritance, with obscene interjections from a mysterious dark clown (Dylan Young). It was insanely fast-paced, witty, artfully arhythmic, metatheatrical—a breathtaking combination of precision and chaos. The actors created an atmosphere of immediacy and real crisis that I have rarely experienced in theatre and, with the help of the best audience-plant work I have ever seen, a palpable feeling of panic and unease. I was reminded of the work of New York companies Radiohole and NTUSA (RT66, p36), which have a similar practice of blurring actor/character distinctions in order to create a theatrical world that is utterly self-contained and therefore immersive. It wasn't really "about" much, except for the experience of being there in the room with this thing that we had to deal with—and that was plenty for me. I left feeling drunk on theatre, intoxicated on the experience of simply being.
The next show presented at the Black Lung was Chronicles of a Sleepless Moon, the second show by the young 3-member ensemble and exponents of 'junkyard theatre', Suitcase Royale. Joseph O'Farrell, Miles O'Neil and Glen Walton have a close affiliation with Black Lung's founders, having seen each other's works on earlier occasions and instantly finding that they shared similar artistic interests. Suitcase Royale, who had met as students of theatre at Deakin University, were coming off an enormously successful first show, Felix Listens to the World, which saw them winning Fringe awards, touring North America to packed houses and presenting as part of the Melbourne Festival. Chronicles had been developed as part of the Next Wave Festival's Kick Start program and featured in the festival, although by all accounts, including the company's, it had not reached its full potential in that season, and was significantly reworked in the interim.
Having enjoyed the inventiveness, heart and assuredness of Felix, and with the exhilarating memories of Avast fresh in my mind, I had come to the show with high hopes. I was happy to discover that the show expanded and deepened many of the ideas explored in the previous work. The story revolves around 3 characters who populate a tiny outback town and who are known only by their trades: the Butcher, the Doctor and the Newsman. The very simple plot—part horror, part murder mystery, part Jules Verne-style adventure —functions as a way for these multi-skilled performer/designer/writer/musician/directors to engage their formidable theatrical imaginations. The centrepiece of the endlessly morphing set is a subterranean vehicle run on cow's blood, constructed from an old wardrobe on its side, barely large enough to fit the 3 actors, full of hundreds of tiny props, many of which are transformed into characters or perform various roles in creating the world of a gothic Australian outback.
This is theatre by accumulation and aggregation. In one moment the actors form a country folk band (they are very good musicians), in another they are operating lights and sound (there is no offstage operator) while creating 3 distinct spaces in a very small room. It is also, most satisfyingly, self-contained theatre. It is clear in the form that the artists who make up Suitcase Royale are all that is needed to make the work. The lack of artifice is empowering, as it demonstrates, live and in front of the audience, that the power of theatre lies in its alchemical quality, the fact that worlds can be created out of thin air, with some imagination and dedication to the work. The show will soon be touring to Sydney.
Avast and Chronicles of a Sleepless Moon are 2 highly satisfying, assured pieces of work, well-suited to the tiny confines of this new theatre space. The Black Lung has renamed the month of August "Thursday" and will be presenting a wide range of theatre, performance art, music and visual arts. Shows and workshops have already been programmed for most of the year. I'm looking forward to following its development.The Black Lung: www.theblacklung.com
Suitcase Royale, Chronicles of a Sleepless Moon, Sydney Aug 4-6 & 9-13, Lanfranchies Memorial Discotheque, 144 Cleveland St, Chippendale.
RealTime issue #74 Aug-Sept 2006 pg. 43
© Chris Kohn; for permission to reproduce apply to realtime@realtimearts.net