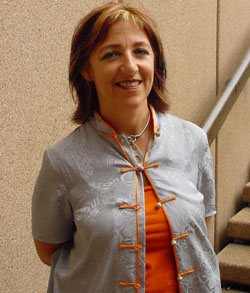 Virginia Hyam
Virginia Hyam was Artistic Director of the Melbourne Fringe for 5 years. She's now the Executive Producer of the Sydney Opera House's The Studio, an intimate, flexible, ultra-comfortable venue located between the Playhouse and Drama Theatre on the western side of the building. It's a venue with great potential, something only occasionally realised in its first couple of years. However, with the full-on commitment of the Opera House and the considerable energies of Hyam and her knowledge of the innovative edge of Australian performing arts, an ongoing program has been curated that should draw new audiences to the building and create a viable space for the increasing number of Australian artists on the road. A lot will depend on making the Opera House attractive to younger audiences, which involves issues of access, staff attitudes, places to gather after shows, foyer ambience and, especially on developing a personality for The Studio. Hyam's program for the first 6 months of 2002 is a strong one, filling a significant cultural gap in Sydney's artistic life between the mainstream and the cutting edge of Performance Space. But what of the character of the program?
Accessible, fun, high quality, diverse. I'm really trying break down the whole notion of what The Studio is in respect to artform. It's actually just about contemporary work. So it has a pretty eclectic personality. Some work like that of Machine for Making Sense has a niche audience, but I've tried to go for a broader audience base and hopefully develop a crossover in taste—you know, 'I really enjoyed that cabaret work, I think I'll give dance a go'.
You could say that it's a diverse audience you're after but that's not quite right is it?
The investment that's gone into The Studio is to offer an alternative inroad into the Opera House. So a younger audience who go to clubs or to movies but who might not think to go to theatre—I'd be hoping that we'd attract that sort of crowd. Certainly the work is targeted in that sort of 18-35 demographic. But it's also about attracting the early-30s age group. And, in line with that, the prices are kept as low as possible. So you can say, 'I'm having a night out at the Opera House and my ticket is costing me $25'.
As we move into the second half of the year, there's a focus on Asian work and the music series. The aim there is to attract that more diverse cultural audience as well with the style of work.
Aside from Rich Hall, you haven't gone for stand-up.
Well, comedy is really accessible and that's why I'm really keen to have it in the venue but I'm also keen that it doesn't turn into a stand up comedy venue because it's such a beautiful performance space. I'm more interested in theatrical comedy, like Russell Cheek and Paul Barry's show, Tall-Dog and the Underpoppy. A show like Meshel Laurie's Whore Whisperer you could put into the cabaret or comedy category. Sleepless Beauty will certainly have a comedy element to it. It would have to with Christa Hughes!
There's an audience who might be expecting a different sort of cabaret than you have here with shows like Paul Capsis' Capsis vs Capsis.
That's why we've written "No Show Tunes" on the publicity for Sleepless Beauty. Another function of the cabaret program is that it's a chance to involve people like Imogen Kelly (Gurlesque) who performs more on the underground circuit.
Good to see Melbourne choreographer Phillip Adams' Upholster in there. The Dance Tracks season hosted by Lisa Ffrench with choreographers Kirstie McCracken, Lisa Griffith and Michael Whaites is heavily music focused.
It's electronic or live music. Again, I'd be hoping that people who come along to Dance Tracks will then think, I'd like to see Ballet Lab.
When The Studio was set up there was quite a strong emphasis on new music and contemporary classical. New music remains an important part of your program but unless it's Synergy or Taikoz, who are both in your program, it's very hard to sell in Sydney. You've got everything from the Tibetan singer Yungchen Lhamo through B(if)Tek, Machine for Making Sense, to prominent British sound artist Matthew Herbert.
What started out with new music is now new music and a whole range of other things. I'm just trying to integrate it into the rest of the program and hopefully enthuse people to look at it in a different way. So a group like the [contemporary classical] Ensemble Offspring I've incorporated into the Studio Music Sessions on a Sunday side by side with Matthew Herbert.
Great to see they're playing works by Finnish composers Kaija Saariaho and Magnus Lindberg. The Finnish revolution goes on.
The Prop (see page 32) and Pivot collaboration is a really interesting one, part of the program of collaborations that we're trying to do. We're trying to explore different mediums of music and to find a point of contrast to what's already going on in other venues around Sydney.
In your brochure you say "Swing with The Studio scene." Now, a scene is a very difficult thing to establish especially within the formal constraints of The Opera House.
The first step is being able to take drinks into The Studio. That'll make it easier. Changes at the Opera House over the last 12 months have already been quite radical anyway, just with the change of caterers. And all the new bars that have sprung up around the Opera House are going to help too. As well as other Opera House programming, we too are looking at front of house and getting to understand our audiences better. It's not like The Studio is working in isolation, it's one stream of that change, building accessibility and making it less of a highbrow place to be. Of course, it will always be that for some people—and that's fine. It's just opening it out as well.
You've also got the website and "opportunities to sharpen your critical knives"—what's that about?
We're building up a membership base which gives you the benefits of all our sponsor partnerships of course. But there's also the opportunity for critical feedback on the website and the chance for people to feed in to the direction The Studio is going. I think what we have to do to be successful is to be current, relevant, to be responsive to a degree so that people can write in and say, look I saw this amazing band in Newcastle, have you heard of them?.
Then you've got the ticket packages. How important are they in your strategy?
You can buy 5 tickets for about $100. It'll be interesting to see how it goes. We don't see The Studio package as some kind of subscription series and we don't want to go down that road.
What's in it for artists, do you think? There are people in the program who are well-known and a lot who are not.
The key thing I'm trying to do with artists who are not known is to provide a higher profile and to support their work, whether it's in development, or giving them presentation funds to actually put it on. You're supporting artists to get their work out to the best production levels that we can provide. I'm interested in using the space to its absolute capacity. At the moment it's a testing ground to see how we can accommodate artists within the space. It's not just a place to put on a show. I'm hoping it's more than that.
It's a curated program in which some shows are pre-existing but with others you're playing a producing or co-producing role. For example, Gretchen Miller's In Four Four.
Really important. Dance Tracks 2 (Albert David, Jason Pitt & Bernadette Walong), Christa Hughes' show—they're new commissions. Then there's producing works with other partners. There's one coming up in the future which The Studio, the Brisbane Powerhouse and a Melbourne organisation are co-funding. So, we're really trying to build a network. Christa's show is also going to the Adelaide Cabaret Festival. As many arms as we can have to further opportunities for artists to present their work, the better.
It's a big role.
It is a big role. But that's what's exciting about the job. I think if it was just about running a venue and putting on shows, it wouldn't be to the capacity The Studio's up to. I guess though what I have to break down is the notion of people coming to me and going, "We hear you've got a million dollars in there, just give us $50,000." And I'd say, "Well I'm sorry I can't quite do that." The way that I'm working the budget is in partnerships and supporting people as they're going for funding which is crucial for these shows to be able to get up.
Tell us a little about your background?
I guess the work I did at the Melbourne Fringe has been a great informer of what I'm interested in, the work of independent artists. Prior to that I was Project Manager at Carclew Youth Arts Centre in South Australia. So emerging artists were very much my focus there. I worked too with the Adelaide's Come Out Festival. My interest has always been at that developmental end and seeing ideas supported and nurtured to realisation. I guess this position is a bit of a combination of those two and now the opportunity to work with artists who are really well established and doing amazing work.
RealTime issue #47 Feb-March 2002 pg. 8
© RealTime ; for permission to reproduce apply to realtime@realtimearts.net