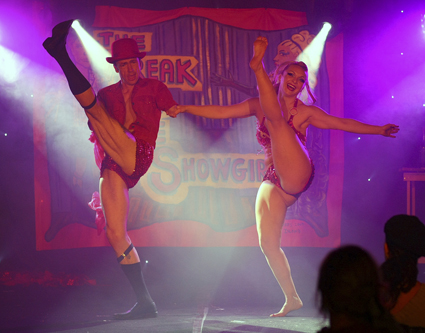 photo courtesy the artists
Mat Fraser, Julie Atlas Muz, The Freak and the Showgirl
WA'S ARTRAGE MOUNTED A MAJOR PUSH IN FEBRUARY TO BOTH DEVELOP THE FORMAT FOR A PERTH FRINGE IN 2012 AND TO TEST THE MARKET WITH AN AMBITIOUS PROGRAM OF CABARET, BURLESQUE AND BOUTIQUE SHOWS. IT'S NOT THE 'BIRTH' OF A PERTH FRINGE AS SUCH; RATHER A RETURN—ARTRAGE ITSELF HAVING BEEN FOUNDED IN 1983 AS THE QUAINTLY NAMED FESTIVAL FRINGE SOCIETY OF PERTH.
Fringe World ran for three weeks and four weekends at The Pearl Spiegeltent (recently acquired by ARTRAGE) with a handful of 'black box' solo shows round the corner at PICA's Performance Space. Audiences gathered before, after and in-between at the modest but pleasantly balmy outdoor hub of the Urban Orchard, tucked conveniently between the Art Gallery of Western Australia, PICA and the Perth railway station. As well as 23 shows from local, national and international performers—including the Wau Wau Sisters, Woohoo Revue, Frisky & Mannish, locals Sugar Blue Burlesque, Piff! The Magic Dragon (UK) and New Yorker David Calvitto, to name a few—Fringe World also included a two-day summit to thrash out how Perth Fringe 2012, dubbed "The Boutique Fringe at the Edge of the World," might be structured.
Inclusion of the PICA Performance Space in Fringe World created an opportunity for four local solo performers (and one international) to enjoy the benefits of a high-profile central theatre venue and Fringe World's readymade marketing machine. I managed to catch two PICA shows—Leon Ewing's The Problem with Evil and Andrea Gibbs' Grow Up.
The Problem with Evil is largely based around two 'characters': an Al Gore-style circuit-lecturer on a "demotivational tour" to encourage more evil; and a talking fish-puppet called Bruce. In a series of fairly heavy-handed monologues, the death's head-masked public speaker referenced everything from the GFC to the Museum of Old and New Art (MONA) and online paedophilia, enthusiastically equating profits, bushfires and mining with evil and even congratulating cats for devastating native wildlife. While the message was ironically clear, its delivery seemed confused at best and banal at worst. The crassness reached its zenith when Ewing performed a ludicrous 'interpretive dance' against repeated video loops of the World Trade Centre as the second plane smashes through the building. This scene was, admittedly, genuinely disturbing: is it evil to perform such a thing, or evil to be watching it? Or both?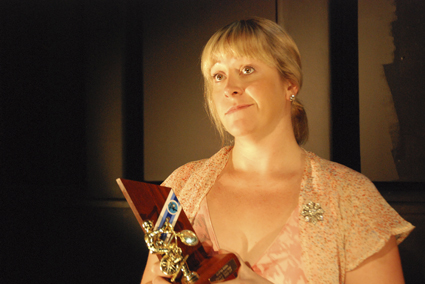 photo Brett W Cullen
Andrea Gibbs, Grow Up
Perth comedian Andrea Gibbs' Grow Up is a perhaps-autobiographical series of vignettes from childhood and adolescence, announced by scene-setting, projected titles such as "In Bathers I Trust." From the poignant reflections of an eight-year-old pondering being killed by a werewolf, to the aching bravado of a teenager confronted by a male 'skimpy' after sneaking into the pub, Gibbs held the audience captive with her impeccable timing and telling gestures, subtle as the brush of her feet on the rungs of her stool. Like The Problem with Evil, Grow Up embodied a certain naivety—but unlike Ewing, Gibbs created a space for the unspoken, in a study of vulnerability that belongs as much to the adult performer as to the child.
Around the corner at The Pearl Spiegeltent, the programming encompassed a not-unexpected mix of music, comedy, burlesque, sideshow and circus, with a good number of local performers gracing the stage. Fringe World laid on plenty of 'quality acts'—like Matt Kelly and Rich Higgins' clever and pacy The List Operators, for example—and the queues were encouragingly long in a city unaccustomed to such a wealth of choices. Truly edgy or subversive work was a little harder to uncover; but Mat Fraser and Julie Atlas Muz's (UK/USA) The Freak and the Showgirl stood out with its self-proclaimed "orgy of flesh, flippers and fun."
The Freak and the Showgirl is, at face value, pure burlesque: a series of themed show-numbers and skits loaded with spinning, sequined nipple-pasties and titillating tricks. What set it apart was not only that Mat Fraser has two very short arms—or 'flippers'—due to his mother's encounter with Thalidomide, but that he and Atlas Muz extend both the burlesque and the freak-show genres to talk about it, politicise it, and most of all to sexualise Fraser's 'different' body.
Early in The Freak and the Showgirl, Atlas Muz and Fraser played with limbs, false limbs and limblessness, beginning with Atlas Muz's strip act, complete with wolf mask and replacing her own hands with wolf 'gloves.' She and Fraser performed sleight-of-hand tricks to "It Wouldn't Be Make Believe," Atlas Muz standing behind Fraser and replacing his arms with her own. Fraser performed his own striptease, shedding a pair of prosthetic arms along with his clothes.
Between song-and-dance routines and the casting off of spangled costumes, Fraser introduced himself, firstly explaining his condition and a little later performing a monologue about the history of old-time dust-bowl freak shows. He painted a picture of the 'empowered freak' who earned a good living and lived independently with a supportive freak 'family.' Later still, Fraser turned himself into the sideshow, shaving himself, sawing through a piece of wood, unscrewing a bottle and then swigging from it. The absence of glittery costumes or sexy moves now turned the mirror back onto the audience: while burlesque is all about the gaze, suddenly it was no longer burlesque—our own voyeurism seemed to become the object of scrutiny.
The glitter kept on coming though, both performers exploiting every opportunity to strut, pout, shimmy and eventually disrobe; until sex and sweat seemed to have got the better of both Freak and Showgirl. From start to finish, The Freak and the Showgirl managed to carefully hone a razor's edge between the bawdy and the troubling; and while seeing Matt Fraser and Julie Atlas Muz descend into a messy melée of simulated sex elicited slight shock, the feeling in the audience was far from discomfort.
Debate raged during the two-day Fringe World Summit as to whether Perth Fringe 2012 should be an Adelaide/Edinburgh-style open call, or a curated festival along the lines of the Dublin or New York Fringes. The question remains unresolved, but Fringe World 2011 gave Perth audiences a taste of things to come. And for local artists, many of whom have toured work to Edinburgh, Adelaide or the Canadian Fringe circuit, it was a rare opportunity to showcase their work on home ground.
Fringe World: Spiegeltent Program and Fringe World Solos,The Pearl Spiegeltent and PICA Performance Space, Perth, Feb 4-26
RealTime issue #102 April-May 2011 pg. 6
© Urszula Dawkins; for permission to reproduce apply to realtime@realtimearts.net