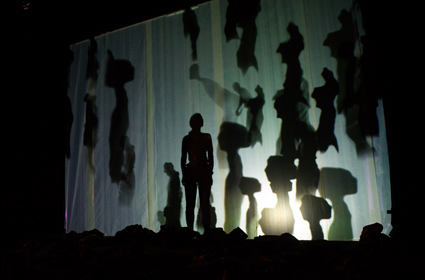 photo Lachlan Woods
Deborah Leiser-Moore, KaBooM
I recently met with a very happy Deborah Leiser-Moore to discuss her busy career (which includes performing in a new work by Richard Schechner in New York this year), her latest creation, KaBooM, to premiere in April in Melbourne, and the Lee Breuer Masterclass (Breuer, a co-founder of Mabou Mines, creates large-scale innovative works in New York) she has programmed with Monash University Academy of Performing Arts for July. We've continued our discussion by email and phone and I've drawn on material on the artist's website.
The Suzuki Tadashi-trained Leiser-Moore spent her formative years as performer and maker in Sydney's contemporary performance scene, maturing with significant works: Hungry in 1996 and a room with no air in 1999. She then moved to Melbourne where she formed Tashmadada (running workshops with the likes of La Fura dels Baus), producing new works and touring overseas.
Leiser-Moore describes her new work KaBooM as "a promenade performance in which the audience encounter the different worlds and stories of seven men." Each of these has been a soldier, each in a different country and with very different experiences.
The soldiers portrayed include one who deserted Saddam Hussein's army after serving for a decade, a child soldier from Burundi and a 16 year-old Holocaust escapee who fought "for his family in the Pacific Islands along with a guardian monkey."
How did you find and select, meet and interview the men you chose as your subjects, and over what period?
Over a period of around 10 months. A couple of the men I already knew. Majid, from Iraq, I had even worked with. Others I sourced by asking around my different networks. Fablice from Burundi I found through Multicultural Arts Victoria. It's amazing how many men living in Australia carry around this war experience.
Once I found them, we met to get a sense of their stories and to outline the project and the process. I only had one rejection! They all were very happy to have an opportunity to tell their stories. They all said that the process of being interviewed allowed them to speak personally and freely. It gave them an opportunity to speak in ways they normally don't feel they can. And they all were intrigued as to how I was going to make a performance piece—not verbatim theatre—from the material.
photo Lachlan Woods
Deborah Leiser-Moore, KaBooM
How did you distill what you heard and learned from them?
I was interested in the personal stories of the men—not the politics of each of the wars they fought in. It was the question of how we live, as ordinary human beings, in extraordinary situations, how we are able to do day to day things we take for granted, what particular experiences the men remembered and what they carried of these to Australia.
The strong lineup of directors for KaBooM comprises Australians Regina Heilmann, Gail Kelly, Adriano Cortese and Susie Dee, Younes Bachir from Barcelona, Lech Mackiewicz from Poland and Bagryana Popov, who works in Bulgaria and Australia. What attributes have you looked for in the directors you've chosen?
I wanted to work with directors who are performance makers and who have their own very distinctive approaches. I've already had working relationships with Regina Heilmann and Younes Bachir and I knew the work of the others.
Each uses multiple performance languages in really interesting and visceral ways, so I felt they would respond to the interviews in lateral ways. I wanted directors who would create, in collaboration with me, responses to the interviews rather than verbatim pieces, because I'm interested in how these stories can reach an audience through the senses.
Also, I wanted each of the 'stories' to have a very specific and individual aesthetic, to make a point about the individuality of each of the men and their experiences. I think it is too easy to cluster people together as 'Other.' These are very different people from different countries with different stories and experiences. Therefore each of the pieces in the work is a different 'world'— like an installation/performance piece. The audience is asked to enter each of these worlds.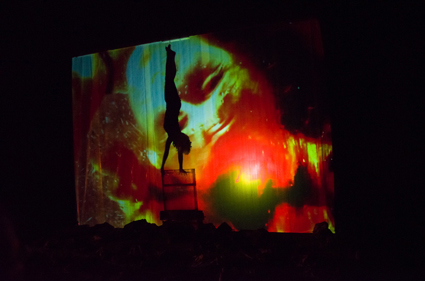 photo Lachlan Woods
Deborah Leiser-Moore, KaBooM
In the press release for KaBooM, Leiser-Moore asks, "What happens when we are unwillingly thrust into the frontline of war? It can happen to anyone, anywhere. Our lives irrevocably and unpredictably changed in an instant. And what remains within us when we have escaped the warzone?" Her response takes the form of a physically realised account of soldiers' lives that "positions the audience, as witness, in the midst of the performance arena. They are placed in a metaphorical field of war, populated with visual imagery and the debris of battle" (website). Within this arena Leiser-Moore will deploy her movement skills—including aerial work—projections, a soundtrack by Bigtoxic "and elements—mud, water, tomatoes, hay—to create a series of interlocking performance vignettes."
Why the choice of particular materials for each piece?
Each director was given the filmed interview and asked to create a 10-minute response in their own performance 'style.' The process of performance making and the use of materials emerged out of discussions, each director's particular aesthetic and their direct response to the interviews. Most of the directors are visual and physical performance makers, as am I. Together we used whatever material and form seemed right for the piece.
How do you feel about your body becoming a conduit for the experiences of others? What does your body, its skills and training offer these stories without words?
I think it's important to communicate these very male war experiences through the body of a woman. It completes the 'picture.' My body and its own history—training and personal—can allow an audience to read the stories.
The experiences of war touch everyone—including those who are left behind—generally women: the mother whose son doesn't return, the wife whose husband is only a ghostly memory. All lives are damaged by war. Sadly this is its universality. And so although I am the conduit for the experiences of others, this experience touches us all. In a way, this is the aim of this work.
* * * * * *
: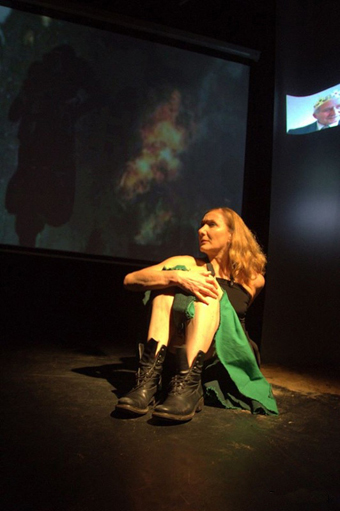 photo Ryszard Pajda
Deborah Leiser-Moore, Cordelia, Mein Kind
Other works
Leiser-Moore's Cordelia, Mein Kind (2009) will enjoy a return season in Melbourne this year at La Mama. The artist describes the solo work as "a duet for live body and film." Leiser-Moore as Cordelia encounters Lear in exile in the form of her father—a Holocaust victim displaced to Australia who appears on film in the performance (made before his death) conversing with his daughter. Performed in Melbourne, Brisbane, Washington, Gdansk and San Francisco, the work was created in collaboration with director Meredith Rogers and choreographer Sally Smith when Leiser-Moore was an artist-in-residence at Victoria University in Melbourne.
Of the work, the later Doug Leonard wrote in RealTime, "This deeply textured, multilayered and savagely poetical work takes off from Shakespeare's King Lear, but unravels personal elements of cultural exile and loss. Leiser-Moore's Yiddish speaking Polish father escaped to Australia from the Holocaust, but left his family behind. However, he never spoke a word to his daughter about his past until she arranged a trip with him back to Poland, which she documents. His favourite film was a Yiddish version of King Lear with a happy ending! The piece abounded with such astounding ironies and coincidences from real life, I was literally rendered speechless" (RT94).
Further Leiser-Moore productions include Here and There—Then and Now (2004) "a video/installation/performance piece that explores the inherent nature and expression of ritual (the wedding ceremony), tradition and culture within Jewish and Muslim women; a room with no air (1999), a collaboration with co-performer Regina Heilmann and composer Elena Kats-Chernin, in which a German gentile and Polish Jew "struggle to understand and unhinge the terrible dynamic which is their legacy;" and Hungry (1996), an exploration of the artist's cultural heritage and the exclusion of women from Jewish religious ritual. In development with Heilmann is Apres Savage, a creative assessment of what has changed in the world and in the artists themselves since that first collaboration.
Deborah Leiser-Moore, KaBooM: Stories from Distant Frontlines fortyfivedownstairs, Melbourne, April 10-13; http://www.deborahleisermoore.com/kaboom.html
RealTime issue #119 Feb-March 2014 pg.
© Keith Gallasch; for permission to reproduce apply to realtime@realtimearts.net