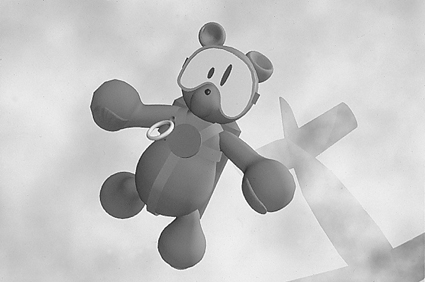 D.J. Cassel, 10,000 Feet, Ringling School of Art and Design
SIGGRAPH is the Special Interest Group in Graphics of the Association for Computing Machinery (ACM). I first got there in 1981 and followed the event fairly religiously throughout the 80s. If my memory is correct '81 was the last year that you could turn up with a videotape in your bag and have it shown in the Electronic Theatre. It was also the first year the event included an art show. As an artist myself it was like going to wonderland. After years of being marginalised for my work in art and technology I found myself in a "birds of a feather" session with 50 or so others from around the world who all shared my vision and interests.
Throughout the 80s SIGGRAPH was an exciting melting pot of talent and ideas. Computer graphics (CG) were "a solution looking for a problem" and specialists from many diverse disciplines rubbed shoulders to share the latest techniques and gossip. In 1986 there was a panel on the film industry. Looker (Crighton, 1979), Tron (Lisberger, 1982) and The Last Starfighter (Castle, 1984) had all used computer effects (CFX) and, although all went on to become cult movies, none did well at the box office. At the panel a frustrated producer joked that it was easier to get a location helicopter than agreement to use CFX and studio execs reiterated the conservatism of Hollywood.
In television the situation was different. By 1986 the digital video post-production boxes had had a significant impact particularly on current affairs, news and the wealthy commercials sector. Digital systems were helping to push video as a master production medium with digital production gear like vtrs, switchers and cameras hitting the marketplace. The video post houses grew as the 16mm film facilities, which had relied on regular TV work, closed their doors.
SIGGRAPH 86 was a turning point. New York photographer Nancy Burson was there to promote her new book Composites which documented her digital imaging. In a press session she proclaimed that the era of "photographic truth" was over. At another "bird" session a group of creatives claimed CG as their own and predicted that, in ten years time, SIGGRAPH would be their event. Back then we were a distinct minority. SIGGRAPH belonged to engineers, mathematicians and computer scientists. Many laughed at our claim. They didn't even like the increasing number of creative and media people getting elected to SIGGRAPH committees. At one point its parent society, ACM, expressed concern that its integrity as a professional society was being compromised by these outsiders.
Now, in the 1990s, computer imaging has found its own vertical markets and a whole host of new conferences, trade shows and symposia have sprung up to exploit demand. For many of us the expensive trip to SIGGRAPH has become less essential. So it was good for me to be invited to be a judge for the SIGGRAPH 97 Computer Animation Festival.
Los Angeles in August was in heat wave and the air-con for the 15 storey glass atriums at the LA Convention Centre was having trouble keeping up. Over 47,000 people milled around, mostly to see the trade show. In addition to the technical papers core (now a minority draw) were panels, screening rooms, the art show, the major trade show, the "start-up" park, the Electronic Garden, the education program, the outreach program and a host of lesser events. The Computer Animation Festival (CAF) offered four evening and three matinee performances in the Shrine Auditorium (home of the Academy Awards). Then there were the unofficial events, shows and parties all over town.
A chance meeting in the bar of the Hotel Figueroa best illustrates the changes in SIGGRAPH over the past decade. A schoolteacher from Malibu was down for the day to see the show, her first visit to SIGGRAPH. She explained that, if she hadn't had been told in advance that it was a CG show, she would have assumed it was just another film industry extravaganza.
For me the domination of Hollywood is a problem. Glasnost and the drying up of Defence Department contracts have forced the military supply industry in the US to diversify. Many have moved into the entertainment sector. This union of Silicon Valley and Hollywood is being described as either the Hollyvalley or Sillywood depending on your point of view.
I hope I'm not just an aging internationalist academic who is concerned about the power, parochialism and lack of ethics of the military/entertainment complex. The interdisciplinary foundation of SIGGRAPH, arguably its most attractive feature, is under threat. I spent much of my week discussing this with SIGGRAPH officials. If they don't succeed in reframing the show with a broad-base appeal it will become just another tool for the Hollywood propaganda machine. Links to the film industry are not helped by the decision to host SIGGRAPH in Los Angeles then Orlando on successive years.
Next year will be SIGGRAPH's 25th anniversary and the committee are keen to explore historical links and re-establish the cross-disciplinary emphasis. They may not succeed.
The Shrine Auditorium, like so many places you've seen on TV, was seedy and disappointing. First impressions were the smell of dirty carpet and the need for a fresh coat of paint. As a jury member I was a privileged VIP and found my way to what had been described as the best seat in the house (centre, front row, balcony) ahead of the crowds jamming at the doors. This was my first mistake. Minders moved in around me and, just before the show started I was surrounded by suited studio execs. The Japanese to my left. Caucasians to my right. They ceremoniously crossed the aisle to shake hands, bow and exchange business cards. Trusted lieutenants whispered essential data to chiefs…"that's xxx CEO of xxx, spouse's name xxx you should go and say hello"…before the ritual. This is a world that I neither inhabit nor aspire to.
I regretted not taking a seat in the stalls, 20 rows from the front, sharing in the vicarious rage of the crowd and enduring the inevitable crick in the neck. Studio chiefs don't rage, they clap politely, talk incessantly and clearly have trouble in comprehending why works by students, pieces of scientific visualisation and other unnecessary stuff is cluttering up the show.
But it's precisely that egalitarianism that makes the SIGGRAPH CAF (and before it the legendary Electronic Theatre) such a valuable and exciting event.
My favourite was The DNA Story a fascinating piece of biological visualisation from Digital Studio SA that tells the story of the "transcription, replication and condensation of a mitotic chromosome". Students' work was well represented with three pieces from Ringling School of Art including Sharing a lyrical tale of ice cream on a hot summer's day and 10,000 Feet the tragic story of a talking Teddy who mistakes his speech tag for a rip cord. Australia was represented with extracts from Jon McCormack's Turbulence, and Changing Heart, a spectacular IMAX theme park opener from Animal Logic. The Hollywood studios were represented by Titanic, The Fifth Element and Lost World. CFX specialists Pacific Data Images fielded their usual high calibre down-time production in Gabola the Great.
People said it was a good show but, there again, I was wearing a badge that proclaimed my jury membership. Reliable feedback suggests that the show was good but, over the past three or so years, has levelled out. Not such a surprising outcome when you consider that major annual 'quantum jumps' that accompanied SIGGRAPH throughout the 80s and early 90s are no longer possible. The medium is maturing, the big picture has been painted and innovation now remains in filling in the details and, of course, telling good stories.
Back in the mainstream film industry I was surprised when jurying to discover that most of the puppies in 101 Dalmatians were computer generated (by ILM). On reflection it was obvious. The cost of maintaining a pack of trained, live and constantly growing puppies would have been prohibitive. CFX have arrived and their success is precisely that most audiences don't know they are there. Dinosaurs, volcanoes and tornados are obvious but the major use of CFX in Hollywood today is more mundane and practical. Things like wire removal, retouching and compositing.
It's here that digital post, which hit video in the mid 80s, has now hit the film industry. Every Disney animation feature since Rescuers Down Under has been mastered digitally. Most opticals are now "digitals" done on systems like Kodak's "Cineon", Quantel's "Domino" or one of the new crop of "shrink wrapped" film-resolution app's for general purpose workstations and personal computers. One industry specialist I spoke to claimed that there is only one optical house still trading on the West Coast "…and they're only doing titles".
Specialists also predict a major shake out in the CFX industry before long. The margins are too small for a competitive international industry. One example I was given was a quote from a UK company of $200,000 versus $1,200,000 from one of the big California CFX houses. The larger companies like ILM and Digital Domain are expected to go into full production and contract out SFX work to "one off" companies who set up to service one production with short-lease premises, rented computers and fixed term contacts from a growing talent pool of freelance CGI specialists.
In fact this is already happening and many regret the passing of the large specialist companies who can sustain the in-house research and development that has been an essential component of the medium's development to date.
Launched at SIGGRAPH and essential reading is Clark Dodsworthy's Digital Illusion—Entertaining the Future with High Technology, published by ACM SIGGRAPH and Addison Wesley.
Sydney Intermedia Network (SIN) will screen the Electronic Theatre program from SIGGRAPH 97 at the Chauvel Cinemas, Paddington, on Tuesday May 26 (information tel 02 9380 4255).
RealTime issue #24 April-May 1998 pg. 21
© Paul Brown; for permission to reproduce apply to realtime@realtimearts.net